Here's what the sky would look like if humans could see gamma rays (video)
Over 90% of the gamma-ray flashes come from galaxies called blazars, which are powered by feeding supermassive black holes.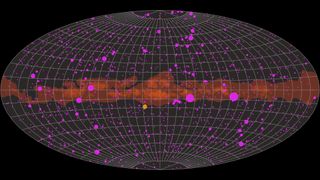 (Image credit: NASA's Marshall Space Flight Center/Daniel Kocevski)
A new NASA animation shows what the sky over Earth would look like to humans if we had evolved to see high-energy gamma-ray light rather than just the visible light spectrum.
The animation represents a cosmic firework display created as Earth's atmosphere is belted by gamma rays from astrophysical sources and powerful cosmic events.
The animation shows a frenzy of gamma-ray activity between February 2022 to February 2023. Each frame of the animation shows a three-day period of observation, with some of the sources fluctuating in gamma rays throughout the entire year.
Related: What is a gamma-ray burst?
The pulsing magenta circles in the animation show 1,500 gamma-ray detections growing and shrinking in size to represent how each source intensifies and dims over time. The yellow circle swooping across the animation traces the path of the sun, and the thick orange band represents the central plane of our Milky Way galaxy, a consistent producer of gamma rays.
The footage was created using data collected by the Large Area Telescope (LAT) aboard NASA's Fermi Gamma-ray Space Telescope, which has been examining the gamma-ray sky from space for nearly 15 years. Beyond the animation, the data is curated in a publicly available and continually updated interactive library that is the work of an international team of scientists.
LAT scans the entire sky every three hours. spotting gamma rays with energies ranging from 20 million to over 300 billion electron volts. These are incredibly high-energy photons; visible light photons mostly fall between 2 to 3 electron volts.
"We were inspired to put this database together by astronomers who study galaxies and wanted to compare visible and gamma-ray light curves over long time scales," Daniel Kocevski, repository co-author and an astrophysicist at NASA's Marshall Space Flight Center in Huntsville, Alabama, said in a statement. "We were getting requests to process one object at a time. Now the scientific community has access to all the analyzed data for the whole catalog."
Blazars, gamma rays and galaxies
Over 90% of the cosmic firework gamma-rays in the animation originate from active galaxies called "blazars," in which feeding supermassive black holes blast out jets of material and radiation directly toward Earth.
Supermassive black holes are found at the heart of almost every large galaxy, and while some of these cosmic monsters, such as Sagittarius A* (Sgr A*) at the heart of the Milky Way, are relatively quiet, others are greedily feeding on material such as the gas and dust that surrounds them.
As this gas and dust spirals inward, it forms an accretion disc around the black hole and generates powerful electromagnetic radiation. This results in these feeding black holes powering what astronomers call "active galactic nuclei" (AGN).
An AGN is a region of a galaxy so luminous it can outshine every star in the rest of that galaxy combined, even though the AGN itself can be no wider than our solar system. AGNs also blast out jets of material that move at near-light speeds, stretch for thousands of light-years and can be seen in a range of light wavelengths, including radio waves, X-rays and gamma-rays.
Blazars, which account for the vast majority of the gamma-ray sources seen in the new NASA animation, are a type of AGN whose powerful jets are aimed directly at Earth. These jets are studied at ground-based observatories, like the U.S. National Science Foundation's IceCube Neutrino Observatory in Antarctica, that are designed to detect high-energy particles.
LAT, Fermi's primary science instrument, has been a vital part of the study of blazars. The instrument's observations have allowed scientists to catalog AGNs and assess their total energy output and spectra changes on timescales ranging from less than an hour to many years.
LAT data can also be combined with measurements of neutrinos, in an example of a burgeoning research field called "multimessenger astronomy."
"In 2018, astronomers announced a candidate joint detection of gamma rays and a high-energy particle called a neutrino from a blazar for the first time, thanks to Fermi LAT and IceCube," said repository co-author Michela Negro, an astrophysicist at the University of Maryland, Baltimore County and NASA's Goddard Space Flight Center in Maryland. "Having the historical light curve database could lead to new multimessenger insights into past events."
The gamma-ray repository is accessible here, and a paper regarding the research was published in The Astrophysical Journal Supplement Series.
Follow us on Twitter @Spacedotcom or on Facebook.
Get the Space.com Newsletter
Breaking space news, the latest updates on rocket launches, skywatching events and more!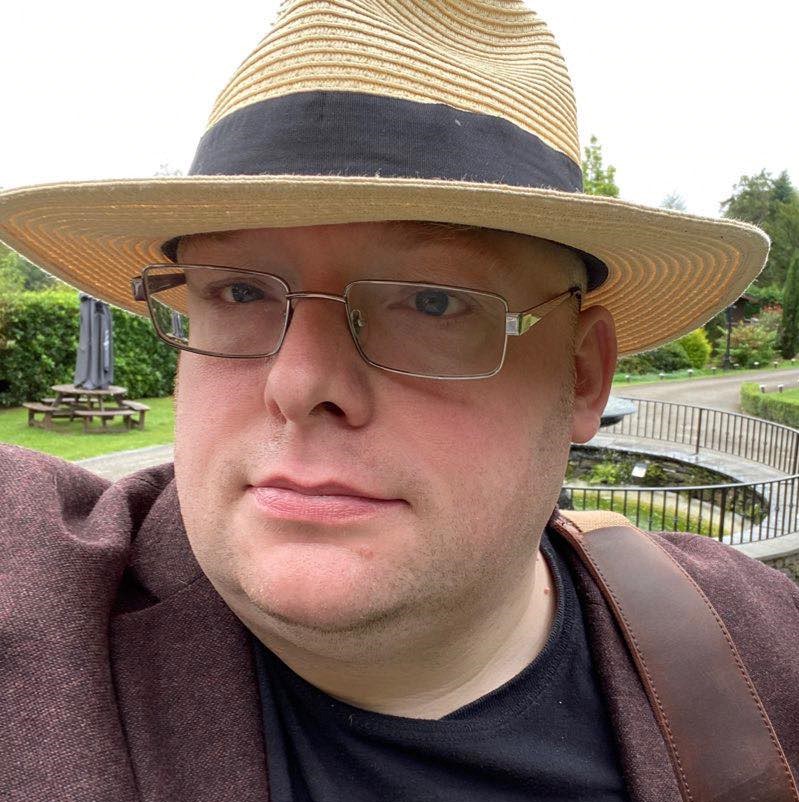 Robert Lea is a science journalist in the U.K. whose articles have been published in Physics World, New Scientist, Astronomy Magazine, All About Space, Newsweek and ZME Science. He also writes about science communication for Elsevier and the European Journal of Physics. Rob holds a bachelor of science degree in physics and astronomy from the U.K.'s Open University. Follow him on Twitter @sciencef1rst.