SpaceX Starship Second Flight Test Update: SpaceX launched its Starship rocket and Super Heavy booster on its second flight test on Nov. 18, 2023, but the vehicles exploded during flight. Read our coverage for full details and video.
---
SpaceX's giant Starship rocket just cleared a major hurdle on the road to its second-ever liftoff.
The U.S. Federal Aviation Administration (FAA) announced today (Oct. 31) that it has wrapped up its Starship safety review, which assesses the risks that a launch might pose to public health and property.
However, there's still another regulatory box to check before SpaceX can get a license for the next Starship liftoff.
"The FAA is continuing to work on the environmental review," the agency wrote today in an emailed statement. "As part of its environmental review, the FAA is consulting with the U.S. Fish and Wildlife Service (USFWS) on an updated Biological Assessment under the Endangered Species Act. The FAA and the USFWS must complete this consultation before the environmental review portion of the license evaluation is completed."
Related: SpaceX fuels up Starship in key test ahead of 2nd-ever flight (video, photos)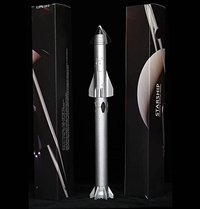 Starship Die Cast Rocket Model Now $69.99 on Amazon.
If you can't see SpaceX's Starship in person, you can score a model of your own. Standing at 13.77 inches (35 cm), this is a 1:375 ratio of SpaceX's Starship as a desktop model. The materials here are alloy steel and it weighs just 225g.
Note: Stock is low so you'll have to act quickly to get this.
Starship is the biggest and most powerful rocket ever built. It consists of two fully reusable elements — the Super Heavy booster and Starship upper stage — and stands nearly 400 feet (122 meters) tall when fully stacked.
The full-size vehicle has flown just once to date, on a test flight that launched on April 20 from Starbase, SpaceX's seaside facility in South Texas.
That mission aimed to send the Starship upper stage partway around the world, with splashdown targeted for the Pacific Ocean near Hawaii. But Starship suffered several problems shortly after liftoff, including a failure of separation for its two stages. As a result, the vehicle was intentionally detonated above the Gulf of Mexico.
The FAA soon initiated a mishap investigation, which closed on Sept. 8. However, the agency stressed at the time that more work was needed before SpaceX could receive a license for liftoff number two.
"SpaceX must implement all corrective actions that impact public safety and apply for and receive a license modification from the FAA that addresses all safety, environmental and other applicable regulatory requirements prior to the next Starship launch," the agency wrote at the time.
And, as today's FAA update notes, there's still work to do on the environmental side.
The ongoing review apparently centers on the potential impacts of a water deluge system, which SpaceX installed beneath Starbase's orbital launch mount after the April test flight.
The new system is designed to protect the mount from the destructive power of Super Heavy's 33 Raptor engines, which was on full display on April 20: The Raptors blasted out a big crater beneath the mount, sending chunks of concrete and other debris raining down on Starbase and the surrounding area.
We should expect Starship to fly relatively soon after the environmental review wraps up, provided everything goes well. SpaceX and its founder and CEO, Elon Musk, have said that the latest vehicle has passed all of its prelaunch tests and is ready to go.