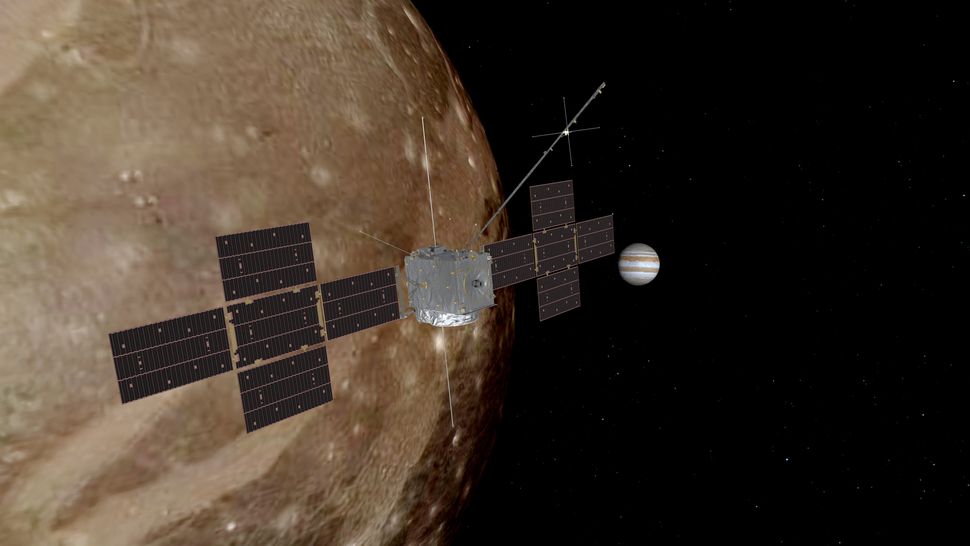 Editor's note: ESA has postponed the launch of its JUICE Jupiter mission until Friday (April 14) due to the risk of lightning at the launch site. The launch is now scheduled for Friday (April 14) at 8:14 a.m. EDT (1214 GMT).
---
Europe will soon fly its first-ever mission to the Jupiter system. If all goes well, the spacecraft will arrive at the gas giant in 2031.
The Jupiter Icy Moons Explorer, or JUICE, is slated to launch on Friday (April 14) from Europe's Spaceport in Kourou, French Guiana. Liftoff is scheduled from pad ELA-3 at 9:14 a.m. local time (8:14 a.m. EDT; 1214 GMT), weather permitting. The spacecraft is currently cocooned inside the fairing of its Ariane 5 rocket, which also launched NASA's mighty James Webb Space Telescope.
The European Space Agency (ESA), which leads the mission, will start the live broadcast at 8:45 a.m. local time (7:45 a.m. EDT; 1145 GMT). You can watch the launch online on Space.com, courtesy of ESA, as well as on ESA's webpage. A French version of the broadcast will also be available on a different channel, the agency has said.
Related: Facts about Europe's JUICE Jupiter mission
JUICE has a one-second launch window
JUICE will be on a tighter launch schedule than most other spacecraft, as it will only have one second to get off the ground each day.
JUICE will perform flybys of Venus, Earth and the moon to increase its speed and adjust its trajectory. But to do so, those celestial bodies have to be aligned properly, which happens only twice a year, in April and again at summer's end, The Telegraph's Sarah Knapton reported last month.
So in that one-second window, scientists have to "inject" the spacecraft at a point in space such that it is on the preferred path to continue on and perform its flybys.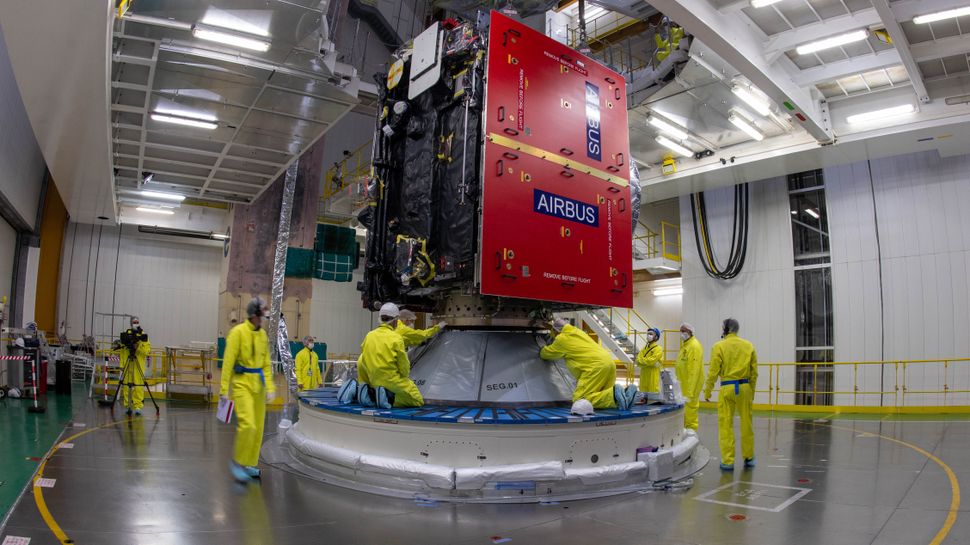 Will weather be a concern for JUICE?
Weather forecasts for the April 13 launch outline an overcast sky with some thunderstorms. A 76% chance for rain is predicted. The JUICE team shared during a briefing on Thursday (April 6) that it will continue monitoring the weather forecast, especially in the days leading up to launch.
What if JUICE doesn't launch on time?
If the mission is delayed due to weather or technical reasons, the team can try again to launch JUICE once each day for the rest of the month. While ESA has not announced specific times yet, the launch windows are at different times each day, the JUICE team shared during Thursday's briefing.
If the spacecraft fails to launch in April, the next available slot would open four months later, in August 2023.
On April 12, one day before the planned launch, the JUICE team will start prepping for liftoff at 7 p.m. local time (6 p.m. EST; 2200 GMT), going through procedures to identify and resolve any issues that might come up, team members said on Thursday.
From what we know so far, if JUICE's launch is pushed beyond April 18, the spacecraft will shorten its first lunar-Earth flyby and only whizz by Earth.
What can we expect after JUICE lifts off?
According to ESA, the launch webcast will last for 3 hours and 20 minutes, as the live feed will start at 8:45 am local time (7:45 a.m. EDT; 1145 GMT) on April 13 and wrap up at 11:05 am local time (10:05 a.m. EST; 1405 GMT). ESA is expected to also broadcast a 45-minute press briefing after the launch on Thursday. The briefing, which is expected to start at 11:30 a.m. local time (10:30 a.m. EDT; 1430 GMT), will also be available on Space.com, courtesy of ESA.
Soon after launch, the JUICE team will be busy making sure everything is unfolding as per plan. Per the current launch schedule, here are a few key milestones to expect after liftoff.
8:42 a.m. EST (1242 GMT): JUICE separates from the Ariane 5 launcher. Less than half an hour after liftoff, JUICE is expected to separate from its ride, the Ariane 5 rocket, according to the mission launch kit. The 13,668-pound (6,200 kilograms) spacecraft will part from the rocket's upper stage, where it is currently folded in.
8:51 a.m. EST (1251 GMT): JUICE expected to send home first signal. About nine minutes after spacecraft separation, JUICE is expected to phone home for the first time. "The control center will make sure that we have good communication with JUICE," Olivier Witasse, project scientist of the JUICE mission, told Space.com earlier this week.
9:55 a.m. EST (1355 GMT): JUICE finishes deploying solar arrays. This will be another critical milestone after launch. JUICE's solar wings are made of 10 solar panels, which are essential to run the solar-powered spacecraft in the harsh environment far from the sun. There are five panels on each side of the spacecraft that will be folded inside the Ariane 5 during launch. Once in space, they will be fanned out like a cross. Two cameras are expected to click some pictures of the panels to be sent back home.
Then, over the next 17 days, JUICE will use multiple booms to deploy its instruments, such as its dish-shaped antenna as well as the magnetometer that will collect data about the magnetic field of Jupiter and the three Galilean moons that JUICE will study in depth — Callisto, Europa and Ganymede. Some of these updates will likely be shared on ESA's Twitter feed.
For roughly the next two months, scientists "will check if JUICE and its 10 instruments function well," Witasse said, adding that he expects these checks to be complete by the end of June. "If everything goes well, we declare the phase a success and we start the proper cruise phase towards Jupiter."
After a journey of seven and a half years, the spacecraft is expected to reach the gas giant in December 2031.
Related: Europe's flagship JUICE mission will study the Jupiter moons Europa, Callisto and Ganymede.
How will JUICE reach Jupiter?
JUICE will perform a total of four flybys to tailor its path and increase its speed without using much of the 4 tons of propellant it's carrying, according to the mission launch kit.
August 2024: JUICE will perform what is called a lunar-Earth flyby, where the spacecraft will whisk by the moon first and then Earth 1.5 days later.
August 2025: JUICE will breeze past Venus, marking its second flyby.
September 2026: JUICE will cruise past Earth for its third flyby.
January 2026: JUICE will fly by Earth for the second and last time.
You can find the complete timeline up until the mission's end on the ESA website.
Follow Sharmila Kuthunur on Twitter @Sharmilakg. Follow us @Spacedotcom, or on Facebook and Instagram.