Award-winning Swedish gaming studio Free League Publishing is well-known around the globe as a producer of prestige-quality tabletop games across the entire spectrum of sci-fi, horror and fantasy.
Those acquainted with the acclaimed firm should be well aware of their sterling reputation for delivering engaging RPGs like "The One Ring," "Blade Runner," "Alien," "Tales From the Loop," "Coriolis," "Vaesen," "Symbaroum," and the upcoming "Dragonbane" and "The Walking Dead Universe."
Now, Free League and Stockholm Kartell have partnered to venture into the cold abyss of the cosmos for a haunting new science fiction role playing game titled "Death in Space," which drifts into the marketplace starting April 26. If you're looking for more space game goodness, check out our picks for the best space board games.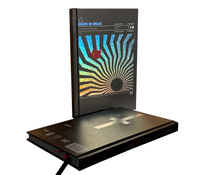 Death In Space: $39.99 at Amazon
Prove that you have the right stuff to find riches and life in the Tenebris system with Death In Space, a new tabletop RPG from Free League Publishing.
Here's the official description:
"The world is broken. In a collapsing universe, your crew is your only family. 'Death in Space' takes you to a grimy blue-collar future in a universe filled with risk, but also opportunity.
"'Death in Space' is a game about adventure and uncertain journeys out into the darkness of space, where the void whispers to the unlucky and imbues travelers' bodies with strange powers. It is about you and your crew making a home of your spacecraft or station, your only sanctuary in a dangerous universe. Most of all, it is about surviving in an abandoned frontier system where resources are scarce, and competition is fierce. Engage in power struggles and build your crew's reputation. Salvage and steal to endure a ruthless universe. Do anything you can to get that next job. Your life will depend on it."
Created by "Mörk Borg RPG's" Christian Plogfors and Carl Niblaeus of Stockholm Kartell, "Death in Space" will be printed and distributed by Free League Publishing under their Free League Workshop sub-label specifically arranged for indie games.
"Space is vast, empty and lonely, something we try to convey in for example the game's layout and traveling rules," Niblaeus told Space.com. "With a PhD in physics, I always had cosmology and astronomy in the back of my head when designing the game. It's very liberating though, to leave the rigor of scientific research and take that knowledge and get creative with it in a roleplaying setting, just going wherever your imagination takes you."
It's set amid the war-ravaged Tenebris system where the mining of rare gems began a conflict that devastated the local planets. You and your crew are everyday explorers and laborers trying to strike it rich while signing up for dangerous contracts. "Death in Space" has its roots in the Old School Renaissance scene and follows similar design principles. Its pitch-black style and grounded tone are influenced by the grim-dark future of early '80s sci-fi films and vintage westerns.
"We have been inspired by the brutal reality of our universe, where space is empty, lonely and hostile, and combined it with gritty sci-fi as exemplified by movies like 'Outland' and 'Prospect,'" added Plogfors. "It is a game about the end of a universe where only crumbs remain of civilization, and you have to fill in the gaps to understand what has happened. Layers upon layers of history buried and forgotten."
"The Tenebris system is a pretty bleak place, but you still have your family in the form of your crew. They might be the only ones to trust in this place filled with corrupt company officials, old warlords and space pirates. At its heart, "Death in Space" is about ordinary folks and the jobs they end up doing in order to get by. Hopefully they can end up with extra rewards in the process."
"Death in Space" is now offered for pre-order on Amazon and from the the Free League Webshop with immediate access to the PDF. An official game soundtrack is also available at major streaming services that contains 90 minutes of moody atmospheric music.