Axiom Space's newly announced third astronaut crew includes a mix of space experience.
Houston-based Axiom Space named the full crew of four people who will fly to the International Space Station on the Ax-3 mission no sooner than January 2024, in a company announcement Tuesday (Sept. 12). Axiom bills the venture as the first all-European commercial mission.
The crew will be headed by former NASA astronaut Michael López-Alegría, a dual U.S.-Spanish citizen who also commanded Ax-1 in 2022. Also on board will be Italian Air Force Col. Walter Villadei, who flew to suborbital space with Virgin Galactic's first commercial launch in June; Marcus Wandt of Sweden, a European Space Agency astronaut; and Turkey's first citizen in space, Alper Gezeravcı. It will be López-Alegría's sixth mission, Villadei's second, and the first for Wandt and Gezeravcı.
Ax-3 will launch to the ISS from NASA's Kennedy Space Center using SpaceX's Crew Dragon spacecraft, which is the only American vehicle currently certified by NASA to carry humans to and from the orbiting complex, atop a SpaceX Falcon 9 rocket. (Axiom signed an agreement with SpaceX in 2021 to bring three additional crews to space, following its first space station mission, Ax-1.)
Related: NASA and Axiom Space sign on for 4th private astronaut mission to space station
Wandt's selection for Ax-3 was already made public in June, and Villadei was associated with the mission at least as early as August, according to a post from Villadei on X (formerly Twitter.) López-Alegría and Gezeravcı are new additions to the crew. NASA regulations updated after Ax-1 specify that all commercial missions must be commanded by a former NASA astronaut.
López-Alegría is a veteran of three space shuttle missions: STS-73 in 1995, STS-92 in 2000 and STS-113 in 2002. He also commanded ISS Expedition 14 during a 2006-07 seven-month mission, using a Russian Soyuz spacecraft to reach space. He is one of NASA's all-time top spacewalkers, with 10 extravehicular activities across 67 hours and 40 minutes of EVA, his agency biography states. He retired from NASA in 2012, then joined Axiom Space in 2017 ahead of commanding Ax-1 in 2022.
"The Ax-3 mission will be transformational as it fosters partnerships outside the construct of the ISS, and positions European nations as pioneers of the emerging commercial space industry," López-Alegría said in the Axiom statement. López-Alegría also reposted Axiom's announcement on X on Tuesday.
Villadei has been training for space since at least 2008, according to his Axiom biography, when he was assigned in Russia for Italian Air Force requirements. He was qualified to fly the Soyuz, but never made a spaceflight on that vehicle. He served as backup for the Ax-2 mission, which flew earlier this year, and was selected in 2021 for a Virgin Galactic flight.
The June 29 Virgin Galactic spaceflight with Villadei saw him command Italy's Virtute-1 mission, including research for the Italian National Research Council. (Whether it was a spaceflight depends on who you talk to. Virgin flies below the 62-mile or 100-kilometer Kármán Line defined by international authorities for the boundary of space, but above the U.S. Federal Aviation Administration's 50-mile, or 80-km, mark for where it says space begins.)
Related: Virgin Galactic aces its 1st-ever commercial launch of suborbital space plane (video)
The Ax-3 mission will take place during the 100th anniversary year of the Turkish Republic that was established in October 1923, Gezeravcı wrote on X (translation provided by Google.) The mission, he added, "will carry the dreams of our young generations, the guarantee of our future, into the depths of space."
Wandt is a project or reserve astronaut, which is a new category ESA established during its last astronaut selection that concluded in 2022. The reserve list includes astronaut candidates who passed selection, but who are not recruited by ESA until a flight opportunity arises. In the meantime, the reserve astronauts stay with their current employer until called up for flight. Wandt was called up for Ax-3 in June.
"Space became more real today," Wandt wrote on X of the announcement on Tuesday. "We are ready."
Wandt's mission for ESA will be called Munnin, a name from Norse mythology. Munnin and companion Huginn are raven accomplices of the god Odin, and are meant to symbolize the human mind, ESA officials wrote. (Huginn is the mission name of ESA astronaut Andreas Mogensen, who is currently serving with SpaceX's Crew-7 on the ISS.)
Related: Europe's new astronaut class features 2 women and a paralympian trauma surgeon
Gezeravcı was named as an astronaut candidate in May, during an event in which Turkish President Recep Tayyip Erdogan pledged Gezeravcı would fly by the end of 2023, according to the Associated Press. Gezeravcı, a 21-year veteran of the Turkish Air Force, also has a backup: aviation systems engineer Tuva Cihangir Atasever. Turkish media wrote that the duo were selected from 36,000 applications to be astronauts.
Axiom received a mission order from NASA in March to bring Ax-3 to the ISS, which was then manifested for no earlier than November 2023. Axiom did not name crew members at that time, but a NASA release stated Axiom would submit four proposed crew members and two backups to the ISS Multilateral Crew Operations Panel, an international coalition of ISS members that approves crew assignments to the orbiting complex.
Ax-3's crew will spend the next several months in training for a 14-day mission, "to familiarize the private astronauts with systems, procedures, and emergency preparedness for the space station and the Dragon spacecraft," NASA officials stated. Training was expected to begin no earlier than spring 2023.
Axiom is allowed to run missions to the ISS under a reimbursable Space Act agreement with NASA. Axiom is required to pay NASA "for services to enable the mission," the agency's release stated. Examples include using training and launch facilities at NASA's Johnson Space Center in Houston and the agency's Kennedy Space Center (KSC) in Florida. (SpaceX also has a reimbursable Space Act agreement with KSC for launch services.)
Axiom's mission-specific order for Ax-3 specifies it will pay NASA for services "such as crew supplies, cargo delivery to space, storage, and other in-orbit resources for daily use," the agency stated. The order allows for an extra week of stay on the ISS if required.
Additionally, NASA may ask Axiom to bring scientific samples back to Earth in Dragon — which allows for cold storage of biomedical samples — or request that López-Alegría "complete NASA science or perform tasks for NASA," agency officials stated.
Related: Private space station: How Axiom Space plans to build its orbital outpost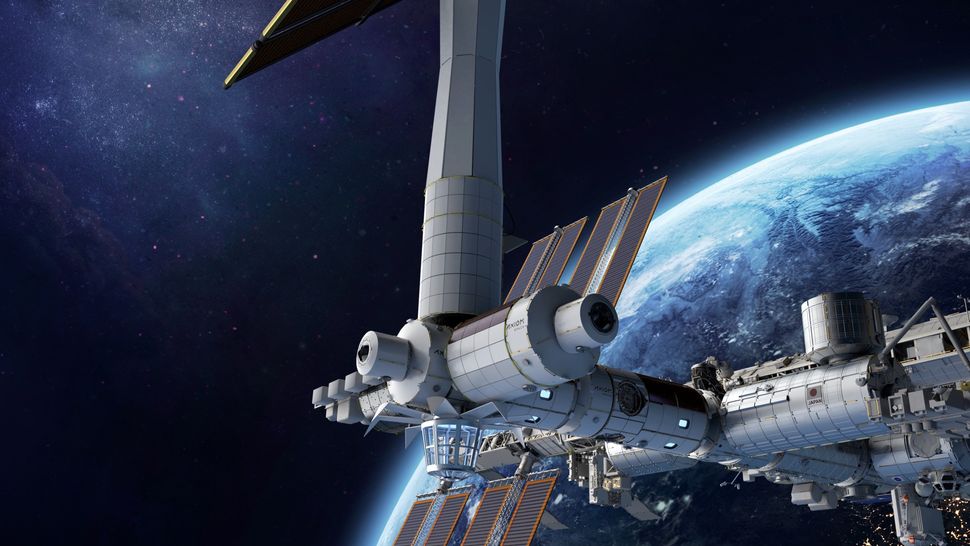 Axiom itself receives revenues from the customers paying for seats and science, but in January, company officials told reporters that national governments would be primary customers for future missions going forward, according to SpaceNews.
The costs that ESA, Italy and Turkey paid for Ax-3 were not disclosed, but the Ax-1 seats bought by three customers (aside from López-Alegría's as an Axiom employee) were reportedly billed at $55 million apiece; that is roughly 51 million Euros each at today's exchange rates.
NASA is gradually opening up the space station to commercial vendors like Axiom through its Commercial LEO Development Program, which aims to bring more commercial participation to the space station. The ISS already hosts dozens of commercial experiments, and now the agency is approving commercial astronauts to run those experiments. Ax-3 and a successor mission, Ax-4, were approved by NASA following a September 2022 agency research announcement of opportunity.
Axiom's aims for ISS include adding at least four modules to the orbiting complex; it won a NASA contract to construct the first commercially manufactured model in 2020, and will fly that facility in 2026 or so. Axiom will then gradually bring in more modules to expand research and other facilities. When the ISS retires, which is expected to occur in 2030, Axiom will fly its modules as an independent and integrated space station.
Axiom isn't the only company with NASA support in creating new space stations. The agency aims to transition its research to privately run facilities in low Earth orbit after the ISS. NASA awarded $415 million in early-stage contracts in 2021 to coalitions led by Blue Origin, Nanoracks and Northrop Grumman. NASA officials have emphasized in recent months that the agency is doing its best to minimize or eliminate any gap between the ISS' retirement and the beginning of the new space stations.