Atlantis Astronauts Fix Shuttle Blanket, Furl Solar Array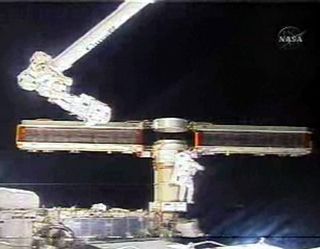 (Image credit: NASA TV.)
Thisstory was updated at 1:29 a.m. EDT.
HOUSTON --Two spacewalkers performed a bit of heat shield surgery and wrestled an oldsolar wing into submission outside the International Space Station (ISS)Friday, as critical Russian computers were reactivated inside the orbitallaboratory.
STS-117mission specialists Jim Reilly and Danny Olivas spent nearly eight hoursoutside the station, using medical staples to fix a tornheat shield blanket on the space shuttle Atlantis and tape-wrapped tools tohelp furl a solar array atop the ISS.
"It'snice to see those blanket boxes flat," Olivas said, referring to thestorage boxes for the solar array panels, known as blankets.
While theastronauts worked outside, ISS Expedition 15 commander Fyodor Yurchikhin andflight engineer Oleg Kotov worked with flight controllers to restore four ofsix command and navigation computers - two a piece - aboard the station'sRussian segment. Engineers have been workingto recover the computers since they failed earlier this week.
The Russiancosmonauts disconnected some of the system's connectors from a suspectswitch, wrapped them in tape and rerouted them, NASA said. Because of the fix,Reilly did not have to disconnect an unused power cable connector on thestation's new Starboard3/Starboard 4 truss segments as a troubleshooting measure, they added.
"Wellgood news," Russian Mission Control radioed the ISS crew."It's good news that's its working."
Originallyslated to last 6.5 hours, the spacewalk began at 1:24 pm. EDT (1724 GMT) fromthe station's Quest airlock and ran and extra-long seven hours and 58minutes to complete the tasks. It marked the third of four planned during theSTS-117 mission to deliver a new crewmember, trusses and starboard solar arraysto the ISS.
Shuttleblanket surgery
Wielding apack of medicalstaplers pilfered from medical kits aboard Atlantis and the ISS, Olivassecured a triangular flap of a protective blanket mounted to theshuttle's left Orbital Maneuvering System (OMS) pod in an apparentlysmooth repair.
The 4-inchby 6-inch (10-centimeter by 15-centimeter) blanket corner tore loose from itsmooring during Atlantis' June 8 launch. While the tear posed no risk tothe shuttle's crew or their return to Earth, mission managers wereconcerned the OMS pod's underlying graphite-epoxy structure could bedamaged during reentry and require a lengthy repair.
Olivas usedhis spacesuit-clad hands to pat down the upturned blanket, then stapled its sidesto adjacent material using two rows of surgical staples. He then drove 21 pinsthrough the blanket and into nearby heat-resistant tiles to anchor the blanketcorner and a nearby swatch.
"Youmade that feel really easy," Olivas told Mission Control after the fix."Hope it's going to be good enough."
WhileOlivas repaired the blanket, Reilly replaced a water vent valve on the exteriorof the station's Destiny laboratory with a hydrogen vent valve, whichwill allow the activation of a U.S.-built oxygen generator later this year.
Solararray furled at last
Reilly andOlivas also helped furl the station's only remaining solar arrayextending from its mast-like Port 6 (P6) truss after three days of effort byAtlantis' STS-117 crew.
Retractionefforts began in earnest during a Wednesday spacewalk and then continued withAtlantis' STS-117 mission commander Rick Sturckow overseeing efforts toremotely furl the solar wing a day later.
Stowing thearray cleared the station's new starboard solar wings to rotate and trackthe Sun. It also primed the P6 truss, which was temporarily installed atop theISS in 2000, for relocation to the port-most side of the station on a latershuttle flight.
Thetruss' port-reaching solar array was furled during a December 2006 shuttlemission, the lessons from which eased the STS-117's efforts, missionmanagers said.
Friday'sspacewalk marked the fifth orbital excursion for Reilly for a total of about 30hours and 43 minutes. It was the second spacewalk for Olivas, bringing him upto 14 hours and 13 minutes.
Thespacewalk also marked the 86th dedicated to ISS construction ormaintenance, as well as the 58th to begin from the station itself.
NASA isbroadcasting the space shuttle Atlantis' STS-117 mission live on NASA TV. Click here for mission updates andSPACE.com'svideo feed.
SPACE.com Video Interplayer: Space Station Power Up with STS-117
STS-117 Power Play: Atlantis Shuttle Crew to Deliver ISS Solar Wings
Complete Shuttle Mission Coverage
Get the Space.com Newsletter
Breaking space news, the latest updates on rocket launches, skywatching events and more!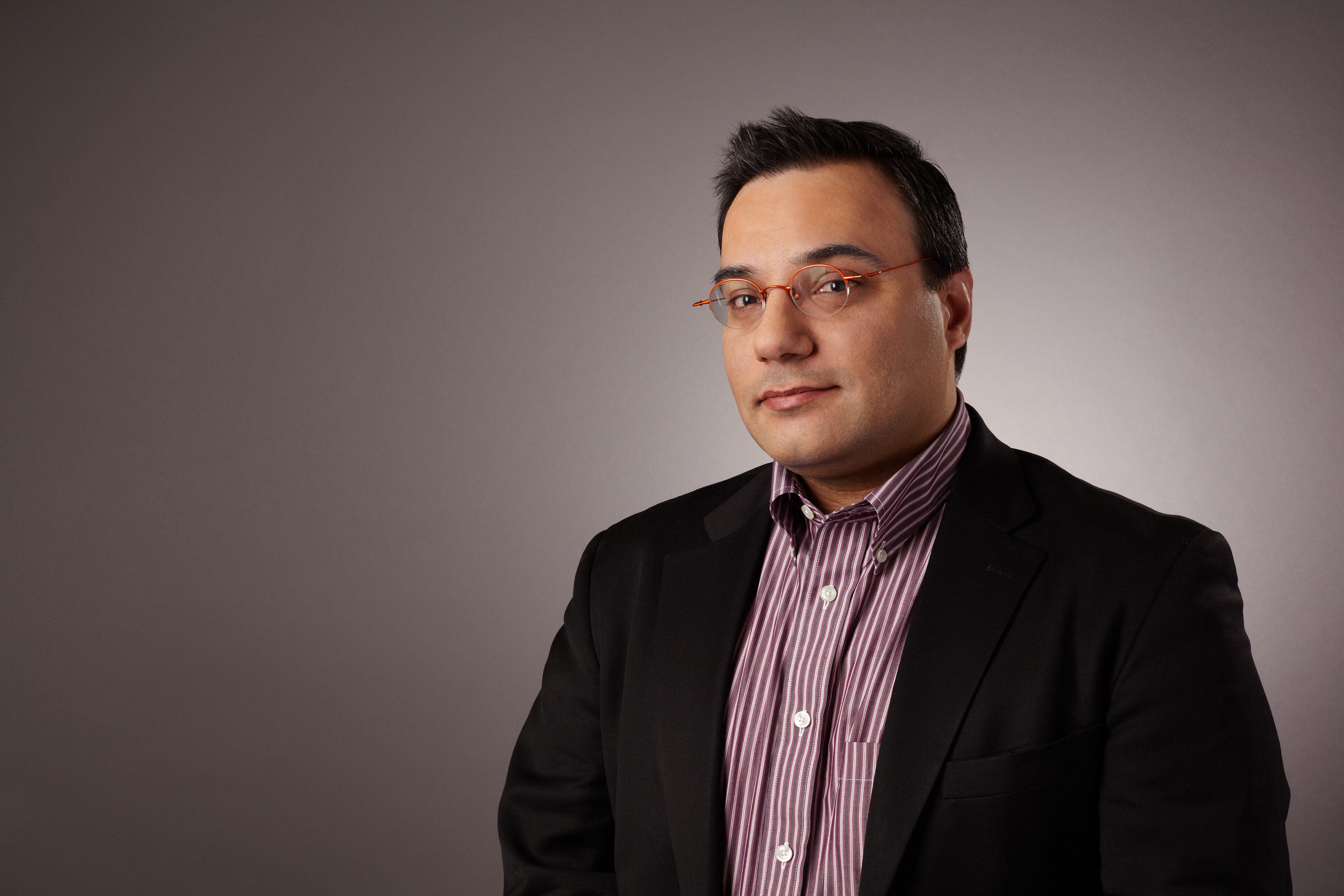 Tariq is the Editor-in-Chief of Space.com and joined the team in 2001, first as an intern and staff writer, and later as an editor. He covers human spaceflight, exploration and space science, as well as skywatching and entertainment. He became Space.com's Managing Editor in 2009 and Editor-in-Chief in 2019. Before joining Space.com, Tariq was a staff reporter for The Los Angeles Times covering education and city beats in La Habra, Fullerton and Huntington Beach. In October 2022, Tariq received the Harry Kolcum Award for excellence in space reporting from the National Space Club Florida Committee. He is also an Eagle Scout (yes, he has the Space Exploration merit badge) and went to Space Camp four times as a kid and a fifth time as an adult. He has journalism degrees from the University of Southern California and New York University. You can find Tariq at Space.com and as the co-host to the This Week In Space podcast with space historian Rod Pyle on the TWiT network. To see his latest project, you can follow Tariq on Twitter @tariqjmalik.