Coat of Arms for Canada's New Governor General Nods to Her Astronaut Past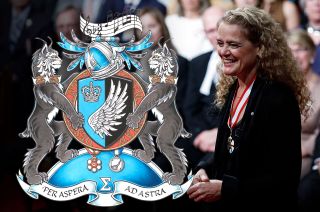 (Image credit: Governor General of Canada via collectSPACE.com)
As a Canadian astronaut, Julie Payette adopted the use of emblems to represent her missions and experiences in space. As Canada's Governor General, she now has a new symbol of her achievements — a coat of arms.
Appointed by Queen Elizabeth II and formally sworn in by Prime Minister Justin Trudeau as Canada's 29th Governor General in Ottawa on Monday (Oct. 2), Payette serves as the Queen's representative as well as the commander-in-chief of the Canadian Armed Forces.
"Many Canadians already know much of the story of Her Excellency's life," said Trudeau of Payette, in a statement for her inauguration. "As the second Canadian woman in space and only the fourth woman Governor General, Her Excellency has been and continues to be a trailblazer and an inspiration for all of us." [Record-Breaking Women in Spaceflight History]
Selected as a Canadian Space Agency astronaut in 1992, Payette flew on two NASA space shuttle missions to the International Space Station, STS-96 in 1999 and STS-127 in 2009. She was the first Canadian to visit the station, and in total logged more than 25 days in space.
Before her first launch, Payette worked with Quebec artist Gérard Dansereau to design a patch that represented her personal journey.
"It has a rocket on it, a small rocket, and inside the rocket there is a star, a musical note, a crescent and a rose. And on top of the rocket, there was this little blue cat," Claire Boudreau of the Canadian Heraldic Authority described in a video accompanying the debut of Payette's coat of arms. "All of the elements have tons of meaning, so I thought that this was very interesting, that already in her past she had had the occasion to see herself in a design."
Like Payette's personal mission patch, her coat of arms is also steeped in symbolism.
The hand-drawn and painted design features two lynx cats flanking a shield decorated with a crown and a feathered wing.
"When I was looking at photos of her, the way she looks at people, she has this frank and direct connection," stated Boudreau. "The animal that came into my mind, because I was looking for symbols, was the Canadian lynx."
"It has a way to look at its environment, but it's discreet at the same time, so I really liked it," she said.
Atop the shield are a musical stave (with the first notes of the second movement of composer Alessandro Marcello's "Oboe Concerto in D Minor") and an astronaut's helmet.
"What was clear to me was a desire, or acknowledgement, of the capacity of the human race — of humans — to go further, to transcend all boundaries," Boudreau explained.
The lynxes stand atop the Earth, shown without borders. A banner spanning the planet reads, "Per Aspera Ad Astra," or "Through hardship to the stars."
"I am an optimist but also a pragmatist," stated Payette in her first speech as Governor General. "It was clear, with the success of the International Space Station, that we can always do better together than on our own."
"Somehow, the International Space Station, but also big science brings us, forces us to think not in a microcosm of nationality only, but to think in terms of what we could do to advance matters and to push the boundaries of science as partners in a collective spirit, and with a peaceful intent. It's promising, isn't it?" said Payette.
Other imagery included on Payette's coat of arms include stars on the lynxes' collars, which are meant to symbolize "a spark of passion," and laurel leaves, as a subtle nod to Payette's 14-year-old son, Laurier Payette Flynn.
In addition to being used on formal documents, Payette's personal coat of arms will also be struck on the Governor General's Academic Medal, awarded in bronze, silver and gold to Canadian students who excel in their classes.
Watch a behind-the-scenes video about the creation of Governor General Julie Payette's coat of arms at collectSPACE.com.
Follow collectSPACE.com on Facebook and on Twitter at @collectSPACE. Copyright 2017 collectSPACE.com. All rights reserved.
Get the Space.com Newsletter
Breaking space news, the latest updates on rocket launches, skywatching events and more!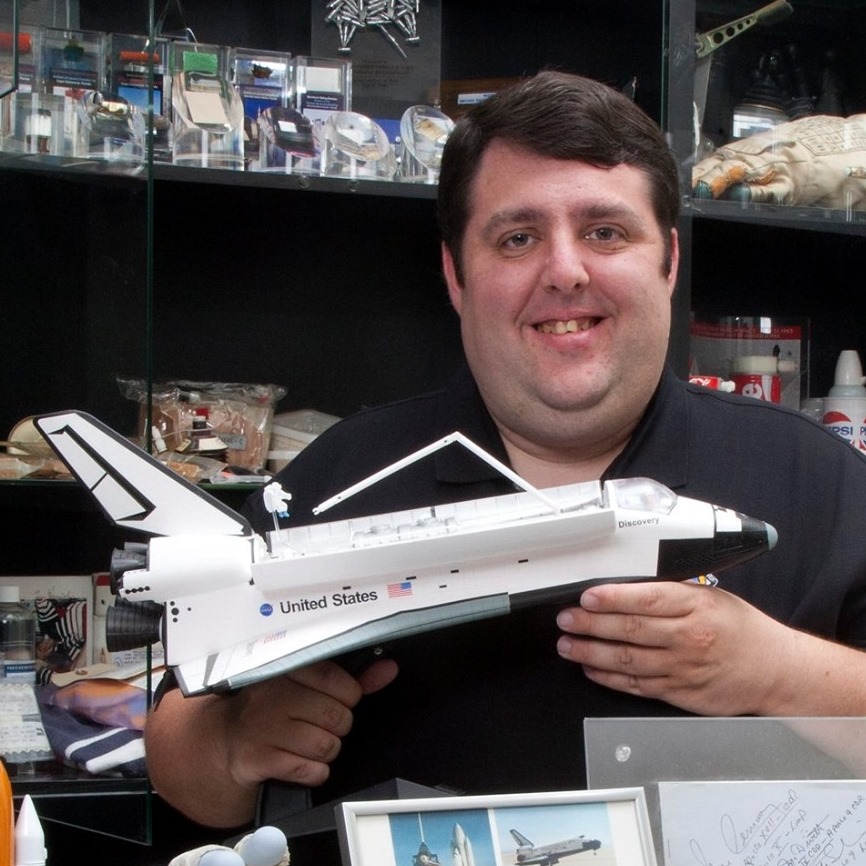 collectSPACE.com Editor, Space.com Contributor
Robert Pearlman is a space historian, journalist and the founder and editor of collectSPACE.com, an online publication and community devoted to space history with a particular focus on how and where space exploration intersects with pop culture. Pearlman is also a contributing writer for Space.com and co-author of "Space Stations: The Art, Science, and Reality of Working in Space" published by Smithsonian Books in 2018. He previously developed online content for the National Space Society and Apollo 11 moonwalker Buzz Aldrin, helped establish the space tourism company Space Adventures and currently serves on the History Committee of the American Astronautical Society, the advisory committee for The Mars Generation and leadership board of For All Moonkind. In 2009, he was inducted into the U.S. Space Camp Hall of Fame in Huntsville, Alabama. In 2021, he was honored by the American Astronautical Society with the Ordway Award for Sustained Excellence in Spaceflight History.