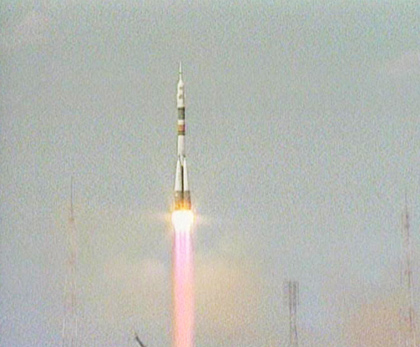 This story was updated at 8:06 a.m. EDT.
A Russian Soyuz rocket blasted off Wednesday carrying three spaceflyers from three different countries on a mission to double the population of the International Space Station.
The Soyuz rocket launched at 6:34 a.m. EDT (1034 GMT) from Baikonur Cosmodrome in Kazakhstan carrying the Russian-built Soyuz TMA-15 spacecraft and three people aboard set to make history as part of the space station?s first full six-person crew. It was about 4:34 p.m. local time at the Central Asian spaceport.
?Feeling well onboard, systems in order,? said Soyuz commander Roman Romanenko, the son of veteran cosmonaut Yuri Romanenko, just after launch. ?It?s just like flying.?
Romanenko launched into space alongside Canadian astronaut Robert Thirsk and Belgian spaceflyer Frank De Winne, who represents the European Space Agency. They are due to dock at the space station on Friday at 8:34 a.m. EDT (1234 GMT), where three other spaceflyers representing Russia, the U.S. and Japan await their arrival.
?We are an international crew in an International Space Station and I think this is a strength,? De Winne said in a televised press conference before launch. ?To maintain six people in a station by one single nation today, I think that would be impossible.?
The $100 billion orbital lab is the product of cooperation between the U.S., Russia, Canada, Japan and 11 countries in the European Space Agency. Doubling its crew size will boost the amount of science and maintenance performed aboard, the spaceflyers said.
Station?s first full crew
Romanenko, De Winne and Thirsk are the second wave of the space station?s first-ever full six-person mission - Expedition 20 - which will begin Friday when their Soyuz TMA-15 spacecraft arrives at the orbiting laboratory.
Construction of the space station began in 1998 with the launch of its first piece, the Russian-built Zarya control module. The first crew - a small, three-man team - took up residence in 2000 after a U.S. connecting node and Russian crew quarters were installed.
After NASA?s tragic 2003 Columbia disaster, the station?s crew size dipped to only two people - an American and a Russian - until the U.S. space shuttle fleet resumed flight two years later. By 2006, the station had returned to three-person crews and now, after more than 10 years of construction, the space station has the internal living space of a jumbo jet.
?One of our goals with our three colleagues on orbit is to prove that the station can support six people for long duration,? Thirsk said.
The space station is currently home to veteran Russian cosmonaut Gennady Padalka - the outpost?s first two-time commander - as well American Michael Barratt and Japanese astronaut Koichi Wakata, both flight engineers. Together, they make up the space station?s Expedition 19 crew, though that name will give way to Expedition 20 on Friday.
Since their mission began in late March, the Expedition 19 crew has been putting the final touches on the station?s life support systems that will support six people in space.
Last week, they officially activated the space station?s urine recycling system, which filters and converts astronaut urine back into potable water fit for drinking, bathing, food preparation and oxygen generation.
Padalka will command Expedition 20 once it begins, then hand over control of the station to De Winne - Europe?s first station commander - when he and Barratt return to Earth in the fall.
Science Gets Boost
One of the major goals for doubling the space station?s crew is to increase the amount of science performed aboard the orbiting lab. With twice as many people on board, the station crew should be able to nearly triple the number of experiments performed in a given mission, mission managers said before flight.
?The six-person crew is a milestone for the International Space Station,? Thirsk said before flight. ?In a big way, the International Space Station will be able to fulfill its primary purpose, which is to function as a world class orbiting laboratory for medical science and materials science.?
Science forms only part of a packed mission for the expanded space station crew.
Next month, the spaceflyers plan to perform two spacewalks in as many weeks to prepare the station for the arrival of a new Russian module. They will also host the first of two planned NASA shuttle missions to continue construction of the orbiting lab.
The June flight will temporarily boost the number of people at the station to 13 - the most ever - and will deliver the last piece of the station?s massive Japanese-built Kibo lab. Another shuttle flight in August will deliver much-needed supplies and equipment. Eight more spacewalks are on tap during those shuttle visits.
The station crew will end the summer with the planned arrival of Japan?s first unmanned cargo ship, the H-2 Transfer Vehicle.
?On our crew, we have a lot of fun, but we also work very hard,? De Winne said. ?So I think whatever we do ? will be the lead for future space exploration in our solar system.?
New Video - Drink Up! Astronauts Toast With Recycled Urine

Video Show - The ISS: Foothold on Forever

New Video - Tour the Space Station's Bathroom