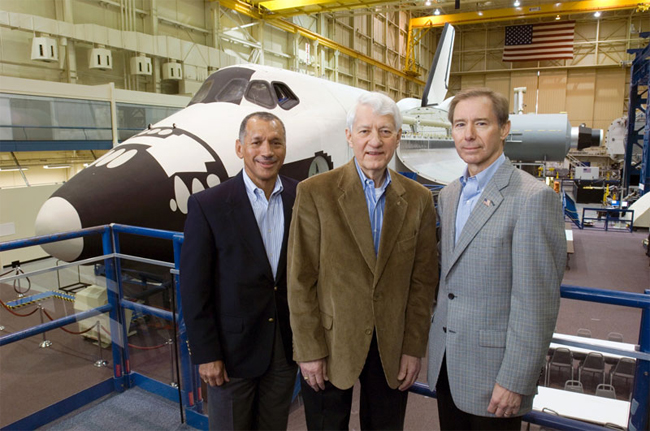 WASHINGTON - Ending months of speculation, the White House announced early Saturday that U.S. President Barack Obama intends to nominate former space shuttle astronaut Charles Bolden to become NASA administrator.
Lori Garver, a Washington-based aerospace consultant and former NASA official who advised the Obama campaign on space matters, was named Bolden's deputy. Both posts require Senate confirmation.
Bolden, a retired U.S. Marine Corps major general, met with Obama at the White House on May 19 to discuss the job.
NASA's deputy assistant administrator for public affairs, Bob Jacobs, used the microblogging service Twitter to spread the word about the announcement.
"WH [White House] just announced intent to nominate Bolden as NASA Administrator and Garver as Deputy Administrator. More details coming," Jacobs wrote on his Twitter page around 8:45 a.m. EDT (1245 GMT) today , just a few minutes after NASA Mission Control decided to postpone space shuttle Atlantis' landing another day to because of poor weather at Kennedy Space Center, Fla.
The seven astronauts aboard Atlantis are now slated to land Sunday to end a 13-day mission to overhaul the Hubble Space Telescope for the fifth and final time.
Mission Control radioed the news of Bolden?s nomination to Atlantis commander Scott Altman so he could alert his crew.
?Roger, thanks for the news on the announcement,? Altman said. ?I guess it wasn?t any of us up here on the flight after all.?
Altman and his crew spoke with Obama on Wednesday during a private call that was later aired on NASA TV.
?We're soon going to have a new NASA Administrator,? Obama said during the call. ?I can't disclose it to you, because I've got to have hoopla on the announcement back here on Earth. But I can assure you that it's a high priority of mine to restore that sense of wonder that space can provide and to make sure that we've got a strong sense of mission, not just within NASA but for the country as a whole.?
Altman thanked the President and said he hoped his crew?s mission to fix Hubble for the last-ever time helped capture some of that sense of exploration. He also tried asked the president who his pick for NASA chief might be.
?Just so we're sure, the new administrator's not any of us on the flight deck right now, is it?,? Altman asked.
The president laughed.
?You know, I'm not going to give you any hints,? Obama said.
SPACE.com senior editor Tariq Malik contributed to this report from Cape Canaveral, Fla. SPACE.com is providing continuous coverage of NASA's last mission to the Hubble Space Telescope. Click here for landing coverage, mission updates and SPACE.com's live NASA TV video feed.
New Video Show - Hubble's Final Shuttle Service Call

Video - Back to the Moon with NASA's Constellation

Image Gallery - Hubble?s Latest Views of the Universe: Part 1, Part 2