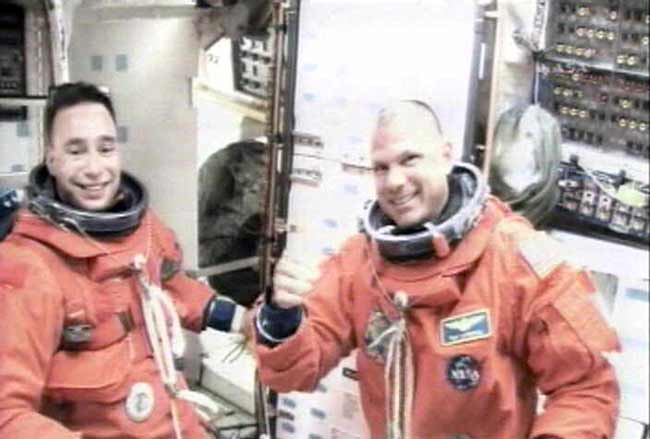 The seven astronauts aboard NASA?s space shuttle Discovery are headed for the International Space Station on a busy construction flight. But for nearly half of the shuttle?s crew, the frenetic pace only adds to what is likely an exhilarating, though until now alien, experience: life in zero gravity.
They are the spaceflight rookies of Discovery?s crew - shuttle pilot Dominic "Tony" Antonelli and teachers-turned-astronauts Joseph Acaba and Richard Arnold II. Each said before flight that they were eagerly awaiting their construction flight to the International Space Station, especially since it came after years of training and pointers from their veteran crewmates.
"You really kind of rely a lot on word of mouth," Arnold said before launching into space on Sunday. "We have some experienced folks on this crew and they?ve just been a wealth of information on some things that you wouldn?t otherwise learn."
Arnold and his crewmates are delivering the last set of U.S.-built solar arrays to the space station, where they plan to perform three spacewalks and swap out one member of the outpost?s Expedition 18 crew during the 13-day mission. Discovery is due to dock at the space station later today at 5:13 p.m. EDT (2113 GMT).
Discovery?s experienced astronauts are shuttle commander Lee Archambault, lead spacewalker Steve Swanson, veteran shuttle and station spaceflyer John Phillips and Japanese astronaut Koichi Wakata, who is Japan?s first long-duration astronaut.
"Everyone did just great in their first day on orbit here," Archambault radioed down to Mission Control late Monday night. "It really went well."
Archambault held a short ceremony aboard Discovery just after launch, when he replaced Antonelli?s U.S. Navy aviator wings with official astronaut wings.
"I was really honored to do that presentation for Tony," he said.
Space adaptation
Discovery?s four spaceflight veterans shared some vital, if basic, details of living in space that might have slipped through NASA?s regime, Arnold said in a preflight interview. The potential for space sickness, a regular symptom of space adaptation, aside, there were other questions on the minds of first-time flyers.
"How do you clean up in the morning? Where do you keep your stuff? We?re allowed to pick out our clothing locker and what kind of clothes we need, what kind of clothes do you take?" Arnold explained. "What?s the temperature going to be like? Just basic day-to-day kind of stuff that you can?t train?someone has to kind of tell you."
So how do you get dressed in space in the morning when it?s your first trip without gravity?
"The big thing is you want to minimize the [number] of clothes you use, because you have a daily kind of washcloth," Arnold said. "You have teeth to brush, you have to shave and you?ve kind of got to get cleaned up, too, using that washcloth. So you want to minimize supplies so that by the time the washcloth is done you?ve used it as efficiently as possible."
With one washcloth, Arnold said, the key is to plan ahead.
"First off, clean yourself up. Then when you?re done shaving you can use your washcloth to kind of wipe off your face," he explained. "Then when you?re done brushing your teeth you can spit what?s left in the washcloth, wipe it up and put it in the trash."
Archambault, who is making his second spaceflight as Discovery?s skipper, said the lesson doesn?t even end at night. He vividly remembers his introduction to bedtime in space during his first flight in 2007.
"The first night in space, I had a horrible night's sleep just because I was trying to get used to floating in air," Archambault said before launch. "The first night, you?ve got a lot on your mind?it?s a beehive of activity."
But later, as the busy mission schedule kicks in, sleeping becomes a joy and relief after a long day of work, he added.
"You?ve seen those commercials for mattresses, where they say it?s like sleeping on a bed of air?" Archambault said. "Well, you are sleeping on a bed of air?in space."
SPACE.com is providing continuous coverage of STS-119 with reporter Clara Moskowitz and senior editor Tariq Malik in New York. Click here for mission updates and SPACE.com's live NASA TV video feed.
New Video - Discovery?s STS-119 Night Launch

New Show - Inside the International Space Station