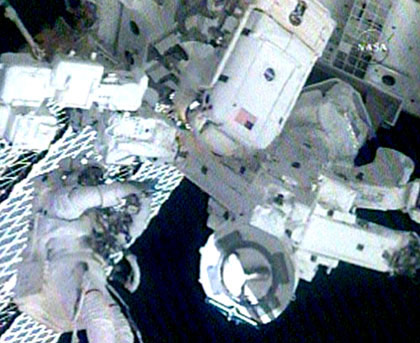 HOUSTON - Two astronauts will step outside the International Space Station (ISS) tonight to outfit a giant maintenance robot with its tool kit and attach a new experiment to the orbiting laboratory?s hull.
Shuttle Endeavour astronauts Rick Linnehan and Robert Behnken are set to head out the station?s Quest airlock hatch at 7:23 p.m. EDT (2323 GMT) to add the orbital tool belt to the Canadian-built Dextre robot, a two-armed automaton designed to replace human spacewalkers for routine maintenance on the ISS exterior.
?It?s kind of surreal to be out there and floating around in space looking out at this giant, white robot that looks like something from ?Star Wars,? Linnehan said in a televised interview late Sunday. ?But it isn?t sci-fi, this is reality.?
Tonight?s planned 6 1/2-hour spacewalk will mark the third of five planned spacewalks for the Endeavour crew?s 16-day mission to deliver Dextre, the first module of Japan?s massive Kibo station laboratory and a new crewmember to the ISS. Linnehan, Behnken and station flight engineer Garrett Reisman attached Dextre?s hand-like gripping tools and two, 11-foot (3.4-meter) arms during two earlier spacewalks before they began moving the robot?s metal limbs during brake tests on Sunday.
?It definitely looked as if something were coming alive, like Gigantor or Frankenstein, as the pieces of Dextre were coming together and we got it moving this morning,? Behnken said late Sunday.
Armed with gripper hands equipped with built-in socket wrenches, lights and cameras, Dextre - short for Special Purpose Dexterous Manipulator - is the Canadian Space Agency?s third major contribution to the ISS after the Canadarm2 robotic arm and its anchor-like Mobile Base System on the station?s railcar work platform.
The 3,440-pound (1,560-kilogram) robot can rotate its torso and is designed to operate from the Mobile Base platform or the tip of the station?s Candarm2. To avoid banging its arms together, the robot will move one arm at a time, using one limb to steady itself against the ISS while the other draws on an array of three different tools to remove bolts, retrieve broken components and replace them with spares. When complete, Dextre will stand 12 feet (3.7 meters) tall.
During today?s spacewalk, Linnehan and Behnken will attach Dextre?s tool belt-like holster to an outrigger platform on the robot?s waist. They will also attach a 6-foot (almost 2-meter) long boom that will be used to stow spare parts for transport to work sites outside the ISS. The spacewalkers will cap their robot work by removing several thermal covers from Dextre?s exterior and preparing the cargo pallet that delivered it for the return to Earth in Endeavour?s payload bay.
Linnehan and Behnken will also attach a materials exposure experiment to a porch-like spot at the tip of the station?s European Columbus lab. The briefcase-sized experiment will expose a variety of materials and coatings to the space environment to determine their usefulness in the design of future spacecraft, NASA officials said. The spacewalkers will also deliver a spare robotic arm joint and two spare direct current switching units to support the station?s power grid.
Today?s spacewalk will mark the sixth excursion for Linnehan and the first for Behnken, though he worked with Reisman to move Dextre?s arms into an overnight stow position late Sunday.
?It flew like a dream,? Reisman told Mission Control of the more than $200-million Dextre robot. ?Nice and smooth.?
NASA is broadcasting Endeavour's STS-123 mission live on NASA TV. Click here for SPACE.com's shuttle mission coverage and NASA TV feed.
NEW GALLERY: Launch Day for Shuttle Endeavour