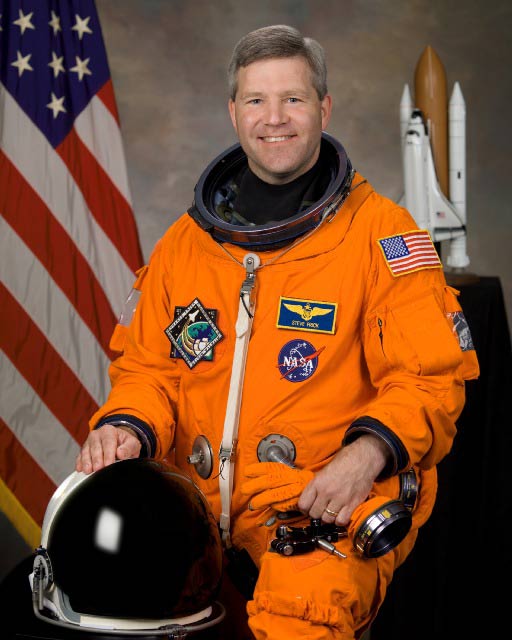 NAME: Stephen N. Frick (Commander, U.S. Navy)
NASA Astronaut
PERSONAL DATA: Hometown: Gibsonia, Pennsylvania. Married. He enjoys skiing, hiking, camping.
EDUCATION: Graduated from Richland High School, Gibsonia, Pennsylvania in 1982; received a bachelor of science degree in aerospace engineering from the US Naval Academy in 1986; master of science degree in aeronautical engineering from the U.S. Naval Postgraduate School in 1994.
ORGANIZATIONS: Society of Experimental Test Pilots, U.S. Naval Academy Alumni Association.
SPECIAL HONORS: Air Medal with 2 Strike-Flight awards; 3 Navy Commendation Medals, one with Combat V; Navy Unit Commendation; National Defense Service Medal; Sea Service Deployment Ribbon, 2 Southwest Asia Service Medals; and various other service awards.
EXPERIENCE: Frick was commissioned upon graduation from the U.S. Naval Academy in May 1986. After being designated as a Naval Aviator in February 1988, he reported to Strike Fighter Squadron 106 at Naval Air Station Cecil Field, Florida, for transition to the F/A-18 Hornet.
Upon completion of training, he reported to Strike Fighter Squadron 83 also at Cecil Field, and deployed to the Mediterranean Sea and Red Sea onboard the USS Saratoga (CV-60). During the 8-month deployment, he participated in Operation Desert Shield and Desert Storm, flying 26 combat missions from the Red Sea to targets in Iraq and Kuwait. He was also designated an airwing qualified landing signals officer. After leaving Strike Fighter Squadron 83 in December 1991, Frick participated in a cooperative program consisting of 15 months at the Naval Postgraduate School in Monterey, California, and 1 year with the Naval Test Pilot School at Naval Air Station Patuxent River, Maryland.
Upon graduation in June 1994, he was assigned as a project officer and test pilot to the Carrier Suitability Department of the Strike Aircraft Test Squadron also located at Patuxent River. While there, he conducted shore-based and shipboard testing of the F/A-18 Hornet. Frick was assigned to Strike Fighter Squadron 125 in Lemoore, California, preparing for return to a deployed F/A-18 squadron when selected for the astronaut program in April 1996.
Frick Has logged over 3,200 flight hours in 35 different aircraft, and has over 370 carrier landings.
NASA EXPERIENCE: Selected by NASA in April 1996, Frick reported to the Johnson Space Center in August 1996. Having completed two years of training and evaluation, he is qualified for flight assignment as a pilot. Initially, Frick was assigned technical duties in the Astronaut Office Spacecraft Systems/Operations Branch. He completed his first space flight as pilot on STS-110, and has logged over 259 hours in space. Frick is assigned to command the STS-122 mission that will deliver the European Space Agency?s Columbus Laboratory to the International Space Station.
SPACE FLIGHT EXPERIENCE: STS-110 Atlantis (April 8-19, 2002) was the 13th Shuttle mission to visit the International Space Station. Mission milestones included: delivery and installation of the SO (S-Zero) Truss; first maneuvering of spacewalkers using the ISS robotic arm; and the first mission on which all spacewalks were based from the station?s Quest Airlock. The crew prepared the station for future spacewalks and spent a week in joint operations with the station?s Expedition-4 crew. Mission duration was 10 days, 19 hours and 42 minutes.
Last Updated: July 2006
VIDEO: Stephen Frick: STS-110 Pilot

IMAGES: STS-110 Atlantis Photo Album

Complete Coverage: NASA's STS-110 Shuttle Mission

Mission Atlantis: Europe's Columbus Lab Sets Sail for ISS

All About Astronauts

Complete Space Shuttle Mission Coverage