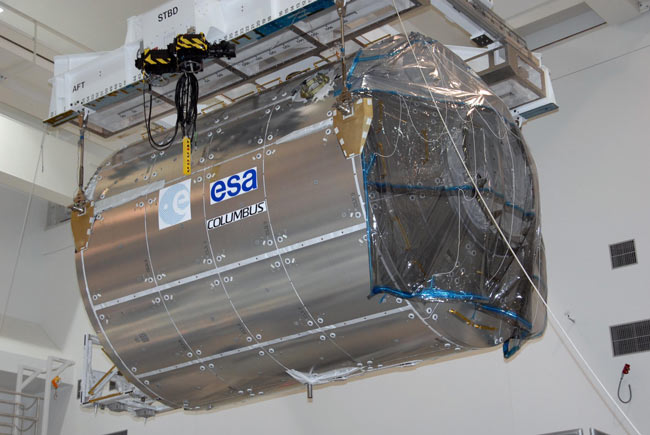 WASHINGTON - Seven astronauts and a European laboratory are on track to rocket toward the International Space Station (ISS) next month aboard NASA?s shuttle Atlantis.
Commanded by veteran spaceflyer Stephen Frick, Atlantis?s STS-122 crew are eager to haul the European Space Agency?s (ESA) Columbus laboratory toward the ISS on Dec. 6.
?It will be a very busy mission with also some spacewalks to do space station maintenance tasks and who knows what else,? Frick told reporters Friday during a series of mission briefings at NASA?s Johnson Space Center in Houston. ?Space station assembly missions, these days, are very dynamic.?
Frick and his crewmates plan to perform at least three spacewalks during their 11-day mission to attach Columbus to the station?s new Harmony node. The station?s Expedition 16 crew, commanded by NASA astronaut Peggy Whitson, will perform two spacewalks of their own next week to ensure Harmony and the ISS are ready for December shuttle flight.
?As long as we don?t run into any major snags with these [spacewalks], the schedule will support a Dec. 6 launch,? said Kenny Todd, NASA?s ISS integration and operations manager, of the planned Nov. 20 and Nov. 24 excursions.
Delivered by NASA shuttle astronauts last month, the Harmony node is designed to serve as the anchor for Japan?s three-segment Kibo module and the ESA?s 1.4 billion Euro (US$2 billion) Columbus lab, which will mark Europe?s first permanently crewed science facility to reach space.
?I?m very proud that we will bring up Columbus, the biggest contribution of ESA to the International Space Station,? said Atlantis mission specialist Hans Schlegel, an ESA astronaut from Germany.
Atlantis mission specialist Léopold Eyharts, an ESA astronaut from France, will christen Columbus and stay aboard the space station as a new member of the Expedition 16 crew. He will replace U.S. astronaut Dan Tani, who will return to Earth with the STS-122 crew.
Space station joint inspection
NASA is also drawing up plans for a late addition to the mission?s third spacewalk that would call for STS-122 mission specialist Rex Walheim to inspect a balky solar wing joint on the station?s starboard side. Mission managers may even extend the flight two full days and add a fourth spacewalk to perform a more in-depth inspection, NASA said Friday.
Spacewalkers discovered metal grit inside the massive gear, known as the starboard Solar Alpha Rotary Joint (SARJ), during NASA?s STS-120 shuttle mission last month. After examining samples of grit that were returned to Earth, engineers found them to be part of the gear?s race ring that rotates the station?s starboard solar wings like a paddlewheel to continuously face the sun.
?I think we?re still in more of the investigation stage, and that we can do using our regular skills for regular tasks,? Walheim told reporters today. ?We?ll just have to be careful about it.?
Atlantis and its STS-122 crew have a slim, week-long window to launch toward the ISS next month. The mission will be NASA?s fourth shuttle flight of the year, the largest number since the 2003 Columbia accident.
?We?ve been really fortunate that things have been working so well for us,? said NASA shuttle program manager Wayne Hale, stressing that safety and not schedule pressure will always be paramount. ?This is a story of continuing to pay attention to details and not stopping to pat ourselves on the back.?
Hale added that NASA shuttle managers will decide sometime this spring whether to proceed with plans to pull the Atlantis shuttle out of service in 2008, or keep flying the spacecraft until the planned 2010 retirement of the entire three-orbiter fleet.
NASA plans to replace its space shuttles with the capsule-based Orion Crew Exploration Vehicle and its Ares I rockets as early as 2013.
VIDEO: ISS Commander Peggy Whitson Takes Charge

NEW IMAGES: Discovery's STS-120 Mission in Pictures

Complete Space Station Mission Coverage