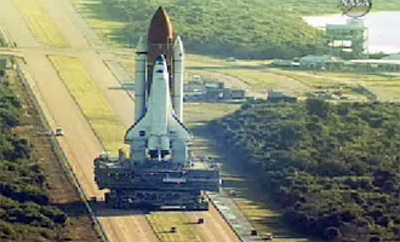 The shuttle Atlantis rolled out to its Florida launch pad Saturday as NASA prepares for a December construction flight to the International Space Station (ISS).
But whether the space station will be ready for Atlantis?s planned Dec. 6 launch from NASA?s Kennedy Space Center in Cape Canaveral, Fla., to deliver the European-built Columbus laboratory is still uncertain. The station?s Expedition 16 crew is in the midst of a challenging month of spacewalks and construction to prime the ISS for Atlantis?s STS-122 mission.
?I think it is not outside the realm of possibility, based on discussions we?ve had with the International Space Station (ISS) team, that they may be ready for us to launch on Dec. 6,? said Wayne Hale, NASA?s space shuttle program manager, after Wednesday?s successful landing of the Discovery orbiter. ?We?ll see how that plays out over the next couple of weeks.?
ISS Expedition 16 commander Peggy Whitson and flight engineers Yuri Malenchenko and Dan Tani performed their first spacewalk this month on Friday, with two more set for Nov. 20 and Nov. 24.
On Monday, the astronauts will use the station?s robotic arm to move attach a shuttle docking port to the tip of the outpost?s Harmony connecting module, the destination for Atlantis?s Columbus lab payload.
Harmony and its docking port are slated to be permanently installed at the front of the station?s U.S. Destiny laboratory on Nov. 14. Discovery?s STS-120 astronaut crew installed Harmony during a 15-day mission to the ISS.
Only once Harmony and its docking port are attached to Destiny and fully activated will the station be ready to host a visiting space shuttle crew, mission managers said.
Commanded by veteran shuttle astronaut Stephen Frick, Atlantis?s STS-122 crew will install the European Space Agency?s (ESA) Columbus laboratory to the space station?s Harmony connecting node. Frick and his six crewmates - two of whom are ESA astronauts - will also replace Tani with ESA spaceflyer L?opold Eyharts as an ISS flight engineer during their planned 11-day mission.
Atlantis, fresh off a June ISS construction flight, has a slim December window to launch to the station due to the available sunlight for the orbital laboratory?s expansive solar arrays.
Hale said the window, which currently runs form Dec. 6 to Dec. 13, could be stretched one or two days. If Atlantis cannot launch in December, the shuttle would lift off no earlier than Jan. 2 to avoid flying during the holidays, he added.
Atlantis began its slow trek to the launch pad atop a massive NASA crawler-transporter vehicle at 4:43 a.m. EST (0943 GMT). The shuttle took about seven hours to make the three-mile (4.8 kilometer) trip.
Meanwhile, ISS mission managers said they are hopeful that they and the Expedition 16 crew will have the space station ready in time to meet Atlantis?s December launch window.
?My understanding is that the shuttle program is still working at having the orbiter ready to launch on Dec. 6,? Derek Hassmann, Expedition 16?s lead ISS flight director, said Friday. ?We?re working hard to get there.?
VIDEO: ISS Commander Peggy Whitson Takes Charge

SPACE.com VIDEO Interplayer: STS-120 Mission Brings 'Harmony' to ISS

Complete ISS Expedition Coverage