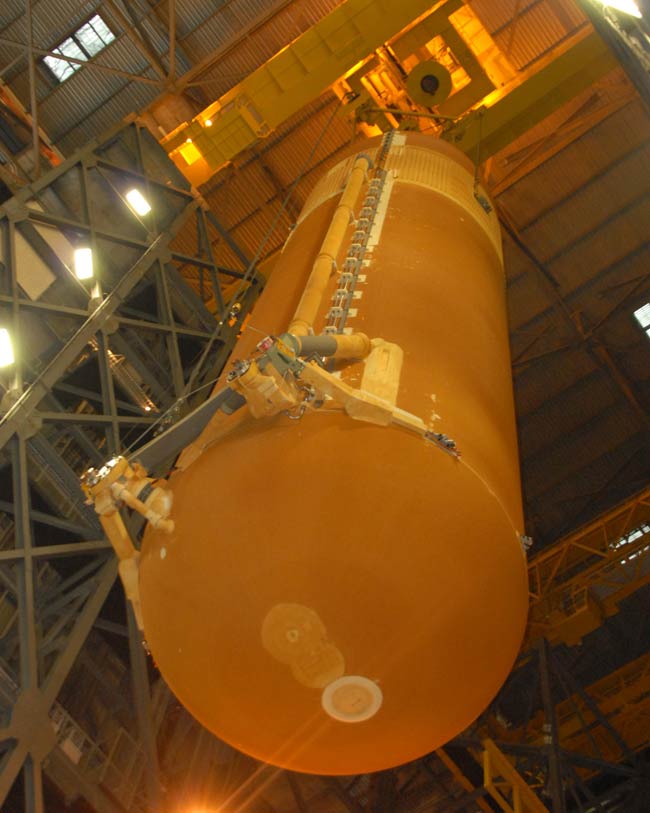 NASA engineers attached the space shuttle Discovery's external fuel tank to its twin rocket boosters Wednesday following a week of repairs to avoid the same type of foam debris that dinged the Endeavour orbiter during liftoff earlier this month.
Shuttle workers are now readying Discovery to move into NASA's Vehicle Assembly Building at the Kennedy Space Center (KSC) in Florida in preparation for its planned Oct. 23 launch toward the International Space Station (ISS).
Engineers spent just over a week prying loose cracked layers of cork insulation from a series of large brackets on Discovery's external tank.
"There were not any surprises and we found what we were looking to find," KSC spokesperson George Diller told SPACE.com, adding that Discovery is due to roll over to the 52-story Vehicle Assembly Building to be attached to its fuel tank on Sept. 19.
The cracks were first discovered in an X-ray survey of the tank after a piece of debris popped free from a similar bracket during the Aug. 8 launch of Discovery's sister ship Endeavour. That debris ricocheted off a metal strut and carved a small gouge in Endeavour's tile-covered underbelly.
While the damage to Endeavour posed no risk to the orbiter or the safe return of its astronaut crew, NASA scrutinized its next three shuttle fuel tanks to fly to avoid similar debris shedding events in the future. The space agency has worked to limit the amount of debris shed during shuttle launches, while keeping a close watch on the integrity of orbiter heat shields, ever since the 2003 loss of the Columbia spacecraft and its astronaut crew.
During X-ray scans of Discovery's fuel tank, engineers found cracks in a composite material of cork and silicone known as super-lightweight ablator (SLA), which sits sandwiched between the surface of an aluminum bracket and its outer layer of foam insulation. The bracket is one of a series that secure a liquid oxygen feed line to the fuel tank's outer hull.
The cracks may allow the formation of ice when the fuel tank is pumped full of its super-chilled liquid oxygen and liquid hydrogen propellant. The result could lead to the same type of debris shedding as that which dinged Endeavour last month, NASA has said.
Since both the ablator material and ice are denser than the lighter outer foam layer, they can cause more damage to an orbiter's heat shield than foam alone, shuttle officials have said. Engineers removed the ablator layers from four of five brackets with the cracks on Discovery's fuel tank and plan future repairs for the next two tanks that will support shuttle flights in December and February.
NASA is developing a permanent solution, which will replace the aluminum brackets with new titanium ones, that will debut on a planned April 2008 shuttle flight.
Commanded by veteran shuttle flyer Pam Melroy, Discovery's STS-120 construction mission will deliver the newHarmony connecting node to the ISS, where it will serve as a foundation for the future addition of international laboratories. Once attached to its fuel tank and rocket boosters, Discovery will roll out to its KSC launch pad in late September, Diller said.
SPACE.com Video Interplayer: NASA's STS-118 Shuttle Mission

IMAGES: Endeavour's STS-118 Launch to the ISS

Complete Space Shuttle Mission Coverage