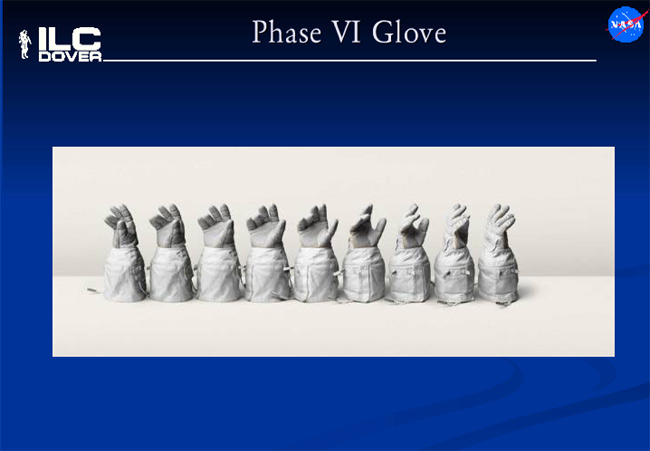 Six teams from across the country are converging on Connecticut this week to determine which among them has built a better space glove in a NASA-sponsored competition.
The two-day competition, billed as the Astronaut Glove Challenge, begins May 2 at the New England Air Museum at the Bradley International Airport in Windsor Locks, where a total of $250,000 in prize money is at stake. The contest is one of several competitions under NASA's Centennial Challenges program which offer cash prizes to spur innovation and interest in spaceflight technology.
"We're looking for something different, to show us something unique," said Alan Hayes, CEO of the non-profit Owings, Maryland firm Volanz Aerospace, which is overseeing the Astronaut Glove Challenge for NASA.
Build a better space glove
Spacesuit gloves are among the most important components of an astronaut's spacesuit, especially during hours-long spacewalks to perform construction or maintenance outside a vehicle such as the International Space Station (ISS). Astronauts have endured cold fingertips and broken fingernails, as well as bruised and bleeding hands, to overcome the resistance of their pressurized spacesuit gloves while working long hours in space, NASA said in a statement.
"Spacesuit design has a way to go and we're starting with the glove, which is probably going to have the biggest impact on the astronauts," Hayes told SPACE.com.
NASA's Astronaut Glove Challenge offers a $200,000 prize for the team that presents the best astronaut glove that surpasses the minimum requirements set by NASA's baseline Phase VI glove. A separate, $50,000 award is reserved for the Mechanical Counter Pressure glove joint demonstration that compares glove dexterity and flexibility.
To win the challenge, competitors must supply two different astronaut gloves to be used in three separate tests, NASA has said.
First, each glove will be measured to determine the amount of force required to move its fingers and thumb. The glove with the least force wins the most points.
Then, each team will use one of the gloves to perform dexterity tasks within a depressurized glove box. The more tasks completed within a specified time wins more points. Finally, one glove from each team will be subjected to a burst test to determine how much internal pressure they can withstand.
The team that wins the most points while exceeding the performance of NASA's current spacesuit gloves will win the Astronaut Glove Challenge.
Competitors are not required to provide their own thermal or micrometeorite garment, which wrap around the outer layers of NASA's current spacesuit gloves for added protection against the space environment. It was that outer glove layer that suffered a thin slice about three-fourths of an inch (about two centimeters)long to its palm during one of four spacewalks performed by veteran astronaut Robert Curbeam as part of NASA's last shuttle flight in December.
Engineers had to use a microscrope to ensure that the glove was in fact damaged and not weathered by normal wear and tear, NASA spokesperson Brandi Dean told SPACE.com.
Hoping for a winner
The Astronaut Glove Challenge is the fourth NASA contest to be performed.
The agency's Beam Power and Tether challenges, in which entrants construct light-powered climbing robots and strong tethers, met in 2005 and 2006, yielding no winners despite a prize purse of $200,000 per event last year. The Northrop Grumman Lunar Lander Challenge, which offered a $2 million prize for privately built vehicles capable of vertical takeoffs, landing and in-flight hovering, met in October 2006 at the Wirefly X Prize Cup and also ended without a champion.
Another competition, the 2007 Regolith Excavation Challenge, calls on entrants to build their own autonomous Moon dirt digging robots. The first meet for that contest, with $250,000 in prize money up for grabs, is scheduled for May 12 in Santa Maria, California.
Hayes said the space glove contest would go on even if none of its six competitors make it through the qualifying stage.
"Everybody could fail on Day One, but we're still going to go through with the competition," Hayes said. "I'd love to be able to give out a $250,000 check on Thursday."
Complete Coverage of the Wirefly X Prize Cup