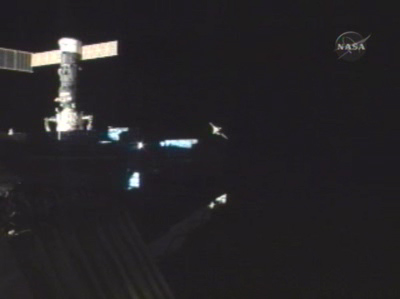 Astronauts aboard the International Space Station (ISS) discarded an unmanned cargo ship packed full of trash Tuesday as they ready the orbital laboratory to welcome a new crew.
ISS Expedition 14 commander Michael Lopez-Alegria and flight engineers Mikhail Tyurin and Sunita Williams successfully jettisoned the unmanned Russian supply ship Progress 23 at 2:11 p.m. EDT (1811 GMT) to help prime the station for the April arrival of two Russian cosmonauts and a U.S. space tourist.
"This was the longest increment we have had to date," Ginger Kerrick, NASA's lead Expedition 14 flight director, in a mission briefing. "I'm proud of the work that both the crew and ground teams accomplished."
Russian ISS flight controllers will command Progress 23 to fire its engines and burn up in the Earth's atmosphere over the Pacific Ocean. On Thursday, the Expedition 14 astronauts will take a short trip aboard their Soyuz TMA-9 spacecraft to clear an ISS docking port for the incoming Expedition 15 crew.
Crew swap ahead
Lopez-Alegria and Tyurin are due to return to Earth on April 20 after handing control of the ISS over to their relief crew, Expedition 15 commander Fyodor Yurchikhin and flight engineer Oleg Kotov, who will launch towards the orbital laboratory aboard a Russian Soyuz spacecraft alongside U.S. space tourist Charles Simonyi on April 7. Simonyi is paying more than $20 million for a 13-day trip to the ISS under an agreement between Russia's Federal Space Agency and the Virginia-based firm Space Adventures, and will land with Lopez-Alegria and Tyurin.
Williams, however, will stay on for at least part of the six-month Expedition 15 mission, and is slated to land with NASA's STS-118 shuttle crew in July. But the delay of NASA's next immediate shuttle flight, STS-117 aboard Atlantis, will likely delay the STS-118 mission and subsequently Williams' return to Earth, said Kirk Shireman, NASA's deputy ISS program manager.
"Certainly, we've had some of the unexpected this year," Shireman told reporters Tuesday. "We're now in the process of trying to adapt to that change."
Slated to launch on March 15, Atlantis' STS-117 ISS construction flight was delayed due to hail damage to the orbiter's external tank, Shireman said, adding that liftoff is targeted for sometime between mid-May and mid-June pending an April 10 decision on whether to repair the damage or switch to a new tank altogether.
In a worse-case scenario, NASA could return Williams aboard Atlantis during the 11-day STS-117 mission by adding her astronaut replacement Clayton Anderson to the flight's crew, but that is both an unlikely and undesirable option, Shireman said.
"There are technical reasons we don't want to do that," Shireman said, adding that weight of Discovery's massive new ISS solar array payload would limit the space available for fresh ISS crewmember supplies.
Record-setting mission
In addition to being NASA's longest ISS mission to date, the Expedition 14 flight has been packed with a series of spaceflight records since Lopez-Alegria and Tyurin first arrived last September.
In November, Tyurin became the first astronaut to whack a golf ball into space from outside the ISS, the first of a record-setting five spacewalks performed during Expedition 14.
Lopez-Alegria performed in each of the Expedition 14 excursions to grab the all-time U.S. title for most spacewalking time. Williams, too, set new records for the most spacewalks - as well as spacewalking time - performed by a female astronaut during three of the Expedition 14 excursions and one other staged during NASA's December shuttle mission to the ISS.
Kerrick said Lopez-Alegria will also set a new record for the longest continuous U.S. spaceflight, snatching the title from NASA astronaut Michael Foale (who has 196 uninterrupted days) when he lands on April 20 after 214 days in orbit.
But Williams, now in her 107th day in space, will break that Lopez-Alegria's record if NASA's STS-118 mission is delayed to the point that its landing occurs by mid-July.
No matter who ultimately snags the U.S. spaceflight duration record, flight controllers on Earth will keep close watch on the astronauts' health through landing.
"We have been constantly been monitoring the astronauts," lead Expedition 14 flight surgeon Dave Alexander said. "They are healthy and we can't wait to see them."
Complete Coverage: ISS Expedition 14
All About the International Space Station