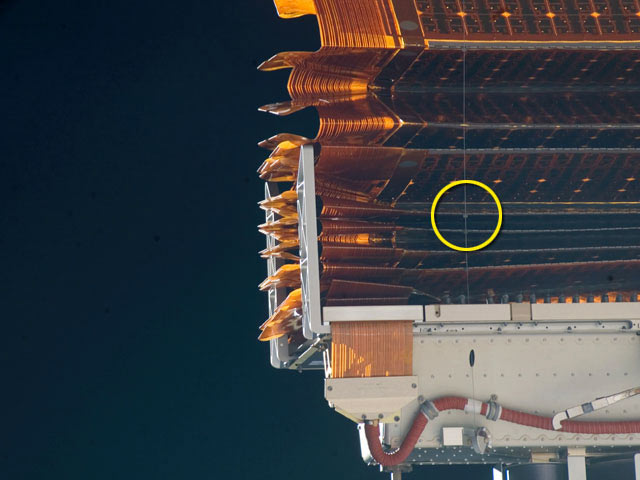 HOUSTON -- NASA mission managers are weighing plans to address a stubborn solar array left half-exposed above the International Space Station (ISS), and lauded a successful Thursday spacewalk to rewire the orbital laboratory.
ISS flight controllers plan to conduct a "wiggle" test on one of two solar wings of the station's mast-like Port 6 (P6) truss by 11:00 a.m. EST (1600 GMT) today to jar a sticky guide wire loose, said John Curry, NASA's lead ISS flight director for the STS-116 shuttle mission aboard Discovery.
"We suspect that with some minor excitation of the arrays, these will clear themselves," Mike Suffredini, ISS program manager for NASA, told reporters here at the Johnson Space Center.
The P6 array, which stretches out over the space station's port side, has been idle in mid-retraction since Wednesday, when initial efforts by Discovery and ISS astronauts to pack it away remotely were stymied by incorrect folds [image]. Friction between the array's guide wires as they thread through a series of grommets appears to be the culprit, and if the wiggle test doesn't do the trick, mission managers will meet and discuss whether to try a second technique, flight controllers said [image].
"There's actually another technique that will make you laugh a little," Suffredini said.
That technique basically calls for an astronaut, possibly one of the space station's Expedition 14 crewmembers, to go through a vigorous aerobic workout using the outpost's Interim Resistive Exercise Device (IRED), Suffredini explained. An intense workout of lifts and squats on the bungee-bar device by NASA astronaut Leroy Chiao during the station's Expedition 10 mission caused vibrations that visibly shook the P6 solar arrays in the past, he added [image].
"It turned out he was doing more of a workout than just on himself," Suffredini said of Chiao. "He was working out the arrays as well."
ISS flight controllers hope either of the two non-spacewalk approaches will be successful since mounting a fourth spacewalk during Discovery's STS-116 mission not only carries time pressures, but also shock hazards along with the inherent risk of leaving a spacecraft for orbital work. The space station's Expedition 14 mission also has a packed spacewalk schedule, mission managers said.
"I think we'll clear this with [intravehiclar] steps," Suffredini said, adding that if one of the two internal approaches is successful today the P6 array could be retracted later this afternoon. "No matter what we do, the array will always be structurally sound."
While it need not be retracted completely during the STS-116 mission, the solar wing and another on the P6 truss must be packed away before the segment can be relocated to the end of the recently installed Port 5 truss later next year, and may have to be addressed before a Russian spacecraft docks at an Earth-facing berth in April.
If a spacewalk is required, flight controllers believe a simple tug on the stuck guide wire is enough to free snags, but are still debating whether to use the station's robotic arm or foot restraints to hold a spacewalker in place. To squeeze in a fourth spacewalk for Discovery's STS-116 crew by Flight Day 9 of their mission, ISS managers would have to make the decision by the end of today. A Flight Day 10 spacewalk plan could give managers an extra day to decide, Suffredini said.
Discovery astronauts concluded Flight Day 6 of their 12-day mission when they went to sleep at 1:47 a.m. EST (0447 GMT) today.
Spacewalk success
In addition to discussing the space station's stubborn solar array, ISS flight controller lauded the near-perfect Thursday spacewalk by STS-116 astronauts Robert Curbeam and Christer Fuglesang.
The astronauts spent five hours rewiring half of the space station's power system to shift from a temporary arrangement to its permanent form and also activated the orbital laboratory's primary cooling system for the first time.
"Today went as close to without a hitch as you can possibly have a spacewalk can go," Curry said Thursday, admitting that the sheer amount of tools, equipment and machinery that had to work as advertised was daunting. "And all that stuff worked exactly and precisely the way folks designed it...the crew, both of them, they were just machines."
The spacewalk's success bolsters hopes that a similar plan to rewire the remaining half of the ISS power grid on Saturday will go as planned, NASA officials said.
Saturday's spacewalk, the third and final excursion currently planned for the STS-116 crew, is scheduled to begin at 2:37 p.m. EST (1537 GMT). Curbeam and newly arrived ISS flight engineer Sunita Williams, who is replacing European Space Agency astronaut Thomas Reiter during Discovery's docked mission, will perform the planned six-hour spacewalk.
The joint ISS and Discovery shuttle crews have a rather light day ahead of them Friday. They are scheduled to perform a series of cargo transfers and speak with reporters on Earth throughout the day, with some time reserved for personal time, NASA officials said.
STS-116 Mission Profile Video: EVA 2
Images: The Spacewalks of NASA's STS-116
Images: Discovery's STS-116 Launch Day Gallery
STS-116 Video: Power is Everything
STS-116 Video: Building Blocks
Mission Discovery: The ISS Rewiring Job of NASA's STS-116
Complete Space Shuttle Mission Coverage
The Great Space Quiz: Space Shuttle Countdown
All About the Space Shuttle