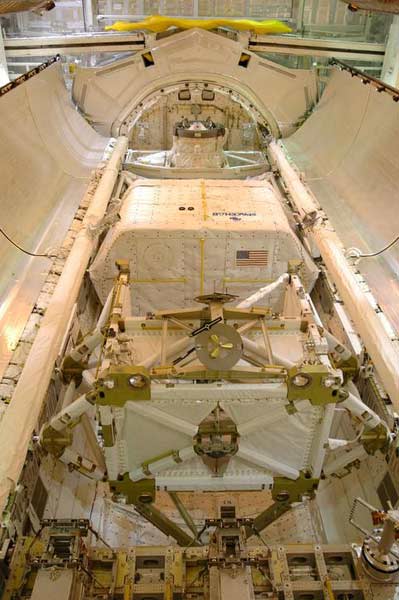 Seven astronauts may be the most visible participants in NASA's planned launch of the shuttle Discovery this week, but the orbiter is also hauling a cargo bay full of vital supplies and components to the International Space Station (ISS).
Riding inside Discovery's 60-foot (18-meter) payload bay will be a pressurized SPACEHAB cargo container, a spare parts platform also laden with ready-to-launch microsatellites, and--as the centerpiece--an $11-million addition for the space station's main truss.
"It's an exciting mission," Sharon Castle, NASA's launch package manager for Discovery's STS-116 mission. "It's packed with everything."
Altogether, Discovery's STS-116 astronauts will haul more than 5,000 pounds (2,267 kilograms) of internal cargo and 800 pounds (362 kilograms) of external hardware--not counting the truss--to the ISS when their construction mission launches on Dec. 7. The shuttle is expected to return some 4,400 pounds (1,195 kilograms) when its 12-day mission returns to Earth.
One of the most precious of items sitting in Discovery's payload bay is the Port 5 (P5) truss. The spacer-like addition fits at the portside (or leftmost) end of the space station's Port 3/Port 4 (P3/P4) solar array segment, which arrived during September's STS-115 shuttle flight.
"It's a small structure compared to the other major elements," Chuck Hardison, ISS site manager for P5's builder Boeing, told SPACE.com. "But its function is absolutely critical."
With its attached power and data lines, P5 is designed to serve as a bridge between P3/P4 and an older solar array that will be moved into position during a future shuttle mission.
The 4,110-pound (1,864-kilogram) P5 truss segment runs about 11 feet (3.3 meters) long, about 14 feet (4.5 meters) wide and stands about 13 feet (4.2 meters) high. The ISS segment arrived at NASA's Kennedy Space Center in 2001, and now sits between the SPACEHAB module and a cargo palette inside Discovery's cargo bay.
"It looked great out there in the payload bay," Hardison said, adding that he has already said his goodbye's to the boxy station piece. "We're really looking forward to seeing it go."
Castle said that a variety of supplies and spare parts are stuffed inside the SPACEHAB module, which astronauts can reach via a connection at Discovery's airlock. SPACEHAB, Inc. officials added that their module is filled with crew provisions, such as food, spacewalking tools and health equipment.
Mission specialist Joan Higginbotham will serve as Discovery's loadmaster to oversee cargo transfer during the STS-116 mission. She is also charged with launching a trio of small, experimental microsatellites currently stowed in a cylindrical container attached to the SPACEHAB-built Integrated Cargo Carrier riding in the aft of shuttle's cargo bay.
The cargo carrier is also laden with a series of debris panels that will shield the space station's Russian-built Zvezda service module from micrometeorite damage once installed. The panels will be arranged in a configuration known as the "Christmas Tree" for delivery to the ISS exterior during a planned Dec. 14 spacewalk.
"It's appropriate that we're moving a Christmas tree around at that time of year," STS-16 mission specialist Nicholas Patrick said in a NASA interview. "I should add to that end, [it's] essentially a Christmas present for the space station."
Space Shuttle Launch Visible Across Eastern U.S. Thursday
Images: Ready to Fly: STS-116 Training
Images: Shuttle Discovery Poised for STS-116
STS-116 Video: Major Tasks
STS-116 Video: Power is Everything
STS-116 Video: Back in Business
STS-116 Video: Building Blocks
Mission Discovery: The ISS Rewiring Job of NASA's STS-116
Complete Space Shuttle Mission Coverage
The Great Space Quiz: Space Shuttle Countdown
All About the Space Shuttle