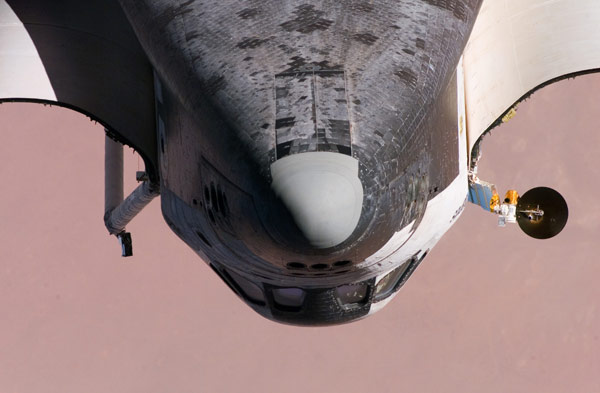 HOUSTON - NASA engineers have cleared the space shuttle Atlantis' heat shield of any concern pending one last inspection by the orbiter's six-astronaut crew, mission managers said Tuesday.
John Shannon, NASA's deputy shuttle program manager, said engineering teams cleared two final issues prompted by orbital photography and a detailed inspection of Atlantis' heat-resistant tiles, wing edges and nose cap.
"We were able to clear all of the thermal protection system in 60 hours [and] my best estimate was always five days, about 120 hours," Shannon, who also chairs Atlantis' STS-115 Mission Management Team, told reporters in a briefing here at NASA's Johnson Space Center. "So we did it in half the time."
Atlantis is docked at the International Space Station (ISS), where its six-astronaut crew delivered a massive pair of trusses and new solar arrays in a spacewalk earlier today. The mission is NASA's first ISS construction flight since late 2002.
The only two shuttle heat shield issues of any note included a slightly puffed thermal blanket on the dome of Atlantis' starboard - or right - Orbiter Maneuvering System (OMS) pod and a bright bit of orange plastic known as shim stock.
The thermal blanket represented no debris or excessive heating threat to Atlantis on reentry and the plastic shim - once thought to be a ceramic cloth gap-filler - will melt well before the orbiter experiences its maximum heating during landing.
Shuttle tiles withstand temperatures of about 2,300 degrees Fahrenheit (1,260 degrees Celsius) at the peak of atmospheric reentry. The plastic shim will soften at just 200 degrees Fahrenheit (93 Celsius) and melt completely at 450 degrees (232 Celsius), Shannon said.
One last inspection, to scan for any damage by orbital debris or micrometeorites, is scheduled once Atlantis undocks from the ISS next week.
The fact that NASA engineers cleared Atlantis' heat shield on Flight Day 4 of the shuttle's mission, rather than one or two days later as seen on the last two shuttle flights, is a sign that the engineering teams are streamlining and improving their processes, Shannon added.
ISS Additions Also Doing Well
In addition to Atlantis, the space station's new $372 million trusses and solar arrays are also doing well after a swift spacewalk today.
John McCullough, NASA lead ISS flight director for Atlantis' STS-115 mission, said some systems aboard the still-unpacked solar arrays and a 45-foot (13-meter) pair of massive trusses were powered up following the spacewalk by astronauts Joseph Tanner and Heidemarie Stefanyshyn-Piper.
The astronauts attached 15 critical power and data lines, as well as two fluid lines, to bring the 17.5-ton Port 3/Port 4 (P3/P4) trusses into the ISS fold. The solar array boxes were poised in position to deploy their power-generating panels on Thursday morning, ISS Mission Management Team chairman Kirk Shireman said.
Flight controllers sent 1,631 commands to the ISS in a careful choreography with the spacewalking crew, more than eight times the standard 200 commands of any given eight hours aboard the station, Shireman said.
The only hitch in the orbital construction job was the loss of a small 1.5-inch (3.8-centimeter) bolt, which lost a restraining washer and popped off a thermal cover Tanner removed from a motor lock on the P3 element's Solar Alpha Rotary Joint (SARJ). Located between the P3 and P4 trusses, the SARJ is a motor-driven wheel that will rotate P4 and future outboard segments so their solar arrays can track the Sun for maximum power generation.
"It's pretty trivial," McCullough said, adding that the bolts are likely no hazard to the station, Atlantis or future spacecraft.
"I just hope that bolt is on its way to Mother Earth right now and not anywhere around the SARJ," Tanner said after today's spacewalk.
Shireman said a second STS-115 spacewalking team - mission specialists Daniel Burbank and Steven MacLean of the Canadian Space Agency - are camping out in the space station's Quest airlock tonight to purge their bodies of nitrogen for their mission's second spacewalk on Wednesday.
That planned 6.5-hour spacewalk calls for Burbank and MacLean to remove 14 remaining launch locks on SARJ, where they will now keep an eye on all bolts in use, station managers said, adding that the Atlantis crew's ISS construction work is a welcome challenge.
"I felt that this is what NASA is supposed to do," McCullough said after overseeing the spacewalk. "Everything we do on the space station teaches us more about what to do to reach the Moon and Mars."
Gallery: Prepping Atlantis
Complete Space Shuttle Mission Coverage
NASA's STS-115: Shuttle Atlantis to Jump Start ISS Construction
The Great Space Quiz: Space Shuttle Countdown
Complete Coverage: ISS Expedition 13