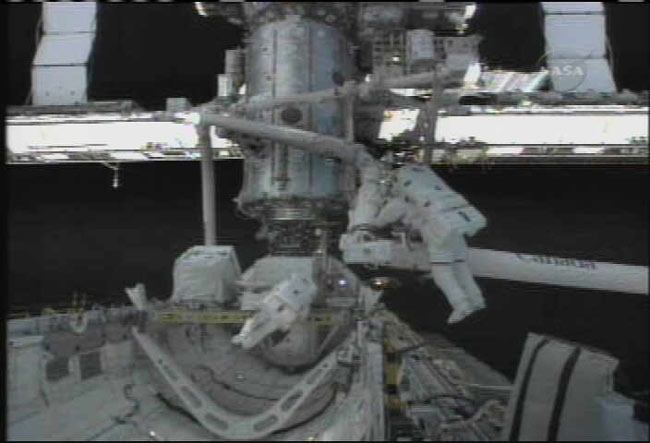 HOUSTON - Two astronauts are set to step outside the International Space Station (ISS) Monday and make a critical repair to aid future construction of the orbital laboratory.
Spacewalkers Piers Sellers and Michael Fossum, who spent more than seven hours working outside the ISS Saturday, will once again don their U.S.-built spacesuits to restore the station's mobile crane to full operations. The spacewalk is set to begin at 8:13 a.m. EDT (1213 GMT).
The primary task for Sellers and Fossum, both mission specialists for NASA's STS-121 shuttle mission aboard Discovery, is to replace a reel-like power and data cable system that was severed late last year due to a still-unexplained glitch.
Known as a Trailing Umbilical System (TUS) Reel Assembly, the system transfers electricity, data and video to the space station's railcar-like Mobile Transporter. The transporter itself is a critical movable platform for shifting the ISS robotic arm or massive station components along the orbital laboratory's main truss.
"It's mobile now, but it's only dependable on one string," Sellers told reporters Sunday during a space-to-ground video link. "And when we're done tomorrow, it will have two strings and therefore be more reliable."
There are two reel assemblies that supply transfer power and video between the ISS and Mobile Transporter. The ribbon-like cable to one, the TUS to be replaced today, was severed by an emergency cutting system originally designed to fire its spring-loaded blade in the event the line snagged while the Mobile Transporter was in motion. The system inexplicably cut the trailing cable in December 2005.
An attempt to safeguard the surviving cable failed during a February 2006 spacewalk by the space station's Expedition 12 crew, though the two astronauts were able to remove the TUS line entirely from the cutting system. The fix stranded the Mobile Transporter in place until Saturday, when Sellers and Fossum installed a blade blocker that will prevent cutter tool from biting into its cable target even if it fires on its own, NASA said.
"Right now, it's dead on one side and just limping along on two wheels," Sellers said of the Mobile Transporter after Saturday's fix. "We need that thing to be working to move big pieces around during the station's assembly."
NASA's next shuttle mission - STS-115 aboard the Atlantis orbiter - is set to deliver a massive truss and new set of solar arrays to the ISS in just over one month, with launch currently set for Aug. 28.
"It's kind of important to get that done before the next lot of guys show up," Sellers said of the TUS repair.
Tony Ceccacci, lead shuttle flight director for Discovery's STS-121 mission, said today's spacewalk will be challenging because the space station has no stowage areas for the large, piano-sized TUS assemblies and Sellers will have to hold both at the same time at one point in the repair.
During their Monday spacewalk, Sellers and Fossum will also install a spare pump module, which is used to move the liquid ammonia used in the space station's cooling system.
Fossum added that the TUS on board the ISS has also never been physically tested for use in the shuttle payload bay fittings that will secure the hardware in place during Discovery's return flight home.
"We're going to be holding our breath a little bit," Fossum said Sunday. "But we feel good about it, we've practiced it a lot."
Today's spacewalk begins at 8:13 a.m. EDT (1213 GMT) and will be broadcast live on NASA TV. You are invited to follow along with the STS-121 spacewalkers' activities using SPACE.com's feed of NASA TV by click here.
Gallery: Shuttle's First Flight
Gallery: Rare Space Shuttle Images
Shuttle Discovery: Complete Mission Coverage
Great Space Quizzes: Space Shuttle Countdown
Great Space Quizzes: The Space Shuttle
Great Space Quizzes: Life in Orbit