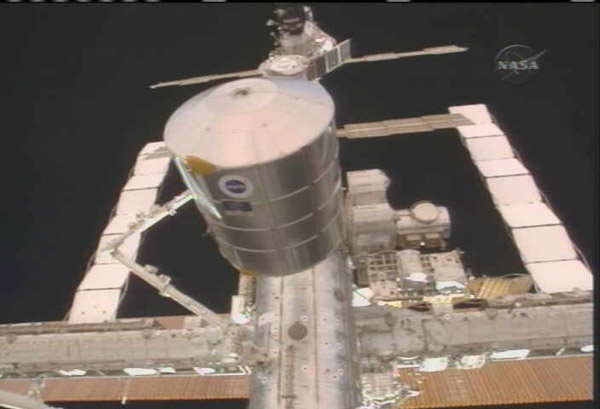 HOUSTON - The International Space Station (ISS) received a new pantry chock full of fresh food, equipment and other vital supplies Friday after shuttle astronauts installed a fresh cargo pod at the orbital laboratory.
STS-121 mission specialists Lisa Nowak and Stephanie Wilson deftly berthed the Italian-built Leonardo cargo module into a slot outside the space station's Unity node at about 7:45 a.m. EDT (1145 GMT), where it will remain parked throughout Discovery's eight-day stay at the ISS.
"Houston, Discovery, on the big loop, robotics and CBM operator are go for first stage capture," Nowak said as Leonardo reached its perch outside the Unity node's Common Berthing Mechanism, or CBM.
Aside from a couple of errant straps on Leonardo's Unity port, which ISS and shuttle astronauts tracked closely to make sure they didn't hinder the cargo module's arrival, the operation went smoothly.
"We've had three sets of eyes through the portal there and we cannot see any signs of the offending straps," STS-121 mission specialist Michael Fossum said after Leonardo reached its destination.
Known as a Multi-Purpose Logistics Module (MPLM), Leonardo is carrying more than 5,000 pounds (2,267 kilograms) of the overall 7,000 pounds (3,175 kilograms) of supplies launched toward the ISS aboard Discovery.
Additional items are being moved into the ISS from Discovery's middeck, with several station components exposed to space in the shuttle's payload bay. Over the next week or so, all nine astronauts aboard the ISS will have their hands full with the intricately choreographed cargo transfer process.
"We can't really pull everything out of our logistics module and put it in the station because it would be so crowded we couldn't move through it," STS-121 commander Steven Lindsey told ABC News Radio after Leonardo arrived. "It's kind of a shell game where you have to make room for something before you pull something else out."
Discovery's STS-121 mission is NASA's second shuttle flight since the 2003 Columbia accident. The mission ferried European Space Agency (ESA) astronaut Thomas Reiter to the ISS as a third crewmember, will deliver about 3.6 tons of supplies, as well as test shuttle inspection and repair techniques.
The STS-121 crew docked at the ISS on July 6 after launching spaceward from Kennedy Space Center on July 4.
Critical cargo
Tucked among the thousands of pounds of cargo aboard Leonardo are a couple of vital items for space station crews.
The module is carrying a new Oxygen Generation System, a U.S.-built piece of equipment that will separate water into breathable oxygen and waste hydrogen once installed inside the space destination's Destiny laboratory. The 1,465-pound (664-kilogram) U.S. oxygen generator functions much like the Russian-built Elektron currently used aboard the ISS. Together, the two systems will help support larger, six-person crews once the U.S. generator is brought online.
"It will need some other software capabilities and some additional hardware before it can be operational," Debbie Hahn, Discovery's STS-121 payload manager, told SPACE.com of the new oxygen generator before launch.
Also critical for space station astronauts is the stationary cycle used for exercise during their long, six-month missions. Leonardo carries a new such cycle, known as a Cycle Ergonometer with Vibration Isolation and Stabilization (CEVIS), so astronauts can maintain muscle strength during the long months of weightlessness.
Leonardo also carries a pair of new science tools bound for the U.S.-built Destiny laboratory. A Minus Eighty Laboratory Freezer for ISS (MELFI) will allow station astronauts to store biological specimens for later transport back to Earth, while the European Modular Cultivation System (EMCS) includes a set of four centrifuges that can be spun up to different speeds to check how plants grow under different stresses.
"It basically provides a plant and growth environment in different gravities," Hahn said of the EMCS system. "It can be used for other science other than plant biology...they could be used for later exploration activities."
Shuttle and ISS astronauts are expected to begin retrieving the new freezer, oxygen generator and numerous other supplies locked inside Leonardo after they open its hatchway at 2:23 p.m. EDT (1823 GMT) today, NASA said.
Gallery: Shuttle's First Flight
Gallery: Rare Space Shuttle Images
Shuttle Discovery: Complete Mission Coverage
Great Space Quizzes: Space Shuttle Countdown
Great Space Quizzes: The Space Shuttle
Great Space Quizzes: Life in Orbit