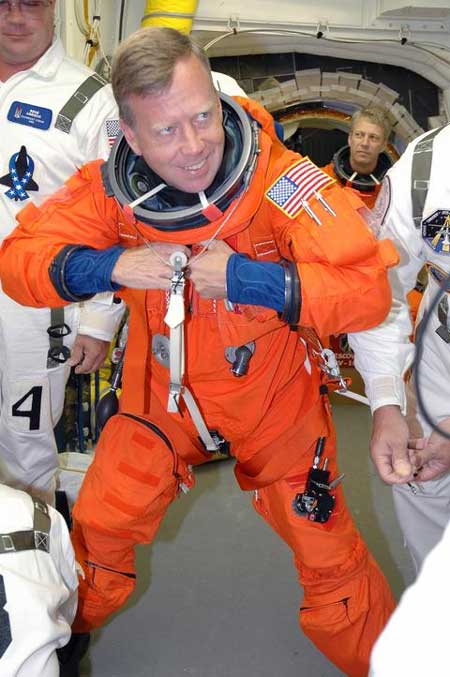 CAPE CANAVERAL, Fla. - With a launch rehearsal in the bag, the next astronaut crew to ride NASA's space shuttle Discovery into orbit is primed for a planned July space shot, the mission's commander said Friday.
"This crew is ready, we're ready," veteran shuttle astronaut Steven Lindsey, commander of Discovery's STS-121 mission, told reporters here at NASA's Kennedy Space Center (KSC).
This morning Lindsey and his six fellow crewmates popped into Discovery's Flight Readiness Review (FRR) meeting, where shuttle managers and engineers are in the midst of a two-day session to go over the orbiter's launch preparations.

"We had a chance to go into that and talk to those folks for a few minutes," Lindsey said, adding that he introduced his crew and thanked everyone who worked hard to support Discovery's STS-121 mission. "We, like you, are looking forward to hearing the results of that review."
Discovery's STS-121 spaceflight will mark NASA's second shuttle mission since the 2003 Columbia accident and the final test flight before International Space Station (ISS) construction resumes. The mission will test shuttle inspection and repair techniques, as well as deliver vital supplies and equipment to the space station.
NASA plans to hold a press conference no earlier than 2:00 p.m. EDT (1800 GMT) Saturday on the FRR meeting, which is expected to yield a firm launch date for Discovery. The mission has a flight window that stretches between July 1 and July 19.
Discovery's STS-121 crew, however, will not be at KSC to listen in on the FRR results. After two days of training and launch rehearsals, the astronauts headed back to NASA's Johnson Space Center today for a final round of simulations before going into quarantine in just over one week's time.
"For me, this has been a dream for an awful lot of years, so I've prepared for this," astronaut Michael Fossum, a mission specialist and spacewalker for the STS-121 mission, told reporters. "I've been thinking about this for a long time."
Fossum, who is making his first spaceflight with STS-121, said the mission is becoming more real for his wife Melanie and their four children, and that the family has taken time to talk about it.
"I think it's a lot harder on our families than it is on us when we go fly," added Lindsey, who has three children of his own with his wife Diane. "As soon as we launch, we are just working nonstop and that's all we're thinking about. But the families are not, they're thinking about us."
NASA's post-Flight Readiness Review press conference will air live on NASA TV no earlier than 2:00 p.m. EDT (1800 GMT) on Saturday. You are invited to follow along with the press briefing using SPACE.com's NASA TV feed, which is available by clicking here.