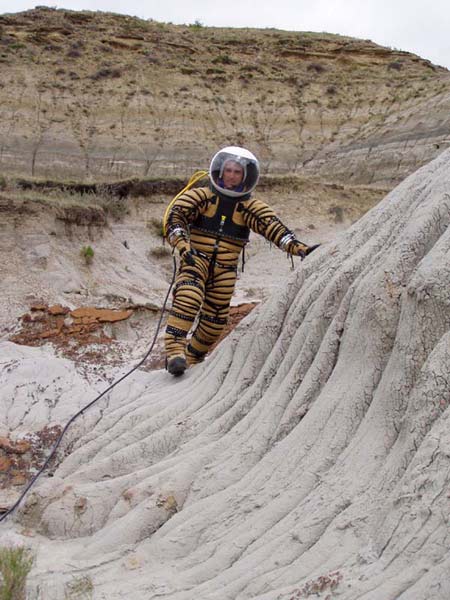 A spacesuit prototype designed for Mars exploration is bounding across the North Dakota badlands this week in a series of field tests to check its mobility and performance.
Engineers and university students are putting their North Dakota Experimental Planetary Space Suit through a series of challenges, including mock-Martian hikes, sample collections and - this Saturday - a simulated sandstorm.
The Mars spacesuit is the culmination of 14 months of work by faculty and students with the North Dakota Space Grant Consortium, which received $100,000 from NASA to develop the prototype. [The local public is invited to view the Mars spacesuit in action on Sat. May 6, weather permitting, at its North Dakota test site. Click here for directions.]
"It's actually going much better than we expected," said Pablo de Leon, the project's manager, during a telephone interview. "This terrain, it's probably very similar to some of the places on Mars."
The new suit just one effort to advance human space exploration outside the safety of a spacecraft. Researchers at the Massachusetts Institute of Technology, for example, are developing a Bio-Suit System as a potential future spacesuit.
The North Dakota Space Grant Consortium includes the University of North Dakota, the North Dakota State College of Science, Turtle Mountain Community College, Dickinson State University and North Dakota State University.
A planetary spacesuit
An experienced spacesuit designer and former Ansari X Prize contender, de Leon and his team have assembled a 50-pound (23 kilogram) spacesuit - without the life support backpack - that can be sealed and pressurized, locking its inhabitant behind a helmet and six layers of protective fabric. A backpack containing communications equipment is equal in size to current life support units used in NASA suits today, the team said.
The result, researchers hope, is a planetary spacesuit smaller than those used in Earth orbit by NASA and Russia's Federal Space Agency, and more flexible than NASA's Apollo lunar spacesuits, the only other garments to be worn on another world.
"We wanted to really concentrate on the suit to improve mobility and to create a planetary spacesuit instead one for zero [gravity]," de Leon said. "We're trying to contain the human body in what is essentially a balloon of anthropomorphic form."
When spacesuits are pressurized with air they can become stiff, making simple finger movements a chore for astronauts in space or on another world, he added. The goal is to reduce the amount of effort required simply to move on Mars, where future explorers will likely stage many extravehicular activities (EVAs) and have reuse and repair their own spacesuits, de Leon said.
One of the prototype's most noticeable features is a bright blue covering, designed for thermal protection and to guard against dust, which can be removed.
"I believe that one of the biggest challenges is going to be dust containment," de Leon said, adding that the prototype's dust jacket may not be enough for Mars explorers. "The particles on Mars are very small, like talcum powder. So it's going to be challenging to do several EVAs and maintain a good level of containment."
Donning the prototype
Field tests for the Mars prototype suit began May 1, with space studies graduate student Fabio Sau tucked inside the prototype from the start.
"It's a very personalized suit," Sau told SPACE.com from the North Dakota badlands test site. "They built the suit based on my measurements."
Sau said the suit, which has performed great so far, comes in two primary pieces split at the waist between upper torso and lower body. Helmet and glove attachments complete the outfit, which is then pressurized to about 1 pound per square-inch (psi) for tests, he added.
For comparison, NASA spacesuits are pressurized up to 4.3 psi while their Russian Orlan counterparts are set at 5.8 psi.
"The most difficult part is entering the upper torso," Sau said, adding that from start to finish he can don the suit in 15 minutes with some help from his colleagues.
Sau said getting the opportunity to work with actual hardware has been an amazing experience, which de Leon hopes will encourage other university students to pursue human spaceflight-related careers.
"The main interest of NASA when they gave us this grant was to train the new generation of space studies students and engineers, because [they are] going to be the workforce for the future missions," de Leon said. "The [spacesuit] improvement we've seen is very significant, but of course we still have a long way to go."
Report: NASA Workforce Needs Fresh Recruits