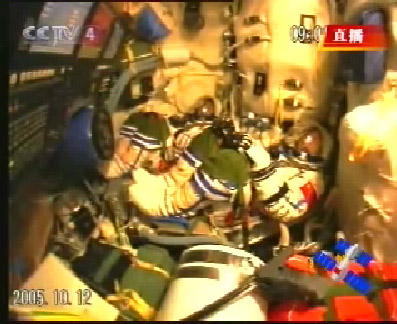 After one day in space, the two astronauts aboard China's Shenzhou 6 spacecraft have already racked up a series of firsts for their country's space program, not the least of which began with leaving their seats.
Circling the Earth in a 213-mile (343-kilometer) orbit, Chinese astronauts Fei Junlong and Nie Haisheng conducted a day of observation and science in the orbital module of their Shenzhou 6 spacecraft, according to state media reports.
The two astronauts, both former fighter pilots, launched into space on China's second manned spaceflight at 9:00 p.m. EDT on Oct. 11 (0100 Oct. 12 GMT) from Jiuquan Satellite Launch Center), though it was 9:00 a.m. Oct. 12 local time at the pad when they lifted off. The astronauts are slated to spend up to five days in space during their mission.
The flight is aimed at demonstrating China's space prowess - the country is only the third nation to independently launch a human into orbit - and the prestige of its communist government. Shenzhou 5, China's first manned spaceflight, launched astronaut Yang Liwei on a 21 ?-hour mission on Oct. 15, 2003.
Orbital module debut
Nine hours after the successful launch, Fei unstrapped himself from his chair and floated into Shenzhou 6's orbital module, and later switched positions with Nie, China's Xinhua News Agency reported.
The crew's movements marked another step in China's human spaceflight efforts. While Fei worked in the orbital module, Nie used a digital camera to take photographs of the flight, Xinhua reported, adding that both astronauts were expected to have taken off their 22-pound (10-kilogram) space suits.
"It suggests that the orbital module is functioning as expected and that's good," Dean Cheng, a China space specialist with CNA Corp. in Arlington, Virginia, told SPACE.com Wednesday. "It certainly means that the Shenzhou is going to be able to keep its crew occupied."
During the Shenzhou 5 mission, Yang spent the entire time in the spacecraft's crew compartment and strapped in his chair as part of the test flight.
"This second mission expands on [China's] ability to test life support systems," said Joan Johnson-Freese, who follows China's space efforts and chair of National Security Studies at the United States Naval War College in Newport, Rhode Island. "Now they've established that [Shenzhou 5] was not a one-time deal."
China's Shenzhou spacecraft borrow a basic design from Russia's Soyuz spacecraft, but are tailored with new systems and equipment. They consist of a primary crew-carrying reentry module, an orbital module and a service module.
Shenzhou 6's orbital module reportedly contains experiments and equipment, a food heater and other new equipment to be tested on this flight. It carries its own solar arrays and could stay in Earth orbit for a prolonged period, experts say.
Johnson-Freese told SPACE.com that Shenzhou 6 pushes China past its first phase of space development and on a path that could likely lead to ever-more sophisticated demonstrations, including spacewalks and dockings and ultimately a hook-up of its orbital modules into a flying space lab.
"I think we'll find out in due course [whether] they are going to detach from the orbital module and undertake a few maneuvers while they are still in orbit," Cheng said of the Shenzhou 6 crew, adding that he does not expect a docking demonstration for this flight. "That would be remarkably ambitious for a second flight."
Other firsts for China
Fei and Nie are expected to perform a series of physical exercises inside the Shenzhou 6 orbital module as well as life science tests to evaluate the effects of weightlessness, Xinhua reported.
Photography and biological cell tests are also slated to be performed throughout the mission.
The science experiments are the first to require astronaut interaction and are key if China is to proceed toward future human space exploration, China space officials have said.
Wang Yongzhi, who heads China's manned space program, told Xinhua that the Shenzhou 6 experiments will explore how astronauts adapt to the spaceflight environment and return data that is vital for the development of a permanent space station.
On a tastier note, Fei and Nie have a far wider range of food available to them for this flight than Yang, according to state press reports.
The People's Daily Online and Xinhua reported that about 88 pounds (40 kilograms) of food rode into orbit aboard Shenzhou 6 to provide three meals of up to six dishes each for Fei and Nie.
While rice will be a staple - it comes sealed in five-ounce (140-gram) amounts - beef cooked in orange peels and vegetables are also on the menu along with coffee, green tea, orange juice and other fruits, Xinhua reported.
State press accounts have also reported that the two astronauts will sleep in shifts during their multi-day mission.
Heroes of China
Earlier today, the Shenzhou 6 astronauts spoke from space with family members at Beijing Aeroespace Command and Control Center during a brief communications session, state media reported.
"We are all pleased to see both of you are in good spirits," said Wang Jie, Fei's wife, Xinhua reported. "Meanwhile, we all feel very proud of you."
Fei thanked his family for their support, and made plans to go fishing with his son Fei De, who asked how the astronaut felt in weightlessness, Xinhua stated.
"I feel fine," Fei said, according to state media.
Nie was reportedly moved to tears while speaking with his wife Nie Haisheng and listened to a birthday song from his daughter Nie Tianxiang, Xinhua reported, adding that the astronaut turns 41 on this spaceflight.
According to Chinese press reports, the Shenzhou 6 crew - like Shenzhou 5's Yang Liwei - are already national heroes.
In Zaoyang, Nie's hometown, in China's central province of Hubei, revelers let loose 1,000 pigeons and balloons in front of the astronaut's house, Xinhua reported.
"I was very nervous when the launching process began, but now I feel so excited and proud of my brother," said Nie Daozhi, the astronauts sister, told Xinhua, adding that her entire family looks toward his safe return.
The Xinhua News Agency and other state media contributed to this report.
ZOOM View: Close in on Shenzhou 6 on its Launch Pad
Shenzhou Rising: China's Second Manned Spaceflight