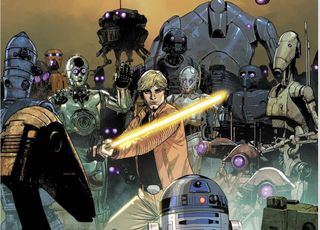 (Image credit: Marvel Comics)
Aside from the occasional rogue assassin or bounty hunter droid, most robots in the "Star Wars" universe are of the polite, friendly or useful variety such as protocol droids like C-3PO, repair 'bots or astromechs like fan-favorite R2-D2.
But those benevolent perceptions are all about to change with the advent of Marvel's newest "Star Wars" comic book series, "Dark Droids," which will feature legions of robots going haywire in the galaxy far, far away.
Recently announced during Marvel Comics' "Star Wars" panel presentation at Star Wars Celebration Europe 2023 in London on Monday, this upcoming summer event series showcases sentient machines of a more disturbing nature after their programming becomes infected by a malevolent source.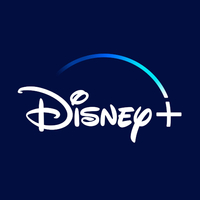 Watch all things Star Wars on Disney+: $7.99/month or $79.99/year
Sign up to Disney+ to watch Return of the Jedi, along with every other Star Wars movie and TV shows on there too including The Mandalorian, Obi-Wan Kenobi, and more.
"Star Wars: Dark Droids" will be a horror-stained flagship series written by accomplished "Star Wars" author Charles Soule ("The High Republic: Light of the Jedi") and paired with artwork from Brazilian illustrator Luke Ross ("Gen 13," "Green Lantern," "Star Wars: Darth Maul") and main cover by Leinil Francis Yu.
This unsettling limited event title kicks off in August with "Dark Droids #1," then spreads to a number of "Star Wars" spinoff crossovers, ongoing titles and one-shots including "Star Wars," "Star Wars: Darth Vader," "Star Wars: Doctor Aphra," and "Star Wars: Bounty Hunters." The timeline of this spooky story arc is set between "Star Wars: The Empire Strikes Back" and "Star Wars: Return of the Jedi."
Here's the official synopsis:
In "Dark Droids," a mysterious new threat called the Scourge corrupts droids, cyborgs, and everything in-between, spreading chaos throughout the galaxy. Ajax Sigma, who first appeared in last year's "Star Wars: Revelations #1," will play a role in the saga — though his true intentions remain unknown.
Marvel's unveiling of "Dark Droids" and other new "Star Wars" comics occurred during the House of Ideas' Star Wars Celebration panel spotlighting Marvel "Star Wars" writers like Charles Soule ("Star Wars"), Ethan Sacks ("Star Wars: Bounty Hunters"), Alyssa Wong ("Star Wars: Doctor Aphra"), Cavan Scott ("Star Wars: The High Republic"), and Marc Guggenheim ("Star Wars: Yoda"), who were joined by Marvel Comics editor-in-chief C.B. Cebulski alongside senior Lucasfilm creative executive Matt Martin.
Marvel Comics' "Star Wars: Dark Droids #1" rolls out August 3, 2023.
Follow us @Spacedotcom, or on Facebook and Instagram.
Get the Space.com Newsletter
Breaking space news, the latest updates on rocket launches, skywatching events and more!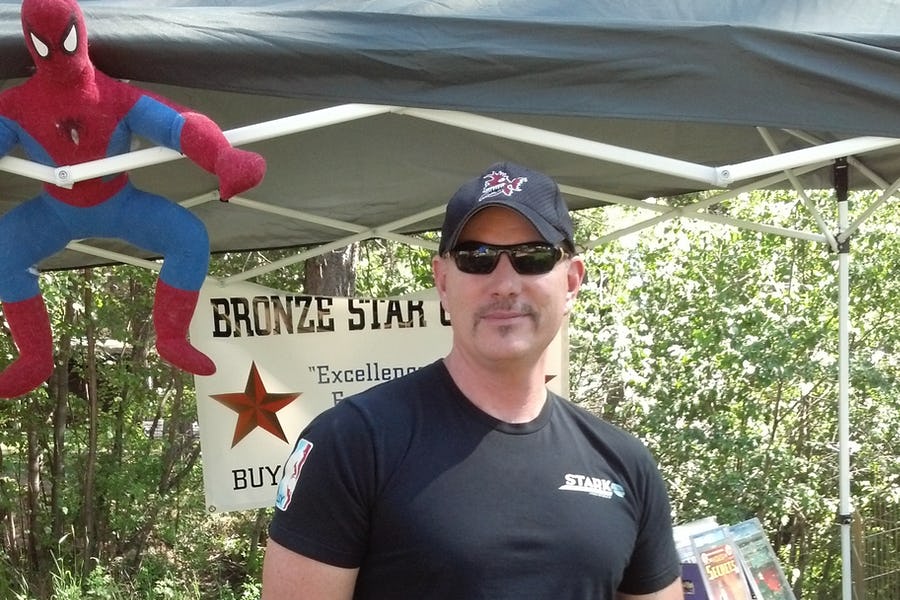 Jeff Spry is an award-winning screenwriter and veteran freelance journalist covering TV, movies, video games, books, and comics. His work has appeared at SYFY Wire, Inverse, Collider, Bleeding Cool and elsewhere. Jeff lives in beautiful Bend, Oregon amid the ponderosa pines, classic muscle cars, a crypt of collector horror comics, and two loyal English Setters.