"Star Trek" Day is finally upon us!
It's that geeky annual occasion where we respectfully acknowledge the date in television history when "The Man Trap," the premiere episode of "Star Trek: The Original Series," launched on Sept. 8, 1966 to ignite a global sci-fi franchise that's still boldly charging into the future with new films, TV shows, comics, musicals, video games, and tie-in novels.
To help celebrate "Star Trek" Day, we've got an exclusive preview for Titan Books' recently-published "Star Trek II: The Wrath of Khan: The Making of the Classic Film," which plunges into the creation of arguably the finest of Hollywood's 13 "Star Trek" feature films.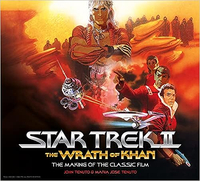 Star Trek II: The Wrath of Khan: The Making of the Classic Film: $45.00 at Amazon
This 192-page hardback book walks fans through the iconic film's production process from page to screen and features many never-seen concept art pieces and stills.
Titan's 192-page hardback is written by authors John Tenuto and Maria Jose Tenuto to provide an immersive examination of the entire production process from page to screen with many never-seen concept art pieces and stills.
Here's the official synopsis:
"An in-depth look at the making of 'Star Trek II: The Wrath of Khan,' featuring rare and previously unseen production art and new and exclusive interviews. Forty years ago, 'Star Trek II: The Wrath of Khan' saw Kirk and the U.S.S. Enterprise crew face one of the greatest foes in 'Star Trek' history, Khan Noonien Singh, as well as the death of Spock. Celebrate this landmark anniversary by taking a deep dive into the stories behind this iconic science fiction classic.
"This beautiful coffee-table book is full to the brim with rare and previously unpublished archival material, behind-the-scenes photography, production art, cut scenes, script extracts, and much more, alongside exclusive interviews with the creatives, including director Nicholas Meyer."
"We were excited by the chance to share with fellow fans the contributions of the artists and creatives who made one of science fiction's most classic films," Maria Jose Tenuto told Space.com. "The book is the story of how a community of artists came together despite limitations of budget, time, and technology, to create something meaningful. That is why we tried to focus on many areas of production, such as stunts and hairdressing, that sometimes get overlooked in making of books. So many of those who worked on the film have passed away, so we think of the book as a celebration of them and, as Spock would say, a way to remember."
The married writing team each have their own favorite moments in "The Wrath of Khan" that made this book project particularly memorable.
"Like many fans, I have a personal connection to 'The Wrath of Khan.' I saw it on opening day, June 4, 1982, at the Esquire Theatre in Chicago with my father," recalls John Tenuto. "It is a special memory I have of Dad, especially him laughing when Carol comments, 'Can I cook or can't I?' when showing Kirk her terraforming experiment of the Genesis cave.
"Another favorite scene comes shortly after that, when Kirk flips open his communicator, communicates with Spock, and then tells Saavik, 'I don't like to lose.' It is a study in perseverance, cleverness, and leadership. I love how proficient Kirk and Spock are in the film and how their age gives them a kind of easy wisdom, a kind of 'sprezzatura.' That's an Italian word which means making the difficult look effortless. That twinkle in Kirk's eye, that bite of the apple, and that line about not liking to lose is an inspiration whenever I face a no-win scenario."
For Maria, she loves the first full Khan reveal, where he removes his head coverings and stands regal and proud despite the adversity he and his people have faced.
"The scene, so expertly weaved by the collaboration of Nicholas Meyer and Ricardo Montalban, can be a master class in how to introduce a villain and to give exposition in a way that is compelling and services the story," she adds. "Of course, Spock's sacrifice is another favorite. Loyalty, friendship, love, and sacrifice dominate that last portion of the film."
"Star Trek II: The Wrath of Khan: The Making of the Classic Film" is available now.