The outer space hilarity associated with Paramount+'s crazy new "Star Trek" animated series, "Star Trek: Lower Decks," has been another bright spot in the streaming network's lineup of original sci-fi offerings.
Presented by "Rick and Morty" and "Solar Opposites" creator Mike McMahan and executive producer Alex Kurtzman ("Star Trek: Discovery," "Star Trek: Picard"), the 10-episode, mature-themed spinoff launched on Aug. 20, 2020 and ran through Oct. 8, 2020. A second season is slated to debut sometime in 2021.
Now, season one is headed for its official Blu-ray (opens in new tab), DVD, and Steelbook release on May 18 and Paramount Home Entertainment has just offered up a new trailer highlighting the collection's exclusive special features, behind-the-scenes content, cast and crew interviews, deleted and extended scenes, and much more.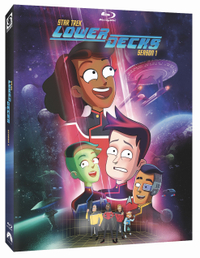 (opens in new tab)
Star Trek: Lower Decks Season One. $25 at Amazon (opens in new tab).
Set course for the "funnest frontier" in Season One of "Star Trek: Lower Decks," the adult-oriented animated Trek spinoff from the creators of Rick and Morty.
Of particular interest is the featurette group titled "Lower Decktionary," a multi-part exploration of the series' music, art design, animation process, and also a fan-forward peek at the series' basketful of Easter eggs.
"Star Trek: Lower Decks" is set in the year 2380 and chronicles the misadventures of the working-class, non-officer support crew serving on one of Starfleet's lesser-known ships, the USS Cerritos. Ensigns Mariner, Boimler, Rutherford, and Tendi juggle active duty tasks and their social lives while the spaceship is being assaulted by a multitude of cosmic anomalies.
"Star Trek: Lower Decks: Season One (opens in new tab)" arrives on home video May 18 and is delivered in (16x9) format with English SDH subtitles and offers English 5.1 Dolby Digital audio.
Follow us on Twitter @Spacedotcom and on Facebook.