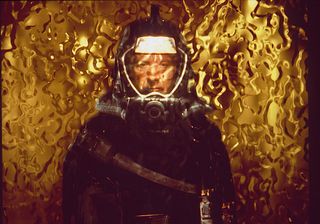 (Image credit: Warner Bros.)
Did you go inside the sphere? I think she went inside the sphere.
Back in my days at film school in the late '90s, cinema geeks intentionally tossing out any number of ridiculously repetitive lines from director Barry Levinson's $100 million sci-fi flick "Sphere" immediately set off a hilarious chorus of "I saw you go inside the sphere" jokes.
This of course was a reference to the mysterious golden orb discovered in the derelict underwater spaceship that takes center stage in Michael Crichton's bestselling 1987 novel, "Sphere," which became a star-studded Hollywood blockbuster unceremoniously dumped into an unloved box office abyss.
Today marks the 25th anniversary of "Sphere," which rolled into theaters from Warner Bros. on Feb. 13, 1998, surfing a decade-long tsunami of tentpole science fiction movies like "The Abyss," "Stargate," "Independence Day," "Starship Troopers," "Mars Attacks," "The Fifth Element," "Contact" and "Event Horizon."
Related: HBO developing TV sci-fi drama series based on the 1998 movie 'Sphere'
"Sphere" isn't exactly Crichton's best book among his catalog, but it's an entertaining beach read with enough big ideas and psychological nuggets to attract A-List talent like director Barry Levinson and actors Dustin Hoffman, Sharon Stone, Samuel L. Jackson, Liev Schreiber, and Peter Coyote when Tinseltown came calling.
Filmed using a seasick screenplay adapted by Stephen Hauser, Paul Attanasio, and Kurt Wimmer, "Sphere" was a critical and commercial failure that barely scraped together $70 million in worldwide box office receipts. Reshoots and disastrous test screenings resulted in budgetary overruns and a delay from its Christmas of 1997 release and into the lost wastelands of February.
Crichton started writing "Sphere" way back in 1967 as a follow-up piece to his "The Andromeda Strain," crafting a plot that chronicled a team of American scientists finding a 300-year-old spacecraft underwater that contained markings written in English. Unable to fashion a balanced storyline, Crichton shelved the project until he could deliver a compelling tale to fit the premise.
The finished novel was published in 1987 and the film roughly follows the same plot trajectory. It's the story of a well-known psychologist who years ago wrote a paper detailing protocols for extraterrestrial first contact. He's required by the U.S. Navy to join scientists assembled by a secret faction of our government to examine an enormous alien spaceship discovered on the bottom of the Pacific Ocean.
A human contact team is formed to investigate this unknown interstellar vehicle which crashed three centuries ago some 1,000 feet (305 meters) below the surface and is now buried by extensive coral growth. The expedition consists of a psychologist (Hoffman), a biochemist (Stone), a mathematician (Jackson), and an astrophysicist (Schreiber) who all seem ill-equipped for the dangerous deep sea mission yet carry on for nearly two hours with incessant accusatory bickering.
Early in the film it's revealed that this spacecraft is a futuristic American vessel that jumped through a black hole and came back in time to the 18th century with cargo intact.
Later, the central story takes an intriguing turn when it's discovered that the shimmery cosmic globe inside the ship has the power to manifest human thoughts, dreams, and nightmares, which results in some unintentionally funny scenes with a gooey jellyfish swarm, vicious sea snakes, and even a Jules Verne-inspired monster squid (or at least the electronic outline on a radar screen).
The concept of alien relic influencing or manifesting human thought is nothing new in science fiction circles and is best represented in director Stanley Kubrick's "2001: A Space Odyssey" or even the sentient planet found in Russian filmmaker Andrei Tarkovsky's 1972 masterpiece "Solaris." It was also used in similar fashion for director Paul W.S. Anderson's "Event Horizon" one year earlier.
The film does stumble with plot logic and character motivations seemingly tossed into the churning ocean but they're not enough to take your suspension of disbelief into uncharted waters. If one can view this as a B-movie gem and let it wash over you, it's well worth a watch.
Most notable in the expensive production is the futuristic American spaceship possibly designed to penetrate a black hole and return with a prized alien artifact that contains an extraterrestrial presence named Jerry (later Harry). The ship is inexplicably enormous and spans a half mile in length (.8 km), with a colossal fin thrusting up into the water like a submerged skyscraper.
"Sphere's" miniature special effects are top notch and were accomplished by Grant McCune Design. Clark Schaffer served as the miniature set designer with the skills of chief model maker Monty Shook. David Stump was the miniatures director of photography and Jeffrey A. Okun was the production's visual effects supervisor.
The underwater environment was built at 1/16 scale and measured 40 feet by 20 feet (12m x 6m). It included the OSSA's habitat base, the ocean floor, surrounding coral reef, and a multi-engined spaceship equipped with a 16-foot-tall fin (4.9m).
Elliott Goldenthal composed the eerie classical score infused with menacing touches that elicit a sense of combined wonder and Saturday matinee dread. Goldenthal is a master of cinematic soundtracks and his work on movies like "Alien 3," "Interview With The Vampire," "Batman Forever," "Heat," and "Frida" have earned the musician numerous awards and accolades.
In many ways, "Sphere" seems like the extracted middle act of a three-part story. What's missing is the futuristic mission's parameters and initial capture of the sphere to open on, then a final act revealing what occurs when that odd telepathic orb is unleashed upon the world.
Crichton's provocative source material and Levinson's adapted feature film still have enough cerebral delights and hardcore concepts to warrant a new "Sphere" TV series being developed by "Westworld's" Jonathan Nolan and Lisa Joy for HBO, with showrunnner duties falling on Denise Thé, who worked as a writer and executive producer for "Westworld" Season 3.
Perhaps under their care and guidance, "Sphere's" tricky narrative might be reworked to finally reach its full potential that I absorbed reading the novel more than 25 years ago poolside in Palm Springs while sweltering in 111-degree heat.
Did you go inside the sphere? We saw you!
Follow us @Spacedotcom, or on Facebook and Instagram.
Get the Space.com Newsletter
Breaking space news, the latest updates on rocket launches, skywatching events and more!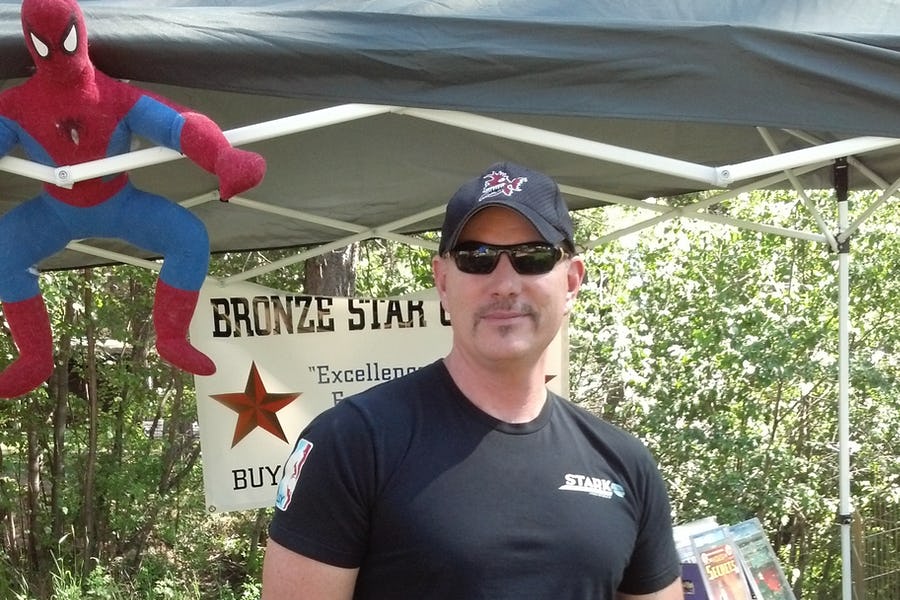 Jeff Spry is an award-winning screenwriter and veteran freelance journalist covering TV, movies, video games, books, and comics. His work has appeared at SYFY Wire, Inverse, Collider, Bleeding Cool and elsewhere. Jeff lives in beautiful Bend, Oregon amid the ponderosa pines, classic muscle cars, a crypt of collector horror comics, and two loyal English Setters.