SpaceX has stacked its giant Starship rocket once again, as a dramatic new video shows.
Starship consists of a huge first-stage booster called Super Heavy and a 165-foot-tall (50 meters) upper stage known as Starship, both of which are designed to be fully reusable.
SpaceX is gearing up for the Starship program's first-ever orbital test flight, which could lift off as soon as next month from the company's Starbase site in South Texas. That landmark mission will apparently involve a Super Heavy prototype called Booster 7 and the Ship 24 Starship vehicle.
That duo recently got together, and the new video, which SpaceX posted on Twitter on Monday (Jan. 9), captures the moment. The drone-shot footage shows "Mechazilla," the enormous launch tower at Starbase, using its "chopstick" arms to lift Ship 24 onto Booster 7, which was already sitting atop Starbase's orbital launch mount.
Video: SpaceX ignites multiple engines on Starship Super Heavy for 1st time
Ship 24 stacked on Super Heavy Booster 7 at Starbase in Texas pic.twitter.com/hLcghfq349January 10, 2023
This isn't the first time that Booster 7 and Ship 24 have come together; Mechazilla stacked the duo on the orbital mount twice in October, for example.
The leadup to the Starship orbital launch has also involved considerable work with Booster 7 and Ship 24 on their own. SpaceX has conducted multiple "static fires" with each, for instance, lighting their engines while the vehicles remain anchored to the ground.
Ship 24 has ignited all six of its Raptor engines simultaneously, while Booster 7 has lit up a maximum of 14 of its 33 Raptors. Booster 7 will blaze again before going orbital; SpaceX founder and CEO Elon Musk said recently that the company wants to perform a full 33-engine static fire on the vehicle.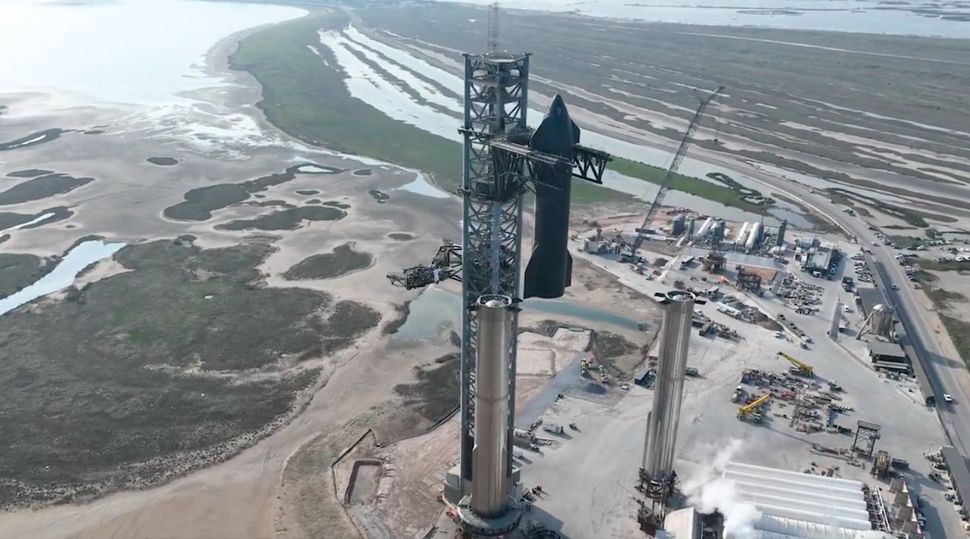 Mechazilla will be a landing tower as well as a launch tower, if all goes according to plan. Musk has said that SpaceX eventually aims to catch returning Super Heavy boosters with Mechazilla, using the structure's chopsticks to support the descending rockets beneath their steering "grid fins."
This strategy could significantly reduce the turnaround time between launch and landing for Super Heavy vehicles. SpaceX currently lands the first stages of its Falcon 9 and Falcon Heavy rockets on ships at sea or at landing zones a short distance away from their launch pads. The boosters must then be hauled back to their launch sites.
The recent stacking of Ship 24 and Booster 7 was part of a big day for SpaceX.
"SpaceX had four rockets on four pads and two Dragons on orbit today — as CRS-26 Dragon departed the @space_station with Crew-5 Dragon still attached to the orbiting lab, Falcon Heavy rolled out of the hangar, two Falcon 9s readied for launch, and Ship 24 was stacked onto Booster 7," the company tweeted on Monday.
One of those Falcon 9s launched Monday night from Cape Canaveral Space Force Station in Florida, sending 40 internet satellites aloft for the communications company OneWeb. The other Falcon 9 is scheduled to lift off Wednesday night (Jan. 11) from Vandenberg Space Force Base in California with 51 of SpaceX's Starlink broadband spacecraft aboard. That same day, the CRS-26 Dragon is scheduled to splash down in the ocean off the Florida coast.
And SpaceX is targeting Saturday (Jan. 14) for the liftoff of Falcon Heavy from Pad 39A at NASA's Kennedy Space Center in Florida, on the USSF-67 mission for the U.S. Space Force.
Mike Wall is the author of "Out There" (Grand Central Publishing, 2018; illustrated by Karl Tate), a book about the search for alien life. Follow him on Twitter @michaeldwall. Follow us on Twitter @Spacedotcom or on Facebook.
Get the Space.com Newsletter
Breaking space news, the latest updates on rocket launches, skywatching events and more!

Michael Wall is a Senior Space Writer with Space.com and joined the team in 2010. He primarily covers exoplanets, spaceflight and military space, but has been known to dabble in the space art beat. His book about the search for alien life, "Out There," was published on Nov. 13, 2018. Before becoming a science writer, Michael worked as a herpetologist and wildlife biologist. He has a Ph.D. in evolutionary biology from the University of Sydney, Australia, a bachelor's degree from the University of Arizona, and a graduate certificate in science writing from the University of California, Santa Cruz. To find out what his latest project is, you can follow Michael on Twitter.
Literally the first time I have ever clicked the "Play" button on a video on this site (because I hate videos that follow you down the page) and it doesn't work.
Fully updated FireFox browser. It should work. It's just what looks like a youtube video.

Every time I click Play it advances one frame.

Reply