A private cargo ship laden with thousands of pounds of trash will leave the space station on Friday morning (April 21), and you can watch the action live.
Northrop Grumman's robotic Cygnus spacecraft, named S.S. Sally Ride after the first American woman and first known LGBTQ+ individual in space, is scheduled to depart the International Space Station (ISS) Friday at 7:20 a.m. EDT (1120 GMT). You can watch live here at Space.com, courtesy of NASA Television, starting at 7 a.m. (1100 GMT).
Cygnus will haul away more than 8,200 pounds (3,700 kilograms) of payloads, trash and other materials that ISS astronauts don't need anymore. The spacecraft will then naturally and harmlessly burn up in Earth's atmosphere after its departure from the orbiting lab.
Cygnus' departure will be monitored by Sultan Al-Neyadi, a United Arab Emirates astronaut conducting the first-ever long-duration spaceflight by a person from that country.
Related: Track the ISS: How and where to see it
The private Cygnus craft arrived at the space station on Nov. 9 with only a single one of its two solar wings deployed. At the time, controllers with Northrop Grumman said the spacecraft's design would allow it to reach the ISS despite the issue, but they kept an eye on the spacecraft just in case.
NASA astronaut Nicole Mann, the first Native American woman in space, captured the uncrewed cargo craft at 5:20 a.m. EST (1020 EMT) on Nov. 9 using the space station's Canadarm2 robotic arm. Helping her was crewmate Josh Cassada. Subsequently, ground controllers used Canadarm2 to move Cygnus to its berth on the Unity module's Earth-facing port.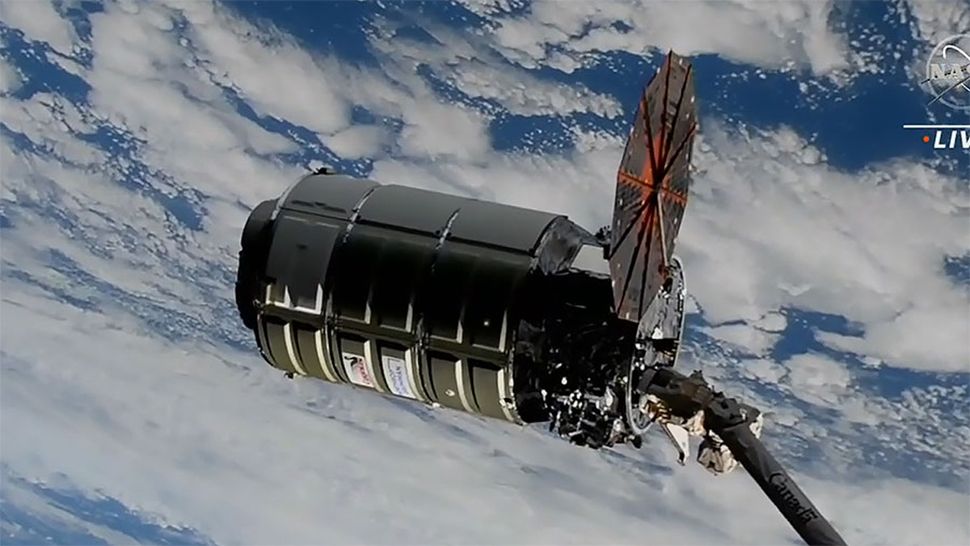 Cygnus is one of three spacecraft currently tasked with sending cargo to the ISS, and it has been doing so since September 2013. The other two robotic freighters are SpaceX's Dragon cargo spacecraft and Russia's Progress vehicle.
Both Cygnus and Progress are designed to burn up in Earth's atmosphere following space shipments, while Dragon comes back for a safe splashdown in the ocean and reuse for another mission.
Elizabeth Howell is the co-author of "Why Am I Taller?" (ECW Press, 2022; with Canadian astronaut Dave Williams), a book about space medicine. Follow her on Twitter @howellspace. Follow us on Twitter @Spacedotcom or Facebook.