NASA will award $150 million to advance the development of potentially revolutionary exploration technologies, including systems that could power outposts on the moon.
The money will be split among 11 different American companies, to support projects that could help humanity get a foothold on the moon and other locales in deep space.
"Partnering with the commercial space industry lets us at NASA harness the strength of American innovation and ingenuity," NASA Administrator Bill Nelson said in a statement on Tuesday (July 25) that announced the new funding. "The technologies that NASA is investing in today have the potential to be the foundation of future exploration."
Related: Welcome to the future: 11 ideas that went from science fiction to reality
Each of the selected companies will contribute funding of its own — "at least 10-25%" of the total project cost, based on the company's size, NASA officials wrote in the statement. The agency's total expected outlay is $150 million.
Nearly $35 million will go to Jeff Bezos' Blue Origin to continue developing its "Blue Alchemist" technology, which aims to build solar panels out of lunar dust, dirt and gravel (known as regolith). Pittsburgh-based company Astrobotic will get roughly the same amount, to demonstrate power transmission on the moon's surface from a lander to a tethered rover.
"The company's CubeRover would unreel more than half a mile (one kilometer) of high-voltage power line that could be used to transfer power from a production system to a habitat or work area on the moon," NASA officials wrote in the statement.
Three of the other selected projects are geared toward building habitats, roads or other infrastructure from lunar rock and regolith. This focus on the moon is hardly surprising, given that NASA is working to establish a sustainable presence on and around Earth's nearest neighbor via its Artemis program.
"Our partnerships with industry could be a cornerstone of humanity's return to the moon under Artemis," Prasun Desai, acting associate administrator for NASA's Space Technology Mission Directorate, said in the same statement.
"By creating new opportunities for streamlined awards, we hope to push crucial technologies over the finish line so they can be used in future missions," Desai added. "These innovative partnerships will help advance capabilities that will enable sustainable exploration on the moon."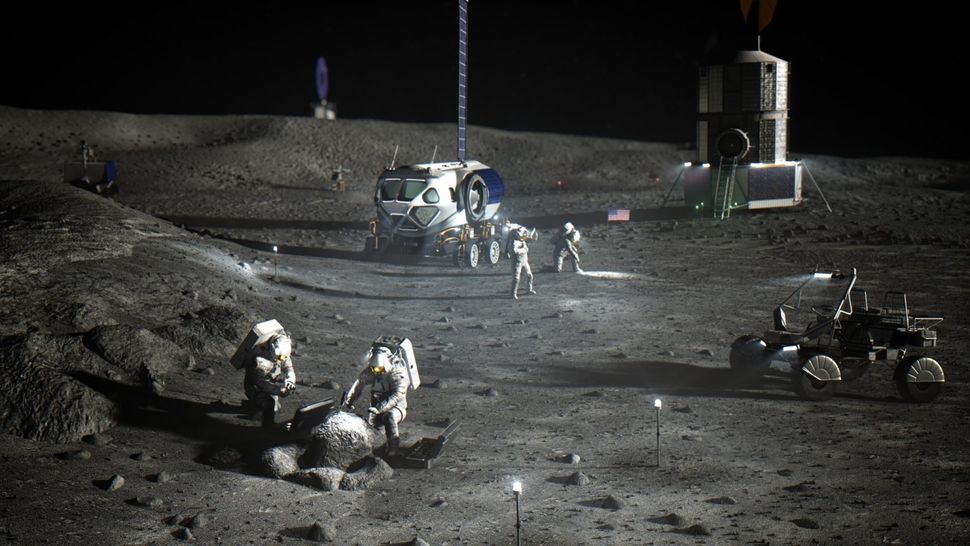 The selected companies and their projects are (descriptions provided by NASA):
Astrobotic Technology of Pittsburgh, $34.6 million: LunaGrid-Lite: Demonstration of Tethered, Scalable Lunar Power Transmission
Big Metal Additive of Denver, $5.4 million: Improving Cost and Availability of Space Habitat Structures with Additive Manufacturing
Blue Origin of Kent, Washington, $34.7 million: In-Situ Resource Utilization (ISRU)-Based Power on the Moon
Freedom Photonics of Santa Barbara, California, $1.6 million: Highly Efficient Watt-Class Direct Diode Lidar for Remote Sensing
Lockheed Martin of Littleton, Colorado, $9.1 million: Joining Demonstrations In-Space
Redwire of Jacksonville, Florida, $12.9 million: Infrastructure Manufacturing with Lunar Regolith – Mason
Protoinnovations of Pittsburgh, $6.2 million: The Mobility Coordinator: An Onboard COTS (Commercial-Off-the-Shelf) Software Architecture for Sustainable, Safe, Efficient, and Effective Lunar Surface Mobility Operations
Psionic of Hampton, Virginia, $3.2 million: Validating No-Light Lunar Landing Technology that Reduces Risk, SWaP (Size, Weight, and Power), and Cost
United Launch Alliance of Centennial, Colorado, $25 million: ULA Vulcan Engine Reuse Scale Hypersonic Inflatable Aerodynamic Decelerator Technology Demonstration
Varda Space Industries of El Segundo, California, $1.9 million: Conformal Phenolic Impregnated Carbon Ablator Tech Transfer and Commercial Production
Zeno Power Systems of Washington, $15 million: A Universal Americium-241 Radioisotope Power Supply for Artemis
The newly announced selections were the sixth made via NASA's "Tipping Point" program. You can learn more about each project here.