One of the absolute titans in science fiction literature was Isaac Asimov and his astounding "Foundation" novels chronicling the tragic fall of a galactic dynasty and the band of exiles bent on restoring humanity are considered by many to be his finest accomplishment.
But the unwieldy intellectual property has defied adaptation in other mediums, but that hasn't stopped filmmaker from trying, most notably in the recent Apple TV+ series simply titled "Foundation" and starring Lee Pace, Jared Harris, Lou Llobell, Leah Harvey, Laura Birn, and Terrence Mann.
Steeped in the award-winning source material's deep mythology, Vancouver BC-based gaming developers Archiact are tossing their creative hats in the Asimov ring with the announcement of a new interactive VR adventure gaming experience called "Journey to Foundation."
The Vancouver, Canada-headquartered company already has created sci-fi and space-infused titles like Doom 3: VR Edition, Marvel: Dimension of Heroes and Freediver: Triton Down and Evasion.
Related: Best VR space experiences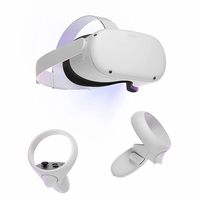 Oculus Quest 2 256GB: $499.99 now $429.99 at Meta
The Meta Quest 2 (aka Oculus Quest 2) offers the best of both worlds; use it stand-alone for a wireless VR experience or connect it to a PC. It may have gone up by $100 last year, but this deal saves you $70 on the cost of the 256GB version.
You get two free games to tide you over until Journey to Foundation comes out too - GOLF+ and Space Pirate Trainer DX.
The game's trailer that gives fans a taste of things to come when it's eventually released for PlayStation VR2, Meta Quest 2, and Pico 4 in the fall of 2023.
Here's the official synopsis:
In "Journey to Foundation," players embark on a clandestine mission as Agent Ward, a spy sent to the edge of the Galactic Empire to infiltrate a group of deserters … only to uncover a dire truth that could change the course of history. Armed with the best tools and weapons the Empire has to offer, you'll have to decide who to trust.
Will you fight for an Empire that Hari Seldon has predicted will collapse into 30,000 years of anarchy, or will you defect to the Foundation and help them build a new cradle for humanity?
"'Journey to Foundation' is a major milestone for us," said Archiact Studio Head Kurt Busch in a statement. "It's the culmination of all our experience innovating VR gameplay elements, from locomotion to conversation to UI to combat. It's built by a veteran team with a passion for VR-first game development. It's an epic game, inspired by an iconic IP."
Isaac Asimov's original series of "Foundation" stories were published as a trilogy of novels between 1951-53 and has since sold more than 20 million copies in 32 countries worldwide.
Related: Apple TV+ delivers mindblowing trailer for 'Foundation' sci-fi TV series
The series was adapted for BBC Radio 4 in 1973 but was delayed in coming to television, as it was thought to be unfilmable for decades due to its sprawling and cross-galactic storyline. It nevertheless came to Apple TV+ in 2021 to popular acclaim. The series' second season on Apple TV may come as soon as mid-2023.
"I believe in VR as a powerful new medium for immersive roleplaying and storytelling," added "Journey to Foundation" Executive Producer Ken Thain. "And building a VR game from the groundbreaking Foundation book series has been an incredible journey. I truly can't wait for people to experience this adventure first-hand."
Archiact's "Journey to Foundation" VR project arrives sometime in late 2023. If virtual reality headsets are your thing, then be sure to check out our best VR headsets and VR headsets deals guides for all the best products and discounts. We also have an extensive list of the best VR space games.
Follow us @Spacedotcom, or on Facebook and Instagram.