A former NASA manager who was in mission control on the night that Apollo 13 "had a problem" has worked with a small seabound kingdom's postal service to celebrate the 50th anniversary of the famed mission on a new set of postage stamps.
George Abbey, who before becoming director of NASA's Johnson Space Center in Houston was a member of the Apollo 13 mission operations team in April 1970, collaborated with the Isle of Man Post Office to create "One Giant Leap, Exploring the Moon and Space (opens in new tab)," a limited edition set of eight stamps. The postage features a photo of the Apollo 13 mission control room and scenes from the four successful lunar landings that followed the ill-fated mission to the moon.
"The history of human spaceflight remains an interesting topic to humankind and being able to share these fascinating images with the world fills us with pride," said Maxine Cannon, general manager of Isle of Man Stamps and Coins. "We are very grateful to George Abbey and NASA; their support was of vital importance in the creation of this captivating stamp collection."
Related: Space Age Postage Stamps Through History (Photos)
Set for release on Wednesday (Feb. 26), the "One Giant Leap" set also includes stamps for the Skylab orbital workshop, space shuttle and International Space Station. The new set is a follow up to the Isle of Man's "One Small Step" stamps issued in April 2019 to honor Apollo 11 and the missions that led to the first moon landing in July 1969.
"Many missions came before and came after Apollo 11," said Nicole Stott, a former space shuttle and space station astronaut. "Fifty years on, we are only just now beginning to take those very same steps again, but this time we stay for good and like before for the good of all."
A quote from Stott is inscribed on the Skylab stamp's border: "You realize you're not from Florida or the United States. You're an Earthling."
Additional astronauts' quotes are printed on the other seven stamps in the set, including the words of Apollo 13 commander Jim Lovell, Apollo 14 lunar module pilot Edgar Mitchell, Apollo 15 command module pilot Al Worden, Apollo 16 lunar module pilot Charlie Duke and Apollo 17 commander Gene Cernan. STS-63 commander Jim Wetherbee is quoted on the shuttle issue and British astronaut Tim Peake is cited on the International Space Station release.
The stamps also include the lunar landing site or orbital insertion coordinates of their respective missions or spacecraft and the names of their crew members.
The Apollo 13 and Apollo 14 stamps are Isle of Man First Class mail value, the Apollo 15 and Apollo 16 stamps are European Union value, the Apollo 17 and Skylab stamps are large letter value and the space shuttle and International Space Station stamps are "rest of the world" value. The Isle of Man is a self-governing British Crown dependency located in the Irish Sea between England and Ireland.
The Isle of Man Post Office is offering the "One Giant Leap" stamps in sheets of 16 for £8.14 (about $11 US) or as a commemorative sheetlet of the eight stamps in a deluxe folder for £10.63 (about $14 US). The eight 1.5-inch-square (40-mm) stamps also come in a presentation pack with accompany text written by George Abbey for £8.89 (about $11.50 US).
A first-day-of-issue cover — a stamped envelope postmarked on the day of the set's release — will be available for £8.84 (about $11.50 US). The Isle of Man Post Office is also planning to offer covers autographed by moonwalker Charlie Duke and by Stott (prices to be announced).
The preceding 2019 "One Small Step" set of eight stamps is also still available through the Isle of Man Post Office website, including a cover signed by George Abbey (£60 or about $80 US) and "space mail" flown to and postmarked on the International Space Station (£399 or about $520 US).
Follow collectSPACE.com on Facebook and on Twitter at @collectSPACE. Copyright 2020 collectSPACE.com. All rights reserved.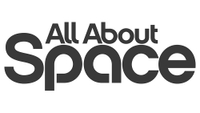 (opens in new tab)