Director Denis Villeneuve's "Dune Part 2" returns to the barren desert planet of Arakkis starting on November 3, 2023, with Paul Atreides continuing his messianic journey towards liberating the notorious spice-harvesting world from the vicious Harkonnen invaders for the blue-eyed Fremen natives.
As a creative diversion to fill the empty days until "Dune Part 2" strikes theaters this fall, Penguin Random House will thankfully be releasing "The Official Dune Coloring Book" (Berkley/Ace) on September 26, 2023 as the first adult coloring book edition inspired by legendary author Frank Herbert's seminal galaxy-spanning novels.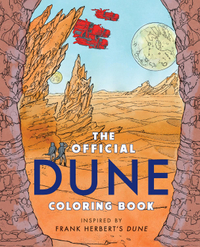 The Official Dune Coloring Book: $16.99 at Amazon (Pre-order)
The spice will surely flow with color in this official Dune coloring book from Penguin Random House. It includes 96 pages of scenes from Frank Herbert's iconic Dune story of Arrakis for fans to color and enjoy.
Here's the official description:
"Visit Arrakis in a whole new way as you color in your favorite characters and scenes from Frank Herbert's enduring and beloved classic novel. 'Dune,' of course, tells the unforgettable story of the boy Paul Atreides, heir to a noble family tasked with ruling an inhospitable desert planet, and his journey to a mythic destiny that will bring to fruition humankind's most ancient and unattainable dream.
"This intricate, beautifully wrought coloring book will include 44 original illustrations, featuring character studies, locations, and scenes inspired by 'Dune,' the profound and triumphant novel adored by millions of readers around the world. This artwork is by the world-renowned illustrator Tomislav Tomic, who was one of the illustrators of the bestselling 'Official Game of Thrones Coloring Book.'"
Related: How to watch Dune: Our complete Dune streaming guide
As the pressures of everyday life in the digital age continue to wreak havoc on humanity's nerves and sense of peace, these types of gorgeously rendered coloring books influenced by nearly every popular sci-fi, fantasy and horror film and TV franchise offer an oasis of calm for fans to exercise their talents and imagination.
This new "Dune" coloring book delivers an artistic solution to satiating fans' eager anticipation of Warner Bros.' $125 million sci-fi sequel to the 2021 blockbuster that collected $402 million at the global box office.
Check out these virgin page samples above depicting Paul and his mother Jessica evading a massive sand worm attack in the deep desert, and the charismatic House Atreides troubadour Gurney Halleck posing with his baliset musical instrument.
Pens and markers at the ready? Let the colors flow!
"The Official Dune Coloring Book" will be released on Sept. 26, 2023.