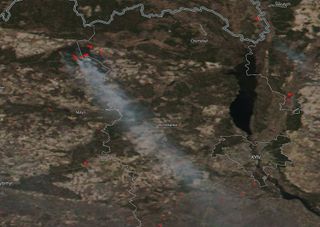 (Image credit: NASA Worldview, Earth Observing System Data and Information System (EOSDIS))
The forest near the old Chernobyl Nuclear Power Plant is burning, and the effects are visible from space.
The Suomi NPP satellite, a joint project of NASA and the U.S. National Oceanic and Atmospheric Administration (NOAA), captured a photo Sunday (April 5) of the human-caused wildfire burning in Ukraine's Chernobyl Exclusion Zone. Radiation counts near the fire have registered 2.3 microsievert per hour, a spike from the typical 0.14 μSv/h, according to Live Science.
"At this point, the fire is about 250 acres (100 hectares)," NASA officials wrote in an image description. "Actively burning fires, detected by thermal bands, are shown as red points."
Related: Chernobyl Exclusion Zone is on fire and radiation levels are spiking
Chernobyl, of course, was the site of a deadly meltdown on April 26, 1986. The plant's Reactor No. 4 exploded, releasing large amounts of dangerous radiation. The contamination was so extensive and so extreme that the Soviet government — at the time, Ukraine was part of the Soviet Union — quickly ordered people to leave the area, setting up the 1,000-square-mile (2,600 square kilometers) Exclusion Zone. (Not everybody obeyed, however; about 200 people live in the zone today, NASA officials said.)
The Exclusion Zone is still heavily contaminated, and will be for many years to come. The fire isn't helping things at the moment, either; radiation levels in the Zone are apparently spiking.
The Suomi-NPP photo is no isolated data point. NASA and NOAA Earth-observation satellites, in addition to tracking long-term trends on our planet, commonly monitor wildfires and other natural disasters.
"Together, NASA instruments detect actively burning fires, track the transport of smoke from fires, provide information for fire management and map the extent of changes to ecosystems, based on the extent and severity of burn scars," NASA officials wrote in the statement.
Mike Wall is the author of "Out There" (Grand Central Publishing, 2018; illustrated by Karl Tate), a book about the search for alien life. Follow him on Twitter @michaeldwall. Follow us on Twitter @Spacedotcom or Facebook.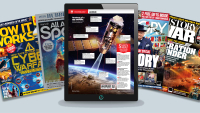 Get the Space.com Newsletter
Breaking space news, the latest updates on rocket launches, skywatching events and more!

Michael Wall is a Senior Space Writer with Space.com and joined the team in 2010. He primarily covers exoplanets, spaceflight and military space, but has been known to dabble in the space art beat. His book about the search for alien life, "Out There," was published on Nov. 13, 2018. Before becoming a science writer, Michael worked as a herpetologist and wildlife biologist. He has a Ph.D. in evolutionary biology from the University of Sydney, Australia, a bachelor's degree from the University of Arizona, and a graduate certificate in science writing from the University of California, Santa Cruz. To find out what his latest project is, you can follow Michael on Twitter.
Would someone out (more knowledgeable than I am) enlighten me? So, the increased radiation level is 2.3 μSv/hr (20,000 μSv/yr - which is UNDER the safety limit for an occupational worker) in the Exclusion Zone (minimal to no people). The radiation that is being released is coming from (being removed from) the vegetation and ground and being dispersed (diluted) in the air. Also, controlled burns are beneficial for many reasons. So, why is this is bad thing?

Reply

ChemTeach; A couple of reasons there;
Exclusion zone limits are based upon external exposures where the primary risk is from penetrating (gamma and beta) radiation. So, some attenuation from tissue is expected.
The exposure at Chernobyl will be gaseous and very fine particulates that are an inhalation risk. Also they will be heavily loaded up with alpha particle emitters that are incredibly energetic and once deposited in the lungs the high energy state of alpha particle decay will cause a persistent exposure (days, weeks, months) until the body can expectorate (cough up) these contaminated particles. In that time, those particle decays are just roasting any tissue they are penetrating. Alpha particles may only be able to go less than a few mm deep in tissue, but they are incredibly harmful.

Reply