Boeing's new astronaut taxi for NASA won't carry people this year after all.
The company had been targeting July 21 for the first-ever crewed launch of its Starliner capsule on a mission, known as Crew Flight Test (CFT), that will send NASA astronauts Butch Wilmore and Suni Williams on a shakeout cruise to and from the International Space Station (ISS).
In early June, however, Boeing and NASA announced that CFT's liftoff had been delayed indefinitely due to newly discovered issues with Starliner's parachute system and its wiring. The company said those problems could potentially be resolved in time for a launch this fall, but that's not going to happen, Boeing and NASA officials said today (Aug. 7).
"Based on the current plans, we're anticipating that we're going to be ready with the spacecraft in early March," Mark Nappi, Boeing's Starliner vice president and program manager, said during a press conference today.
And that's just an anticipated spacecraft readiness date, he stressed; a target launch date has not yet been set.
Related: Starliner: Boeing's next-generation spaceship for astronauts
In September 2014, NASA selected Boeing and SpaceX to ferry agency astronauts to and from the ISS, awarding both companies multibillion-dollar contracts. SpaceX is fully up and running — it's scheduled to launch its seventh operational crewed flight to the orbiting lab on Aug. 25 — but Starliner has just two uncrewed test missions under its belt to date.
The first of those, known as Orbital Flight Test (OFT), suffered a number of problems shortly after lifting off in December 2019 and failed to meet up with the ISS as planned. The follow-up, May 2022's uncrewed OFT-2, had better luck, successfully docking with the orbiting lab and returning safely to Earth.
Starliner's next big leap, CFT, has been pushed back repeatedly — from December 2022 to February 2023, for example, then to March, then to April, and then to July.
This latest slip results from two potential safety issues: Boeing engineers found that the "soft links" used on the suspension lines of Starliner's three main parachutes are not quite as robust as previously thought, and the company determined that the protective tape it used to wrap the capsule's many wires is flammable.
Boeing is taking the tape off in places where it's easy and safe to do so and considering other remediation techniques, such as protective barriers or coatings over it, in trickier spots, Nappi said.
The parachute work is multifaceted as well. For example, Boeing has modified the soft link design to make it stronger, and the new version is being manufactured now, Nappi said. The company also decided to swap out Starliner's parachute system, putting a new version slated for the first operational mission on board for CFT.
The new soft links will be incorporated into the new chutes, which will get to strut their stuff during a drop test soon.
"We expect that the drop test will occur in mid to late November," Nappi said. "That's what the planning indicates at this point, and we'll watch that closely."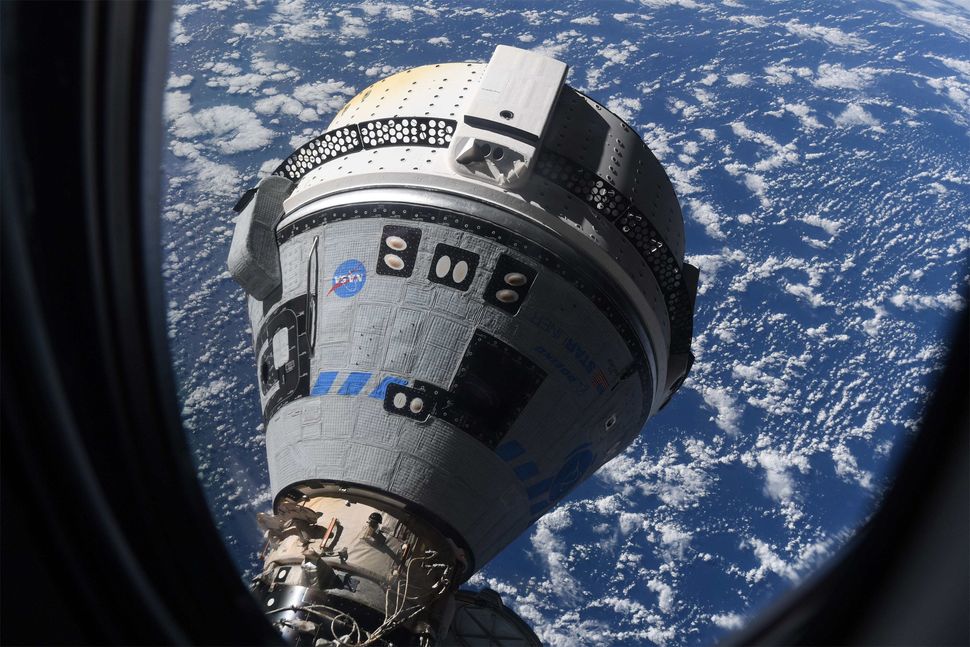 Boeing is on pace to finish the required work by early March, Nappi said. But there are other boxes to check as well before Starliner — and Wilmore and Williams — can take to the skies atop a United Launch Alliance (ULA) Atlas V rocket.
"We're now working with NASA's Commercial Crew Program, ISS and ULA on potential launch dates based on our readiness," Nappi said. "It's a complicated manifest on ISS, as you all know, and the launch pad of ULA. So, we'll work that throughout the next several weeks and see where we can get fit in, and then we'll set a launch date."
Despite the delays, the company remains committed to Starliner and fulfilling its contractual obligations to NASA (at least seven crewed flights to the ISS, including CFT), Nappi added.
"We're very excited about it," he said. "This is a pretty exciting business."