Former NASA astronaut Walter Cunningham, who flew on the first test of the Apollo command module in Earth orbit, has died at the age of 90.
Cunningham's death on Tuesday (Jan. 3) was confirmed by his family.
"We would like to express our immense pride in the life that he lived, and our deep gratitude for the man that he was — a patriot, an explorer, pilot, astronaut, husband, brother and father. The world has lost another true hero, and we will miss him dearly," his family said in a statement released by NASA.
Chosen with NASA's third group of astronauts in 1963, Walter Cunningham became only the second civilian to fly into space when he launched on the Apollo 7 mission on Oct. 11, 1968. The 11-day flight, which followed the loss of the Apollo 1 crew in a fire on the launch pad the year earlier, served as a critical shakedown cruise for the redesigned command module before it could fly astronauts to the moon.
Related: NASA's Apollo moon program in pictures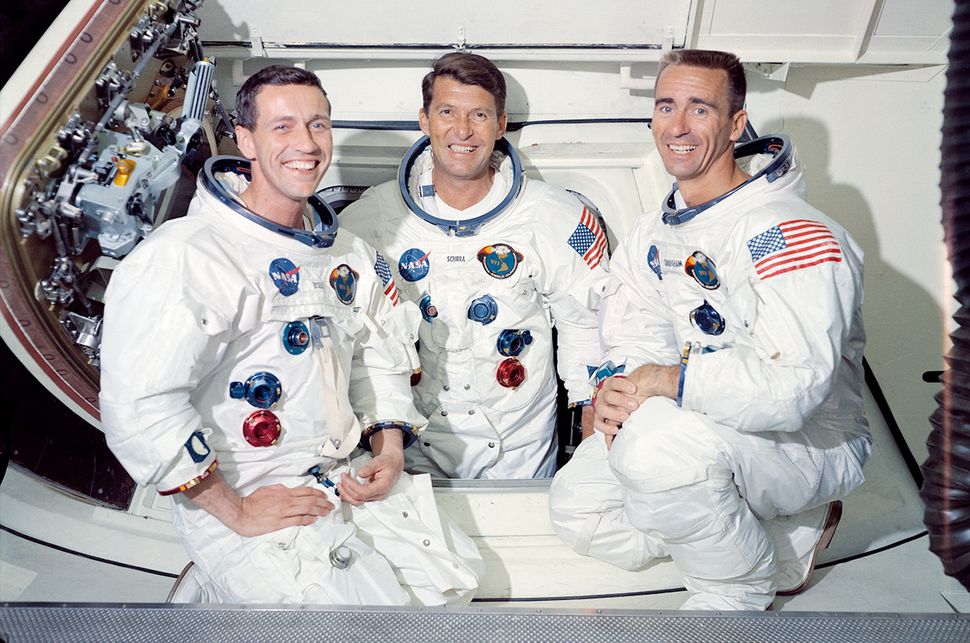 Lifting off with Mercury and Gemini veteran Walter "Wally" Schirra as the mission's commander and fellow first-time flier Donn Eisele as command module pilot, Cunningham's designation on Apollo 7 was lunar module pilot, even though there was no moon lander. During the flight, Cunningham was responsible for all of the spacecraft's systems, outside of those associated with launch and navigation.
"We fixed a lot of things [that were wrong with the Apollo 1 command module] and were able to fly a much better spacecraft," said Cunningham in a 1999 oral history interview for NASA. "The one that we flew was almost perfect! I mean, it was just — you couldn't have asked for a better piece of hardware for the first time."
In addition to being NASA's first three-person crew to fly into space and the only crewed mission to launch on a Saturn IB rocket from Complex 34 at what it is today the Cape Canaveral Space Force Station in Florida, Apollo 7 was also the first American flight to include live television from space. Direct "from the lovely Apollo room high atop everything," as a hand-written card displayed at the start of the first broadcast, Schirra, Cunningham and Eisele gave the world below a look at their spacecraft and what it was like to live in space.
The "Wally, Walt, and Donn Show" was a resounding hit and earned Cunningham and his Apollo 7 crewmates a special Emmy award.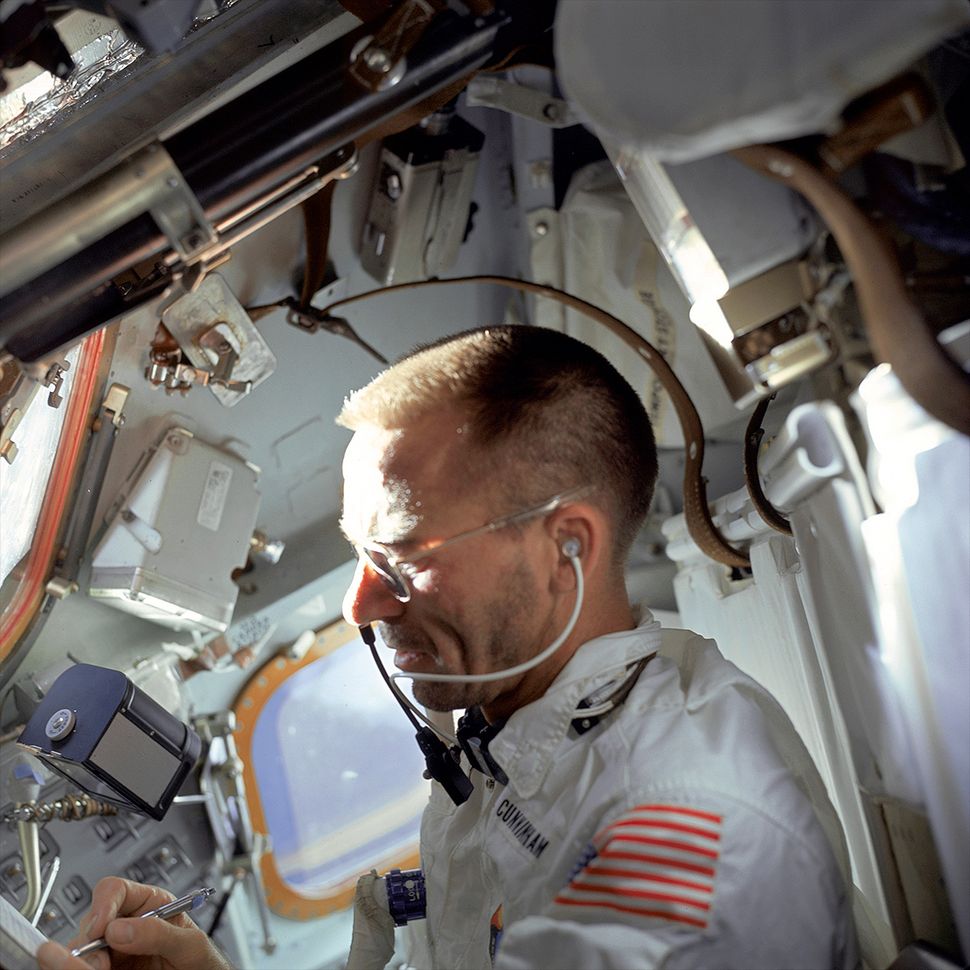 The mission was not without its difficulties, though. The astronauts found it was hard to sleep given that one crew member had to remain awake and active at all times, frequently disturbing the others. Schirra also developed a head cold, which exasperated his frustrations with Mission Control as more objectives were added to an already busy start of the flight.
"When Wally had a cold, everybody had to be miserable — and there is no question that that can make a little bit of misery. But we all worked through that," said Cunningham. "I think the real problem was it was the first mission. We had planned it for 11 days, but you don't know how long it's going to last because something may happen and you have to come back. And even the planners and the engineers loaded most of the tasks at the beginning in case [we had] to come back early."
Ultimately, though, Apollo 7 was deemed a success, giving NASA the confidence to send the next mission, Apollo 8, to the moon.
"The mission was described as 101% successful, and that's because they had added a couple of detailed test objectives and things on after we were up there," said Cunningham. "So we actually accomplished more than 100% of the objectives."
Cunningham's first and only spaceflight ended on Oct. 22, 1968, with he and his Apollo 7 crewmates splashing down in the Atlantic Ocean 10 days, 20 hours, 9 minutes and 3 seconds after they left Earth.
Ronnie Walter Cunningham was born on March 16, 1932, in Creston, Iowa. He joined the U.S. Navy in 1951 and served on active duty as a U.S. Marine Corps fighter pilot from 1953 until 1956, flying 54 missions as a fighter pilot in Korea.
Cunningham received his bachelor's and master's degrees in physics from the University of California, Los Angeles in 1960 and 1961, respectively. He completed all the requirements, less his dissertation, for a doctorate in physics at UCLA while working for the RAND Corporation prior to joining NASA.
Before the Apollo 1 tragedy, Cunningham, Schirra and Eisele were first assigned to the second crewed Apollo flight and then, after that mission was canceled, as backups to the Apollo 1 crew. After the fire, in addition to training for Apollo 7, the three astronauts were also closely involved in monitoring the changes being made to the command module to ensure a similar disaster did not happen again.
Despite the success of the Apollo 7 mission, the tension between Schirra (and therefore the entire crew) with working with Mission Control contributed to none of the three astronauts flying into space again. Cunningham ended his career at NASA serving as the chief of the Skylab branch of the flight crew directorate, overseeing the integration of hardware with the science experiments planned for the orbital workshop.
"I pride myself in my contribution to the space program was really what I did in terms of working with the systems of the [Apollo 7] spacecraft, that and on Skylab," Cunningham said. "Because a lot of people I know could've done the flying I did, but not very many people — I don't believe — could've done the same kind of insightful thinking I did."
Related: Facts about NASA's Apollo program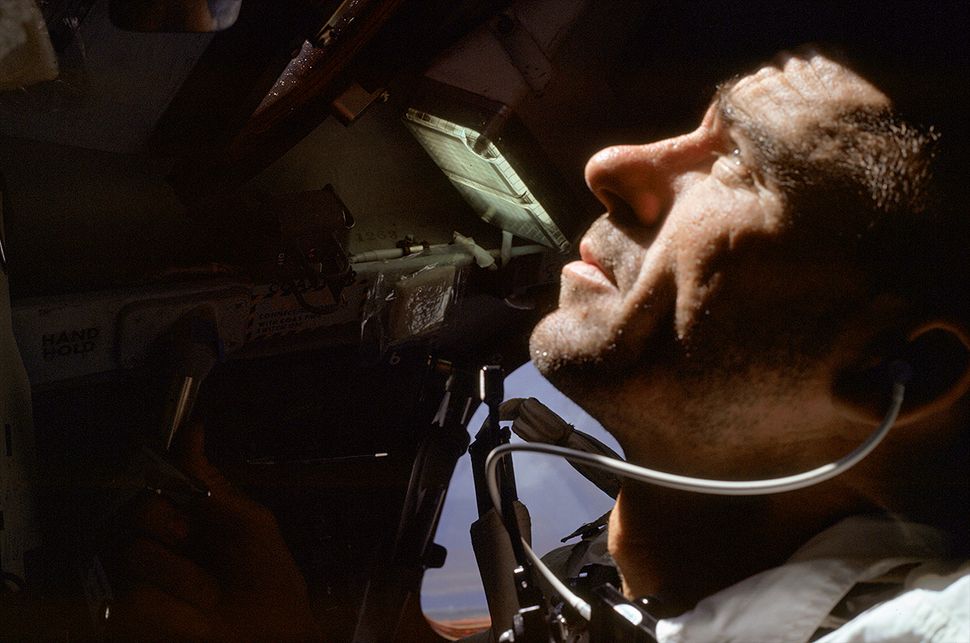 Cunningham left NASA in 1971 and, after attending Harvard Business School's Advanced Management Program, went on to become a businessman, investor and director of a number of public and private companies. He hosted a radio talk show, "Lift-off To Logic," and was a frequent lecturer.
Cunningham is credited with starting a spaceflight tradition that continues today. He took the lead to have medallions struck for the Apollo 7 crew, which were flown on the mission and then engraved post-flight with the launch and landing dates. These mementos, now known as the Robbins medallions after the company that made them, have been made for every NASA crewed flight since.
In 1977, Cunningham authored "The All-American Boys," a "no-holds-barred" candid memoir that was widely praised for revealing the human side of the space program. In 1998, he was portrayed by actor Fredric Lehne in the HBO miniseries "From the Earth to the Moon."
For his service to the nation's space program, Cunningham was awarded NASA Distinguished and Exceptional Service medals, among other honors. He was inducted into the International Space Hall of Fame at the New Mexico Museum of Space History in Alamogordo, New Mexico, in 1983; the U.S. Astronaut Hall of Fame at NASA's Kennedy Space Center in Florida in 1997; and the International Air & Space Hall of Fame at the San Diego Air & Space Museum in California in 2011.
Cunningham was preceded in death by his Apollo 7 crewmates. Eisele died in 1987, followed two decades later by Schirra in 2007.
Cunningham is survived by his wife Dot, his sister Cathy Cunningham and his two children, Brian and Kimberley, from a former marriage to Lo Ella Irby.
Follow collectSPACE.com on Facebook and on Twitter at @collectSPACE. Copyright 2023 collectSPACE.com. All rights reserved.