NASA Making Repairs to Space Shuttle Discovery's Fuel Tank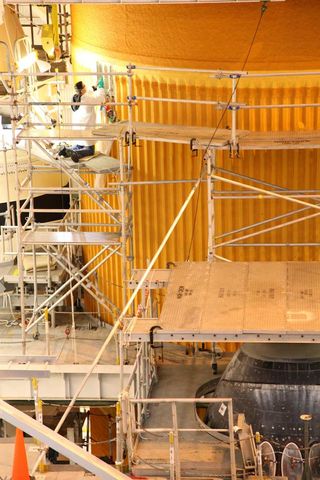 (Image credit: NASA/Frank Michaux)
NASA has begun reinforcing support beams on the external fuel tank of the space shuttle Discovery after extensive X-ray imaging last week revealed new cracks in some of the structural supports ahead of the spacecraft's final mission, scheduled for early February.
Technicians at NASA's Kennedy Space Center in Cape Canaveral, Fla., are using extra pieces of aluminum to reinforce 34 of the 108 aluminum support beams around the midsection of Discovery's fuel tank, the area that NASA officials have said undergoes the most stress during launch.
Shuttle program managers are expected to meet tomorrow (Jan. 6) to evaluate the progress and determine whether the same modifications are needed for the rest of the tank's metal support beams.
Discovery is currently slated to deliver supplies and equipment to the International Space Station Feb. 3 on the space shuttle's final voyage. The mission has been delayed since November due to the fuel tank concerns and other issues.
Fixing Discovery's fuel tank
The repair work on Discovery's tank, which is being conducted in the cavernous Vehicle Assembly Building, is expected to take about a week, NASA officials said.
Additional scans will be performed using a backscatter device, which bounces radiation off the tank and allows engineers to see beneath the layer of foam insulation. Technicians at various NASA centers will analyze the resulting data.
The beams are located at the "intertank" region of Discovery's 15-story-tall external tank. That region serves as a structural bridge between the tank's liquid hydrogen and liquid oxygen propellant sections, and is the upper connection point for the shuttle's twin solid rocket boosters.[Infographic: NASA's Space Shuttles: Top to Bottom]
Working on the cracks
Meanwhile, repairs to four small cracks on the tops of three of the tank's metal ribs, which had been detected Dec. 29, were expected to be completed this week. Repairs began Monday (Jan. 3) for these fractures, located on the back side of the tank's midsection, opposite from Discovery.
The repairs are similar to those made to other cracks that were found on the tank's support beams following Discovery's scrubbed launch attempt Nov. 5.
Discovery's STS-133 mission has been delayed since then as engineers work to understand how and why the cracks developed. Discovery is now slated to launch on its final mission to the International Space Station no earlier than Feb. 3, with the launch window extending through Feb. 10.
On Discovery's 39th and final flight, the shuttle will deliver critical supplies, a storage room and a humanoid robot to the space station.
NASA is retiring its space shuttle fleet this year to make way for a new space exploration plan aimed at sending astronauts to an asteroid by 2025 and, in a later expedition, to Mars.
The shuttle Endeavour is set to fly its final mission, also to the space station, in April. NASA has gotten permission to fly a third mission to the station in 2011, around June using the shuttle Atlantis, before retiring the fleet for good.
Get the Space.com Newsletter
Breaking space news, the latest updates on rocket launches, skywatching events and more!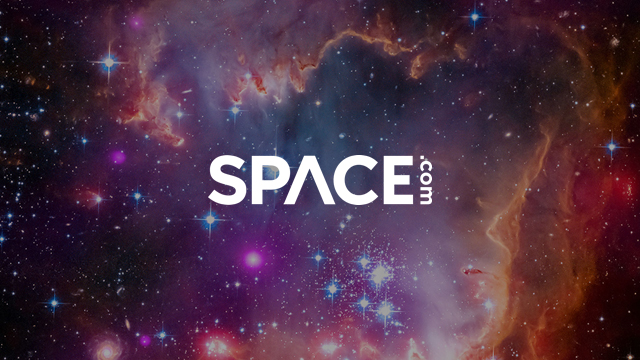 Space.com is the premier source of space exploration, innovation and astronomy news, chronicling (and celebrating) humanity's ongoing expansion across the final frontier. Originally founded in 1999, Space.com is, and always has been, the passion of writers and editors who are space fans and also trained journalists. Our current news team consists of Editor-in-Chief Tariq Malik; Editor Hanneke Weitering, Senior Space Writer Mike Wall; Senior Writer Meghan Bartels; Senior Writer Chelsea Gohd, Senior Writer Tereza Pultarova and Staff Writer Alexander Cox, focusing on e-commerce. Senior Producer Steve Spaleta oversees our space videos, with Diana Whitcroft as our Social Media Editor.