Astronauts Grab Hubble Telescope for Tune-Up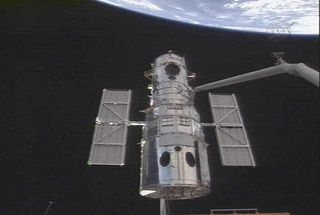 (Image credit: NASA TV)
Thisstory was updated at 1:59 p.m. EDT.
HOUSTON -Astronauts aboard the shuttle Atlantis grabbed the Hubble Space Telescope in arobotic embrace Wednesday, setting the stage for an ambitious five-spacewalkmarathon of upgrades and repairs.
Atlantisand its crew of seven astronauts latched onto Hubble with the shuttle?s roboticarm at 1:14 p.m. EDT (1714 GMT) while flying about 350 miles (563 km)above Australia. They are the first visitors at iconicspace telescope in seven years.
?Houston,Atlantis, Hubble has arrived onboard Atlantis in the arm!? said Atlantisskipper Scott Altman, who commanded NASA?s last Hubble visit in 2002. ?Everybody?svery excited up here, I can tell ya.?
Atlantisastronaut Megan McArthur plucked Hubble out of space while the orbiter was just 35feet (10 meters) from the space observatory in what is likely the last time ashuttle will be used to grab onto an unmanned satellite. She parked thefour-story space telescope on a turntable-like stand in the shuttle?s cargo bayso it can be inspected and repaired.
NASAexpected the 19-year-old Hubble to look a bit haggard after seven years withoutregular maintenance flights. But the astronauts said the telescope looked great.
?I am justlooking out the window here, and it?s an unbelievably beautiful sight,? said astrophysicist-astronautJohn Grunsfeld, who is making his third trip to Hubble. ?Amazingly, theexterior of Hubble, an old man of 19 years in space, still looks in fantasticshape.?
Grunsfeldand fellow Atlantis astronaut Michael Massimino flew to Hubble, which weighsalmost 13 tons and is the size of a school bus, with Altman in 2002.
WithHubble at last
Altmanand his crew launched toward Hubble on Monday and are flying NASA?s fifthand final mission to overhaul the space telescope. It?s a much-needed service call. Hubblehas been suffering from broken instruments and aging hardware in recent years.
The astronautswill begin the first of five complicated spacewalks on Thursday to install twonew cameras, replace some telescope basics like batteries and gyroscopes, andattempt unprecedented repairs to two instruments that were never designed to befixed in space.
NASA has noguarantees the repair attempts will work, but Hubble scientists have high hopesfor Atlantis? spacewalking handymen. If everything goes well, the mission willextend Hubble?s life through at least 2014 and boostits vision to peer deeper into the universe.
?It?s avery complex, very ambitious mission,? said David Leckrone, Hubble?s senior projectscientist at NASA's Goddard Space Flight Center in Greenbelt, Md., which manages the telescope. ?It makes the difference between an observatory that?s kind oflimping along and an observatory that?s going to be the best ever.?
The 11-dayservice call costs about $1.1 billion. NASA and Europe have invested nearly $10billion in Hubble since its conception and 1990 launch.
NASA initiallycancelled the Atlantis crew?s mission in 2004, a year after the tragic Columbiadisaster, because of its risk. The mission was reinstated two years later, thendelayed nearly seven months when a vital data handling unit broke on Hubblelast year. Astronauts plan to replace the key component during Tuesday?s spacewalk.
The riskat Hubble
Atlantisand its crew are at a higher risk from spacejunk while working at Hubble. The region is littered with more orbitaldebris than the 220-mile (354-km) high realm of the International SpaceStation, which is out of reach for the shuttle crew because of Hubble?s higheraltitude and unique orbit.
As aprecaution, NASA has another shuttle - Endeavour - primed to launch a rescuemission if Atlantis is cannot return its astronauts home. NASA officialshave said such a scenario is extremely unlikely.
Damage fromspace debris is one of the top risks during Atlantis?s mission. The shuttle hasa 1-in-229 chance of suffering a critical blow. That?s a higher debris riskthan on typical shuttle flights, but just within NASA?s flight rule limits,agency officials have said. Shuttle flights to the space station have a lower,1-in-300 chance of a major strike, they added.
NASA plansto fly Atlantis in special attitudes to reduce the chance of severe strikesfrom debris and micrometeorites, and the shuttle will retreat to a safer orbitas soon as it leaves Hubble next week.
So far, theonly damage to Atlantis are some minor dings in heat-resistant tiles on the edge of the forward fuselage nearthe front of the starboard wing. Astronauts spotted the slight scuffsin four tiles that spanned 21-inch (53-cm) long area. A piece of launch debrisseen about 160 seconds after Atlantis is believed to be the cause.
The dingsare not expected to be of any concern, but NASA image analysts are siftingthrough data from a Tuesday inspection of the shuttle to just to be sure. NASAhas kept a close eye on shuttle heat shield health since the 2003 loss of seven astronauts aboard Columbia, which was severely damaged by launch debris.
A standardsection inspection of Atlantis? heat shield is scheduled near the end of thespaceflight.
New Video Show - Hubble's Final Shuttle Service Call
New Video - The Last Hubble Huggers
Image Gallery - The Hubble Repair Missions: Part 1, Part 2
Get the Space.com Newsletter
Breaking space news, the latest updates on rocket launches, skywatching events and more!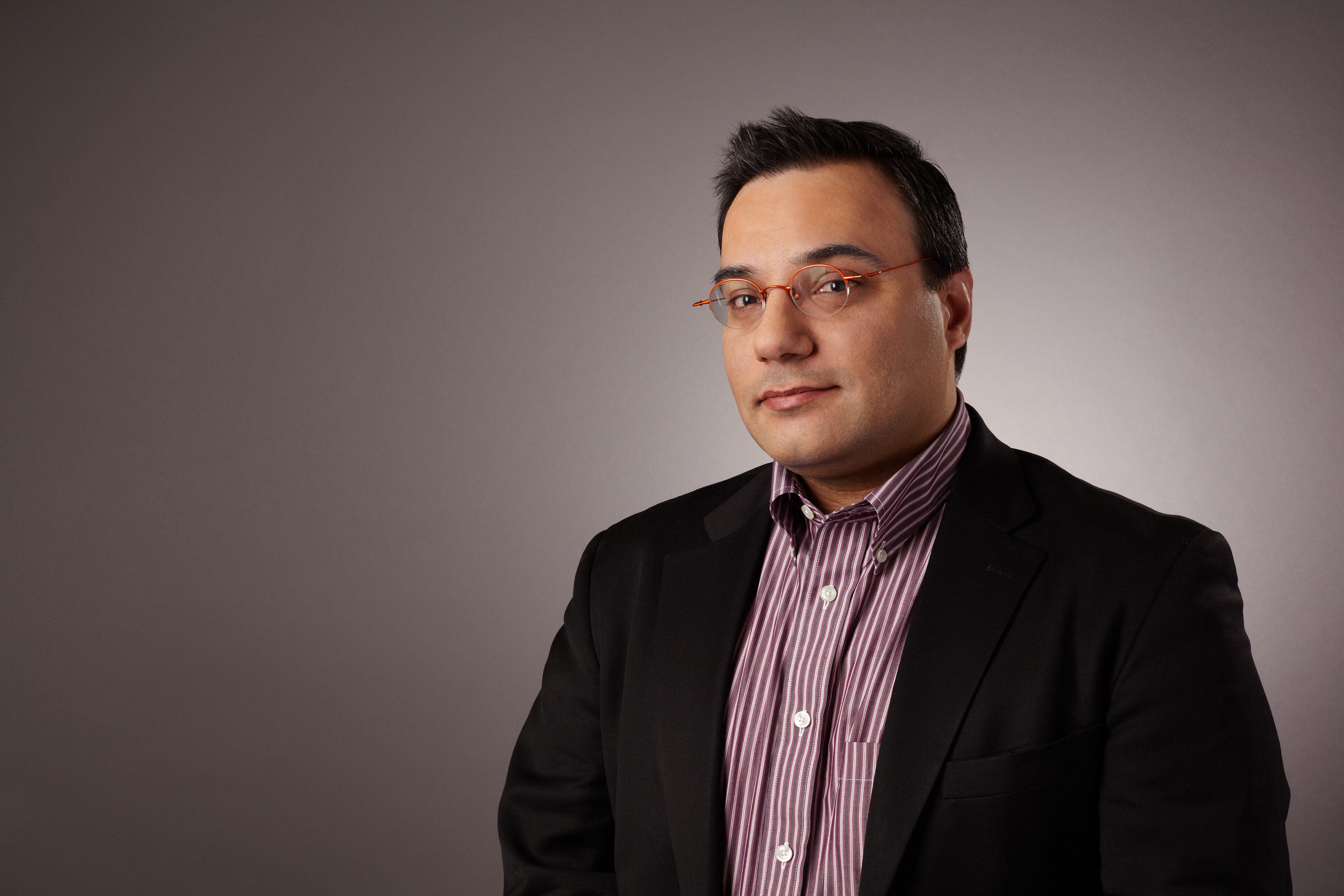 Tariq is the Editor-in-Chief of Space.com and joined the team in 2001, first as an intern and staff writer, and later as an editor. He covers human spaceflight, exploration and space science, as well as skywatching and entertainment. He became Space.com's Managing Editor in 2009 and Editor-in-Chief in 2019. Before joining Space.com, Tariq was a staff reporter for The Los Angeles Times covering education and city beats in La Habra, Fullerton and Huntington Beach. In October 2022, Tariq received the Harry Kolcum Award for excellence in space reporting from the National Space Club Florida Committee. He is also an Eagle Scout (yes, he has the Space Exploration merit badge) and went to Space Camp four times as a kid and a fifth time as an adult. He has journalism degrees from the University of Southern California and New York University. You can find Tariq at Space.com and as the co-host to the This Week In Space podcast with space historian Rod Pyle on the TWiT network. To see his latest project, you can follow Tariq on Twitter @tariqjmalik.