A SpaceX Falcon 9 rocket successfully launched the Telstar 18 Vantage communications satellite into orbit early Monday morning (Sept. 10) before returning for a spectacular drone-ship landing in the Atlantic Ocean.
After a 77-minute weather delay, the rocket lifted off from Cape Canaveral Air Force Station in Florida at 12:45 a.m. EDT (0445 GMT) and deployed the Telstar 18 Vantage (18V) communications satellite, also known as Apstar 5C, into orbit 32 minutes later. About 8 minutes after liftoff, the rocket booster stuck a landing aboard SpaceX's East Coast drone ship named "Of Course I Still Love You."
"We don't have a view but we hear recovery calling out, 'Falcon 9 has landed,'" John Insprucker, Falcon 9 principal integration engineer, said during SpaceX's launch webcast today. [See the Evolution of SpaceX's Rockets in Pictures]
SpaceX did not attempt to recover the payload fairing — the protective nose cone that surrounds a satellite during launch — this morning. The company has tried to do so during several previous liftoffs using a net-equipped boat named Mr. Steven but hasn't had any luck thus far.
This mission used the new "Block 5" variant of the Falcon 9 rocket and was the fourth to use this updated model. While the previous Telstar mission launched on a reused Block 5 Falcon 9 rocket in July, the Telstar 18V satellite launched on a brand-new rocket.
Telstar 18V is the third high-throughput satellite in a constellation launched by a Canadian company called Telesat, and it will be the first satellite in this fleet to provide coverage over the Asia-Pacific region. Hovering above the Earth in geostationary orbit, Telstar 18V will provide constant broadband communications services to China, Mongolia, Southeast Asia, and the Pacific Ocean region, Telesat officials said in a statement.
The new satellite "will replace and expand on the capabilities of Telesat's Telstar 18 satellite," which launched in 2004, SpaceX officials said in their statement. Its position over the 138th meridian east will allow it to provide coverage across Asia and Hawaii, "enabling direct connectivity between any point in Asia and the Americas." Built by the California-based aerospace company SSL, the satellite is designed to last about 15 years in orbit.
Telstar 18V is also the second-heaviest communications satellite ever launched, weighing in at 15,564 lbs. (7,060 kilograms), according to Spaceflight Now. Telstar 19V, which launched in July, is the heaviest communications satellite; it weighs only 34 lbs. (15 kg) more than Telstar 18V.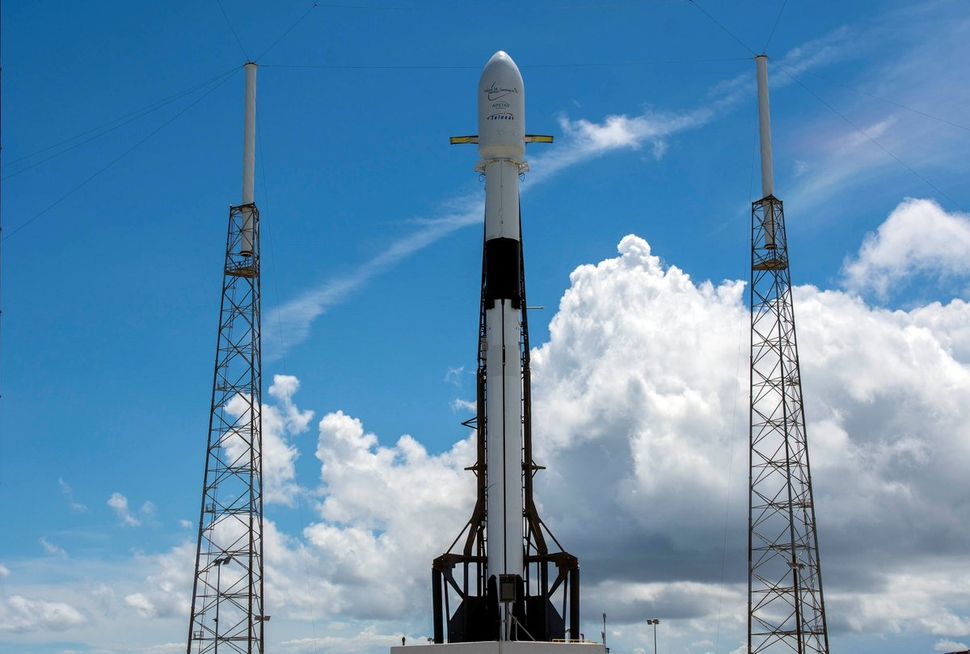 Today's launch marked the 15th flight of a Falcon 9 rocket in 2018 and the 18th successful drone-ship landing since SpaceX landed its first rocket booster at sea in 2016. The next SpaceX mission is scheduled to launch Oct. 7 from Vandenberg Air Force Base in California with Argentina's SAOCOM 1A Earth-observation satellite.
Email Hanneke Weitering at hweitering@space.com or follow her @hannekescience. Follow us @Spacedotcom, Facebook and Google+. Original article on Space.com.