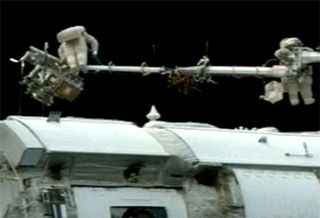 (Image credit: NASA TV)
The International Space Station (ISS) is a little better protected against impact by stray particles today after two Russian cosmonautsinstalled debris shielding to the station during a 5 hour, 25 minute spacewalk.
Expedition 15 commander Fyodor Yurchikhin and flight engineer Oleg Kotov installed five Service Module Debris Protection (SMDP) panels to the Zvezda service module of the orbital laboratory and also rerouted a Global Positioning System antenna cable. The spacewalk was a first for both cosmonauts.
"Look at that sunset," said one of the spacewalkers while outside the ISS. "It's amazing."
"Oh yes, I've already had a look," the other one replied.
Flight engineer Sunita Williams remained inside the space station and provided support for the spacewalkers.
The number one risk
The Russian-built Zvezda Module functions as a living quarters for the ISS and is also responsible for some life support system functions for the station. It was launched in 2000 without adequate shielding against impacts by micrometeorites and orbital debris, with the intention of adding additional protection during future spacewalks.
The SMDP panels are designed to protect the ISS from small- and medium-sized micro meteoroid orbital debris (MMOD) that could strike the space station and cause a potentially catastrophic hull rupture.
"This is one of area we share with our shuttle brothers," said ISS Deputy Manager Kirk Shireman before the spacewalk. "The number one risk for the shuttle is MMOD impact when it's on orbit. It's also that way for the ISS."
Each aluminum panel measures about two feet by three feet, is about one inch thick and weighs 15 to 20 pounds.
A late start
The spacewalk kicked off at 3:05 p.m. EDT (1905 GMT), after a 45 minute delay caused by a communication problem between ground controllers and the space station encountered during preparations. The spacewalk was soon back on schedule, however, because the cosmonauts were able to work through periods of darkness using the light of an almost full moon.
After exiting the Pirs airlock, Yurchikhin and Kotov set out to retrieve three bundles of SMDP panels that were delivered to the space station by the space shuttle Discovery last December, and which were stowed outside the ISS on a mount known as the "Christmas Tree."
Using a robotic boom called Strela 2, the spacewalkers transferred and secured the three bundles, containing a total of 17 panels, to a grapple fixture on Zvezda. Unwrapping one of the bundles, Yurchikhin and Kotov installed five shield panels to the sloping conical section of Zvezda.
The pair will install the remaining 12 panels during a second spacewalk scheduled for June 6. Six panels were installed during a previous spacewalk in 2001.
Between the retrieval and installation of the SMDP panels, Yurchikhin and Kotov also took some time to route a Global Positioning System (GPS) Ethernet cable to an antenna that will help guide the European Automated Transfer Vehicle (ATV) when it docks with Zvezda.
The unpiloted ATV is a cargo carrier with almost twice the storage capacity of the current Progress cargo craft; it is scheduled to make its maiden flight later this year.
Video: Meet Expedition 15
Complete International Space Station Mission Coverage
Get the Space.com Newsletter
Breaking space news, the latest updates on rocket launches, skywatching events and more!
Ker Than is a science writer and children's book author who joined Space.com as a Staff Writer from 2005 to 2007. Ker covered astronomy and human spaceflight while at Space.com, including space shuttle launches, and has authored three science books for kids about earthquakes, stars and black holes. Ker's work has also appeared in National Geographic, Nature News, New Scientist and Sky & Telescope, among others. He earned a bachelor's degree in biology from UC Irvine and a master's degree in science journalism from New York University. Ker is currently the Director of Science Communications at Stanford University.