Starship Separating from Super Heavy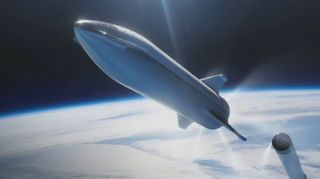 An artist's illustration of SpaceX's Starship spacecraft separating from its Super Heavy rocket.
Starship "Hopper" Prototype: Artist's Rendering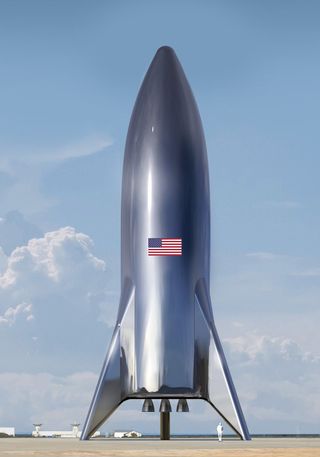 Artist's illustration of the "hopper" test-flight version of SpaceX's Starship vehicle, shared via Twitter by company founder and CEO Elon Musk on Jan. 5, 2019.
Starship "Hopper" Prototype: The Real Thing
The test-flight version of SpaceX's "Starship" vehicle stands completed at the company's Texas test site. Elon Musk posted this photo on Twitter on Jan. 10, 2019.
Hopper Under Construction
Portions of SpaceX's first "hopper" test article for its Starship vehicle being assembled at the company's South Texas launch site, seen here in a photo tweeted by SpaceX CEO Elon Musk Dec. 24, 2018.
"BFR" in 2018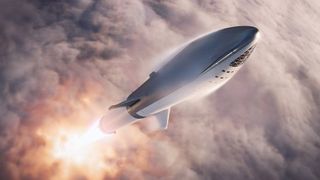 Starship and Super Heavy have gone by multiple names. When first unveiled in 2017, the duo was known as the Interplanetary Transport System (ITS). A year later, Musk revealed an updated design and a name change: BFR, short for "Big Falcon Rocket" (or "Big F***ing Rocket).
Big BFR
The BFR iteration was designed to be 387 feet (118 meters) tall, with the ability to carry payloads up to 100 metric tons all the way to the surface of Mars.
A Spacious Spaceship
The BFR's design was more spacious inside, fitting more than 35,000 cubic feet (1,000 cubic meters) of pressurized space inside. The payload section measured 180 feet (55 meters) long. That's more than 10 times the size of the space shuttle's living quarters.
Steering the BFR
The 2018 BFR design had two actuated forward fins and three in the rear. (Elon Musk also referred to these features as "wings" or "fins.")
Landing the BFR
A screenshot of a landing simulation showing how the BFR will land. The rocket is designed to be able to land anywhere in the solar system, Elon Musk said when he unveiled the new design.
Elon Musk and Yusaku Maezawa
SpaceX CEO Elon Musk and Japanese entrepreneur Yusaku Maezawa, who has booked SpaceX's first private flight around the moon on a Big Falcon Rocket, meet the press during the mission's unveiling at the company's headquarters in Hawthorne, California on Sept. 17, 2018.
BFR and Booster: Ascent
SpaceX's 2018 BFR design showcased a sleek, sci-fi looking spaceship and its 1st stage booster as shown in this image unveiled by Elon Musk on Sept. 17, 2018.