Docked to Agena
While orbiting Earth in the Gemini 10 spacecraft, astronauts docked to their first rendezvous target, the Agena Target Docking Vehicle. [Infographic: How NASA's Gemini Spacecraft Worked]
What a View!
From the Gemini 10 spacecraft, photographed using color film in a J.A. Maurer 70-mm camera, the Atlantic Ocean in the foreground with a unique vortex, the Straits of Gibraltar and Spain — Portugal on the left and Morocco on the right — are caught in a stunning image of Earth.
Mexico from Orbit
Using a J.A. Maurer 70-mm camera with Eastman Kodak, Ektachrome MS (S.O. 217) color film, the prime crew aboard the Gemini 10 spacecraft obtained these images of the Don Martin Reservoir and Sabinas River Valley area in the Coahuila dn Nuevo Leon states of Mexico. [Earth From Space: Amazing Astronaut Photos]
Spaceship Selfie
NASA astronaut Michael Collins, pilot of the Apollo 11 lunar command module and Gemini 10, photographs himself inside the spacecraft during the Gemini 10 mission in 1966. This was the first time an astronaut had taken a selfie inside an orbiting spacecraft.
Agena Target Docking Vehicle
The Gemini 10 spacecraft was roughly 40 feet (12 meters) from the Agena Target Docking Vehicle when the astronauts captured this photo before the rendezvous.
Time for Rendezvous
From about 24 feet (7.3 meters) away, astronauts in the Gemini 10 spacecraft photographed the Agena Target Docking Vehicle with the docking adapter angled toward the Gemini spacecraft.
Record-Setting Moment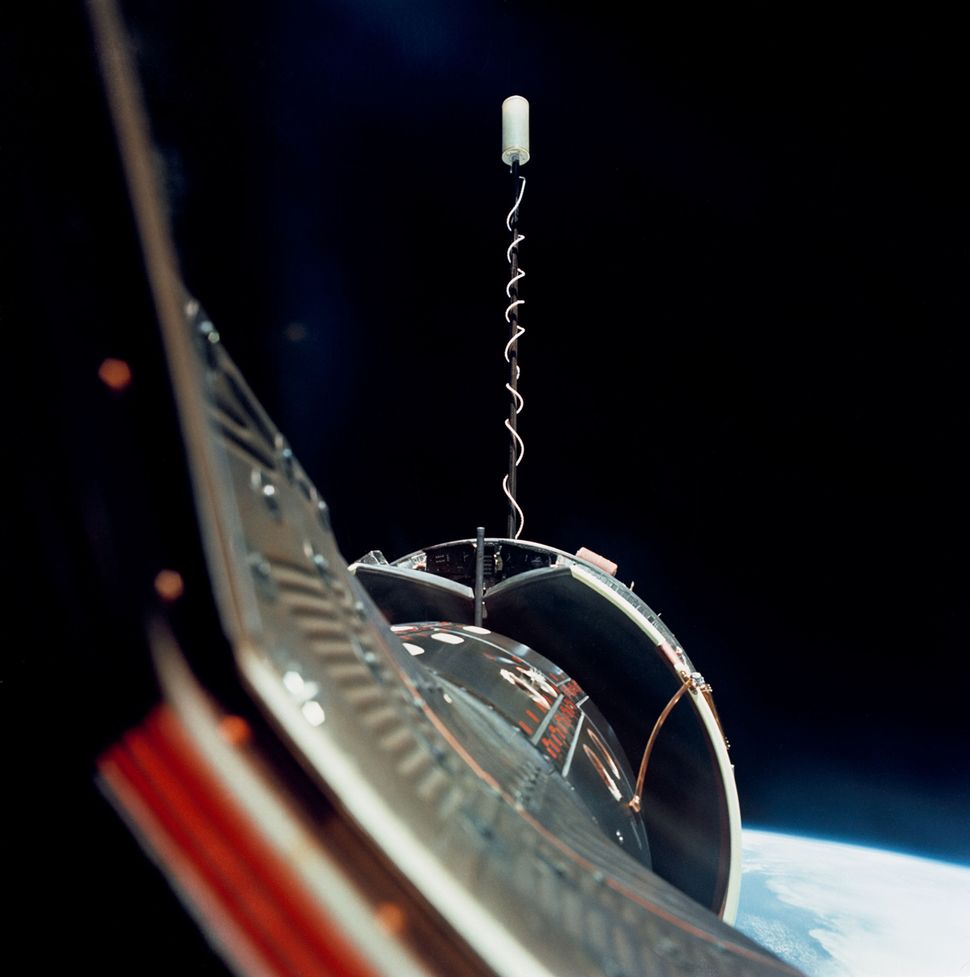 The Gemini 10 astronauts successfully docked their spacecraft with the Agena Target Docking Vehicle and boosted the combined crafts into a higher orbit with an apogee of 413 nautical miles (765 kilometers). This action set a new altitude record for crewed spaceflight and put the mission on track to rendezvous with another Agena spacecraft, which was left behind by the Gemini 8 mission four months prior.
An Experiment Retrieved
After Gemini 10 successfully docked with the Agena spacecraft left behind by Gemini 8, Collins did a second spacewalk to retrieve a micrometeorite collector experiment called S-10. Researchers expected micrometeorites to bombard the four panels while they were floating in space for the four months between the Gemini 8 and Gemini 10 missions.
Results from Micrometeorite Experiment S-10
One panel from the Agena S-10 micrometeorite experiment shows a typical hypervelocity impact by a micrometeorite particle. Similar results were produced artificially on Earth as well as on the lunar surface by particle impacts. In space particles, which are normally small, travel at high speeds. The impact crater in the image is less than one millimeter in diameter.
Testing the Effects of Spaceflight
While outside the Gemini 10 spacecraft, astronaut Michael Collins snapped an image of this MSC-8 color patch while docking with the old Agena. Researchers hoped to show the effects of spaceflight on color photography in space and on the lunar surface during the Apollo mission.