Broken, Mountainous Terrain
Broken, mountainous terrain is visible on the left edge of the flat, icy Sputnik Planum. The mountains might be blocks of water-ice floating in Sputnik Planum's frozen nitrogen, officials said. The image covers 300 miles (470 km).
Dark Ridges
The dark ridges in the center of this view, near the bottom of Sputnik Planum, suggest possible windswept dunes. Also visible is old, cratered terrain juxtaposed with new, smooth ground, as well as mountains.
lowing Ice on Pluto's Plains
This New Horizons image shows how ice (probably frozen nitrogen) is flowing from Pluto's mountains through valleys (outlined by red arrows) onto the plains known as Sputnik Planum; the "flow front" there is outlined by blue arrows in this photo, which covers an area 390 miles (630-kilometer) wide.
Snakeskin Ridges on Pluto
Snakeskin ridges on Pluto may have been shaped by surface winds, one way Pluto's atmosphere could have contributed to the dwarf planet's unusual features. Read the full story.
Sputnik Planitia's Mountainous Shores
Mountain sides of great water-ice blocks, varying from dark to light and some possibly revealing layers of Pluto crust, squeezed together to create the "al-Idrisi mountains." Read the full story.
X Marks the Spot on Pluto
NASA's New Horizons spacecraft captured this image of an intriguing "X" on Pluto's icy Sputnik Planum region; the X probably marks a spot where four separate "cells" of nitrogen ice came together. Read the full story.
High-Resolution View of Pluto's Sputnik Planitia
The images that make up this high-resolution view of the icy Pluto plain known as Sputnik Planitia were captured by New Horizons probe on July 14, 2015.
Pluto's Mysterious Polygons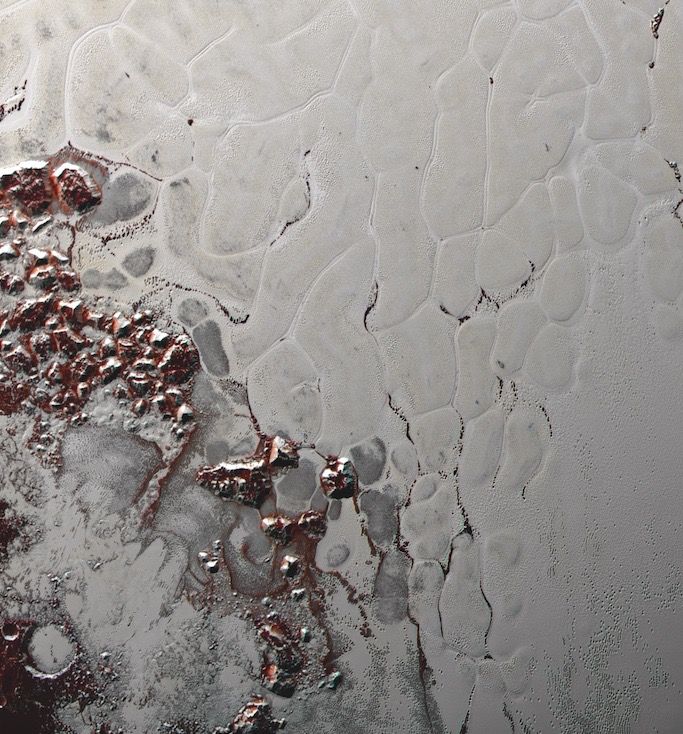 The surface of Pluto's icy Sputnik Planitia — seen here in a photo captured by NASA's New Horizons spacecraft during its close flyby of the dwarf planet on July 14, 2015 — is covered with churning ice "cells" that are geologically young and turning over due to convection.
Pluto's Heart in the Holiday Spirit
NASA's New Horizons team released this photo of Pluto, decked out in green and red false colors, on Christmas Eve in 2015.