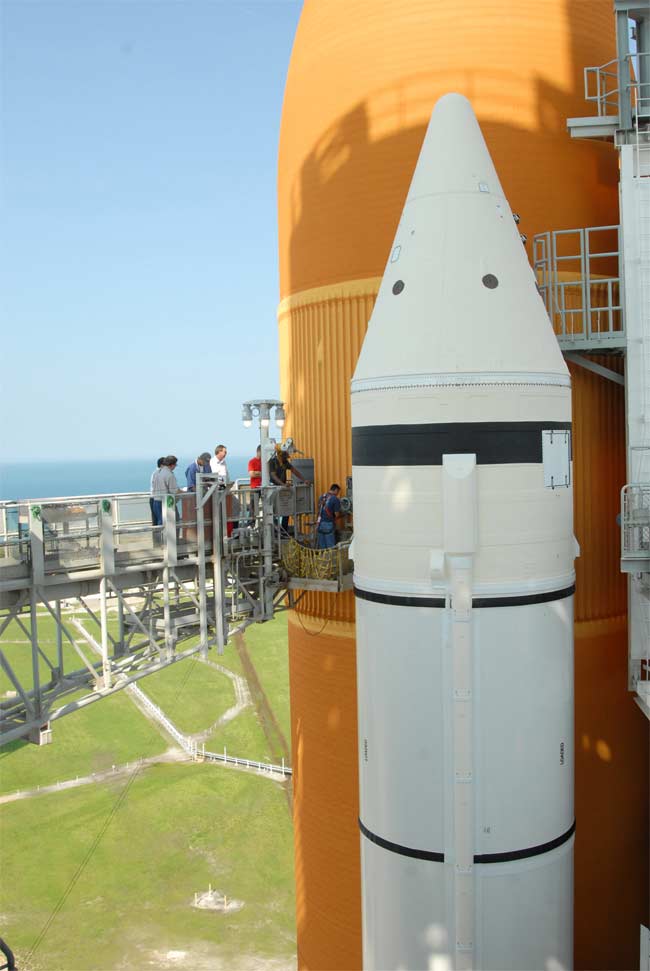 CAPE CANAVERAL -- NASA engineers think they have pinpointed the cause of dangerous hydrogen leaks that prompted back-to-back launch scrubs for shuttle Endeavour, and they plan to conduct a fuel-loading test by the first of July.
Shuttle program managers, meanwhile, said they think the problem can be repaired in time to proceed with a launch attempt scheduled for July 11.
"They have good confidence that they know what the problem is and how they can fix it," Kennedy Space Center spokeswoman Candrea Thomas said Saturday.
Endeavour and its seven astronauts have to launch no later than July 14 to get to the International Space Station and complete a complex assembly mission before the arrival of a robotic Russian space freighter carrying critical supplies.
A delay past July 14 would push the launch to July 27 and have a significant ripple effect on a station assembly mission set to launch Aug. 18 on shuttle Discovery.
"Obviously, there would be a downstream impact," KSC spokesman Allard Beutel said.
Significant leaks of gaseous hydrogen from a line that vents the substance from the shuttle's external tank prompted NASA to scrub a June 13 launch attempt, as well as a second try Wednesday.
Some cryogenic liquid hydrogen, which is minus 423 degrees Fahrenheit, always "boils off" -- or changes to a gaseous state -- during fueling.
The vent line maintains proper pressure levels within the tank by carrying excess gaseous hydrogen to a flare stack about 1,000 feet from the shuttle. There, the highly flammable substance is safely burned off.
Thomas said engineers think a slight misalignment between the line and a carrier plate that connects it to the external tank is causing an internal Teflon seal to pull out of place, creating a path for the leaking hydrogen gas.
Engineers think technicians can fix the misalignment and install an alternative seal that would provide a tighter fit and stop the leak.
Technicians this weekend are taking exact measurements of the misalignment. Next week, they will disassemble the vent line, the carrier plate and a quick disconnect valve that enables the line to separate from the tank at liftoff.
The plan then calls for technicians to try to correct the misalignment and install an alternative seal before a fueling test near the end of the month.
Engineers will load more than 500,000 gallons of super-cold liquid hydrogen and liquid oxygen into the shuttle's 15-story external tank.
Leak rates will be measured, and if they are within engineering specifications, NASA will press ahead with plans to get back into a countdown posture and make another launch attempt July 11.
"It's a confidence test," Beutel said.
The launch-scrubbing leaks on Endeavour were nearly identical to one that caused a delay for a Discovery mission in March. That time, however, a swap of seals allowed NASA to load Discovery's external tank and proceed with a mission to deliver a fourth and final set of massive American solar wings to the station.
A Russian Progress cargo carrier is slated for launch July 24 on a station supply mission. The unmanned freighter can loiter in orbit for five days but must dock at the outpost no later than July 29.
Endeavour consequently must launch by July 14 to complete a 16-day mission and leave the station before the Russian ship arrives.
Seven astronauts aboard Endeavour plan to deliver the third and final section of the $1 billion Japanese Kibo science research facility to the station.
New Video - Space Station to Get Japanese Porch

New Video - Meet the STS-127 Shuttle Astronauts

Video Show - The ISS: Foothold on Forever
Published under license from FLORIDA TODAY. Copyright ? 2009 FLORIDA TODAY. No portion of this material may be reproduced in any way without the written consent of FLORIDA TODAY.