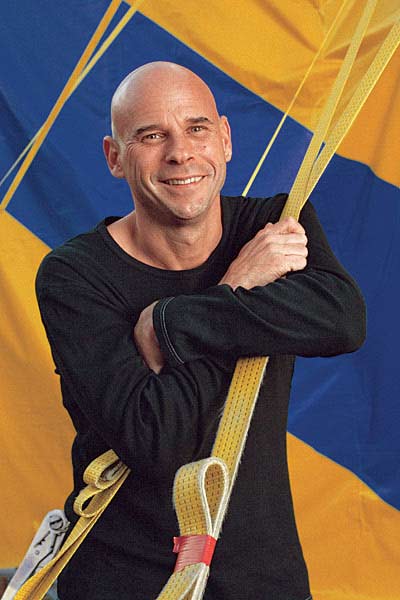 Expect some professional flips and twists when Guy Lalibert? flies to space this fall.
The Canadian acrobat and founder of Cirque du Soleil is set to become the seventh private space explorer when he lifts off Sept. 30 aboard the Russian Soyuz TMA-16 spacecraft.
Lalibert? booked his trip with the Russian Federal Space Agency through the U.S. firm Space Adventures, which usually charges about $30 million for the excursions. Lalibert? is set to visit the International Space Station for about 12 days.
Lalibert? is calling his voyage the "first social/humanitarian mission in space," and says he is devoting his trip to raising awareness of worldwide water issues. In 2007 he founded the non-profit One Drop Foundation, which fights for better access to clean water for people around the world.
"This is a mission that can make a difference and be true to my personality," he said Thursday at a press conference in Moscow. "We need to provide access to clean water where it is needed."
To get his point across, Lalibert? plans to carry up a poem he co-wrote with a friend and read it from space. The piece is "a poem to planet Earth and its inhabitants in regard to the situation with water," he said. Lalibert? has named his mission the "Poetic Social Mission in Space."
Lalibert?, 50, is married and has five children. He is currently training in Russia's Star City cosmonaut training center to prepare for his mission.
"The Russian Federal Space Agency really puts you through some tough tests," he said. "My main concern is to make sure that I am ready and I will not have to be babysat by my crew."
Travelling into space represents a childhood dream, Lalibert? said, and he thinks the expense is absolutely worth it for the experience he will have and the impact he can make.
"I think this is one of the best investments anybody will have done to promote the awareness of water," he said. "Everything I will get out of that experience, I will bite in it like in a juicy apple."
The last space tourist to fly was Charles Simonyi, a Hungarian software executive who made his second paid trip to the space station in March, also through Space Adventures. Lalibert? will be making the eighth space tourist flight.
Lalibert? could be the last private citizen to travel to space for a while. If NASA retires its space shuttle fleet in 2010 as planned, the Russian vehicles will be the only way to transport people to the International Space Station. In that case, available Soyuz seats could become scarce for space tourists.
Lalibert? will be making the eighth space tourist flight (he is the seventh private spaceflyer, since Simonyi flew twice). He, like all the other private spaceflyers so far, opted not to participate in a spacewalk, which would have cost an extra $15 million.
Lalibert? is part of Space Adventures' elite Orbital Missions Explorers Circle program, which requires a $5 million deposit to join, and allows members to skip to the head of the waiting list when space tourist opportunities become available.
New Video - Space Tourist Tours the ISS
New Video - Charles Simonyi: World's 1st Repeat Space Tourist
Image Gallery - Charles in Space!