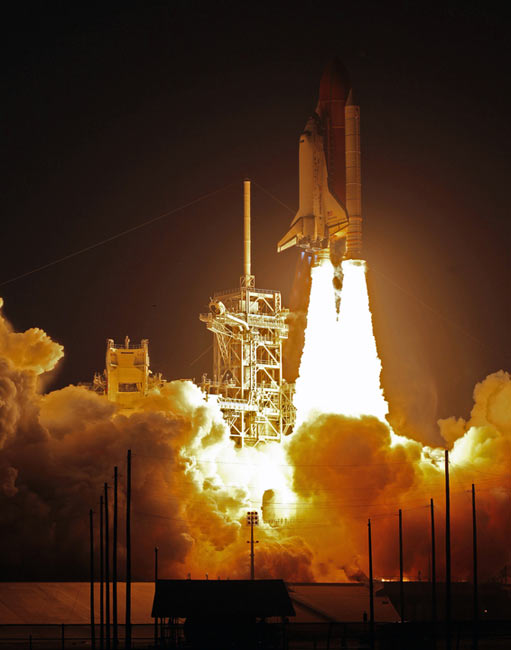 This story was updated at 8:15 p.m. EDT.
CAPE CANAVERAL, Fla. - The space shuttle Discovery successfully launched into the clear evening sky above Florida late Sunday after a series of delays held it on the ground for more than a month.
The shuttle lifted off without a hitch at 7:43 p.m. EDT (2343 GMT) from Launch Pad 39A here at NASA?s seaside Kennedy Space Center. A hydrogen gas leak that foiled Discovery's first launch attempt last Wednesday did not pester the shuttle again and the weather was 100 percent perfect for the liftoff.
?Well, you had a little bit of a wait, but well it?ll make the payoff that much sweeter,? NASA?s shuttle launch director Mike Leinbach told Discovery commander Lee Archambault. ?Good luck and Godspeed.?
"Thanks for the work Mike, we?ll see you in a couple of weeks, take care and let?s go ahead and fire up the sound of freedom," Archambault responded.
Discovery is carrying a seven-astronaut crew and the final pair of solar arrays and the last big American-made piece of the International Space Station (ISS) into space for a planned 13-day mission.
Discovery's STS-119 mission will deliver the Starboard-6 truss (S6), a 45-foot-long, 31,000-pound girder that will complete the station's 11-piece main truss, which serves as the outpost?s metallic backbone. The truss also carries the fourth set of U.S. solar wings to generate power for the orbiting lab.
"We're very excited to be bringing the S6 truss up to the space station to give it its final complement of power," Archambault said when he and the crew arrived at the spaceport last week.
About the only glitch during Discovery?s launch arose early, when flight controllers picked up a low pressure in a valve that pumps gaseous helium to part of the orbiter to prevent ice from forming. A repair crew quickly fixed the glitch at the pad.
Ground crews also spotted a snoozing fruit bat on the shuttle's external tank during fueling. Since the small bat was perched on the side of the tank facing away from the orbiter, and a part of the tank that wasn't cold enough to freeze it in place, NASA decided the winged mammal was unlikely to pose a safety or debris risk to Discovery.
A first for Japan
Discovery is also carrying up Japanese astronaut Koichi Wakata, a veteran spaceflyer who will serve as his nation's first long-duration astronaut. Wakata is due to relieve NASA astronaut Sandra Magnus as a station Expedition 18 flight engineer for a roughly three-month stay. Magnus will fly back home aboard Discovery.
"Long-duration flight is almost like a permanent assignment to a foreign country," Wakata said in a NASA interview. "So I am very much looking forward to this. For me it is a new challenge to live and work in the space station."
Pilot Tony Antonelli and mission specialists Joseph Acaba, Steve Swanson, Richard Arnold, and John Phillips fill out Discovery's STS-119 crew. Arnold and Acaba, both teacher-astronauts, are set to be the first educators to perform spacewalks when they help install the new elements on the space station.
"I think it?s just going to be an exciting feeling," Acaba said of the spacewalks in a preflight interview. "I hear the views are incredible, so I?m looking forward to that and trying to fit a little bit of work in there."
While four spacewalks were originally planned for Discovery's flight, one had to be cut from the mission for time when managers decided to launch on March 15. NASA wants the space shuttle to return before a previously scheduled Russian Soyuz craft ferries a new crew to the space station to avoid crew workload issues and spacecraft interference.
Discovery's flight was cut down by one day to make way for the Soyuz flight. Mission managers say the STS-119 crew should still be able to accomplish its main objectives, and whatever doesn't get done can be completed by the station's Expedition 18 crewmembers later.
The shuttle is also set to carry up a spare part for the station's urine recycling system, which filters astronaut urine back into drinking water. The system has been malfunctioning since it was installed last November.
Getting over glitches
Discovery was originally scheduled to launch Feb. 12, but was delayed for weeks over concerns with suspect fuel control valves in the orbiter's main engines. The valves were replaced twice after a damaged valve was found aboard the shuttle Endeavour after its successful November 2008 flight.
NASA mission managers then cleared Discovery for a March 11 launch attempt, but ground crews discovered the leak in hydrogen gas vent line attached to the shuttle's external fuel tank. The line carries away the flammable gas that is created as super-chilled liquid hydrogen propellant boils off in the tank, in order to keep the tank appropriately pressurized. Mission managers called off that launch attempt to study the glitch.
While they still haven't determined the root cause of the failure, engineers replaced the connector between the vent line and the fuel tank, which apparently fixed the problem.
Discovery is due to dock at the space station on Tuesday at 5:13 p.m. EDT (2113 GMT) and land on March 28.
Today's flight is NASA's 125th shuttle flight and the 36th for Discovery.
SPACE.com is providing continuous coverage of STS-119 with reporter Clara Moskowitz in Cape Canaveral and senior editor Tariq Malik in New York. Click here for mission updates and SPACE.com's live NASA TV video feed.
New Video - Meet Discovery's STS-119 Shuttle Astronauts

New Video - Discovery's Mission: Space Station Power Up!

New Show - NewSpace: The Orbital Industrial Revolution