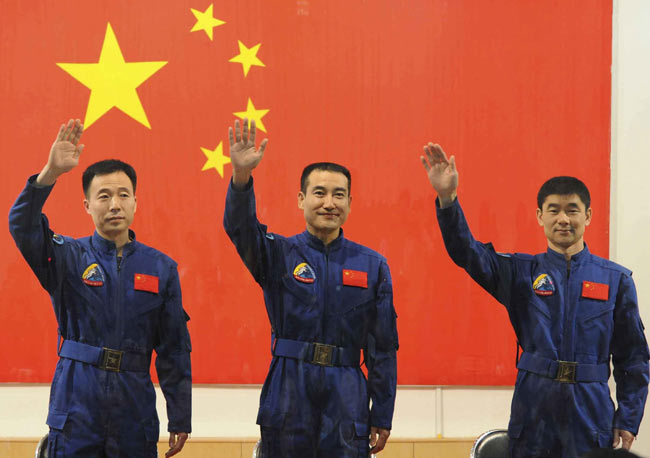 China is set to launch its third manned mission into space Thursday.
Three Chinese astronauts are slated to liftoff from Jiuquan Satellite Launch Center in northwest Gansu province between 9:07 a.m. and 10:27 a.m. ET (1307 and 1427 GMT) Thursday, according to state news agency Xinhua.
The historic Shenzhou 7 mission is set to include the nation's first spacewalk.
"We have confidence, determination and ability to make the nation's first step in outer space," said Jing Haipeng, one of the three Shenzhou 7 crewmembers, at a press conference on Wednesday, the state-owned Xinhua news service reported.
Jing is set to join fellow Chinese Air Force fighter pilots Liu Boming and Zhai Zhigang, all age 42, as China's first three-member crew to fly to space. China has not officially named the astronaut who will carry out the planned 40-minute spacewalk, but some reports predict it will be Zhai.
"The Shenzhou 7 mission marks a historic breakthrough in China's manned space program," Zhai said Wednesday, Xinhua reported. "It is a great honor for all three of us to fly the mission, and we are fully prepared for the challenge."
The mission is due to last five days, and land in Inner Mongolia on Sept. 28, if the launch occurs Thursday as planned.
Spacewalk plans
During the spacewalk, one astronaut is set to step outside of the spacecraft, while another will assist from inside. Both crewmembers are to wear spacesuits, though one of the suits will be a new, Chinese-made suit, while the other will wear a Russian-made Orlan spacesuit, the Associated Press reported.
China has reportedly spent 30 million yuan (about $4.4 million) creating its Feitan spacesuit, which provides the wearer with a pressurized atmosphere, oxygen and temperature control, and communication ability. It also protects astronauts from radiation, micrometeoroids and other harmful particles in space.
The spacewalking crewmember is slated to retrieve scientific experiments placed outside the spacecraft and deploy a small satellite capable of sending images back to Earth. If the launch goes as planned, the spacewalk is likely to occur Friday or Saturday, the Associated Press reported.
In a gesture of confidence and openness, China has announced plans to broadcast the spacewalk live.
The Chinese spacewalkers will be "supported by Russian experts throughout the mission," the Associated Press quoted Wang Zhaoyao, spokesperson for China's manned space program, as saying. "The successful cooperation on the Shenzhou 7 manned mission will create favorable conditions for future cooperation between our two countries."
The Chinese spacecraft itself is based on Russia's Soyuz vehicle, but modernized by Chinese engineers. The Shenzhou spacecraft includes an orbital module, a crew compartment, and a service module that houses propulsion and other vital systems. Only the crew-carrying section is designed to return to Earth intact.
Milestone mission
If it is successful, China's first spacewalk will be an important milestone in establishing the country as a bona fide space power. It could also be a stepping stone toward goals such as building an orbiting space laboratory and eventually landing on the moon.
"This flight takes them one step closer to the second phase of their program, which is getting a space lab," said Joan Johnson-Freese, an expert on the Chinese space program at the Naval War College in Newport, R. I. "It's very important. Their program is ambitious, but it's incremental and very prudent."
The Shenzhou 7 flight follows the successful October 2005 launch of China's Shenzhou 6 mission, which took two Chinese astronauts into space for five days. The nation's first manned spaceflight, the 2003 Shenzhou 5 mission, made China the third country ever, after Russia and the United States, to independently launch a person into space.
"Every manned mission is very important for the Chinese, both their manned efforts and overall space program," said Dean Cheng, China analyst with the CNA Corp., an Alexandria, Va.-based think tank. "It's an issue of prestige both in terms of the domestic audience as well as internationally speaking."
Shenzhou Rising: China's Second Manned Spaceflight