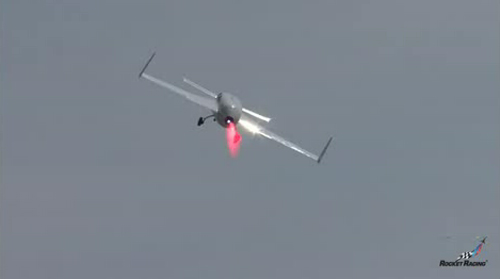 A rocket-powered racer successfully passed its first three flight tests with a new liquid oxygen and alcohol engine, setting the stage for a possible demonstration race in the sky at the 2008 Reno Air Races next month.
Test pilot Len Fox flew the Bridenstine DKNY Rocket Racer from Clinton Sherman Industrial Airpark in Burns Flat, Okla., this week on Monday and Tuesday. Each of the three test flights lasted about 10 minutes and reached speeds of up to 190 mph (305 kph) using a rocket engine built by the Mesquite, Texas-based firm Armadillo Aerospace for the Rocket Racing League.
?Armadillo is an important partner to the Rocket Racing League and we?re thrilled with our initial test flights,? said Granger Whitelaw, Rocket Racing League co-founder and CEO. ?Now that we?ve successfully conducted a test flight with the Armadillo engine, we are looking forward to getting to racing and exhibiting a 21st century sport for the 21st century sports fan.?
Founded in 2005, the Rocket Racing League hopes to pit a rocket-powered race aircraft with the Armadillo engine against another that boasts a liquid oxygen and kerosene engine developed by XCOR Aerospace. The XCOR Aerospace engine made its public debut in late July and early August during demonstration flights before thousands of spectators at the EAA AirVenture air show in Oshkosh, Wisc.
Six teams have currently signed up on the Rocket Racing League roster under sponsorship from DKNY Men, a New York City-based men's sportswear line that also sponsors the Bridenstine Rocket Racing Team led by former U.S. Navy jet pilot Jim Bridenstine. The league eventually plans on showcasing NASCAR-style racing in the sky as a new series of sporting events.
The Reno Air Races, set for Sept. 10-14 in Reno, Nev., could see the first public event pitting rocket racer against rocket racer, but only if the Federal Aviation Administration grants its approval of the Armadillo Aerospace engine by then.
Armadillo Aerospace conducted about 75 test burns prior to the latest flight tests, and plans to schedule more test flights with the Rocket Racing League in the coming weeks.
"Now we?re aiming to build at least five more engines for the Rocket Racing League and continue our mission of providing a system that will not only be cost effective and robust for the teams involved, but safe for the pilots and the thousands of fans in attendance at Rocket Racing League events,? said John Carmack, President of Armadillo Aerospace.
Video - Rocket Racing's New Fire

Future of Flight: Space Tourism, Investment and Technology